Abstract
The olive tree is one of the most common fruit species cultivated for oil and table olives in Italy and, particularly, in the Mediterranean area. DNA fingerprinting methods include different markers; however, our work is based on the identification of olive oil cultivars by using simple sequence repeats analysis. As previously reported in the literature, this proposed method shows good capability to amplify, for example, DNA from wine and table grape varieties. In our paper, we suggest an easy methodology, which allows direct amplification of DNA and bypassing of the extraction of DNA using an engineered DNA polymerase, KAPA3G Plant DNA polymerase, improved to tolerate plant PCR inhibitors. This new procedure is more efficient, faster and cheaper than traditional methods of DNA extraction and amplification and leads to more accurate results. This innovative protocol, without the addition of chemical solutions, has provided good results and has permitted traceability of virgin olive oils.
Access options
Buy single article
Instant access to the full article PDF.
US$ 39.95
Tax calculation will be finalised during checkout.
Subscribe to journal
Immediate online access to all issues from 2019. Subscription will auto renew annually.
US$ 119
Tax calculation will be finalised during checkout.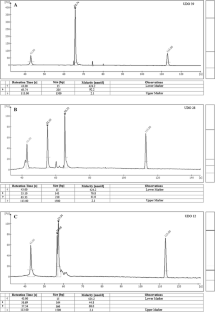 Abbreviations
CERTOLIO:

Certification of the varietal composition, geographic origin and the absence of synthetic products in the extra virgin olive oils

DNA:

Deoxyribonucleic acid

PCR:

Polymerase chain reaction

PDO:

Protected designation of origin

PGI:

Protected geographical indication

RDO:

Registered designation of origin

SSR:

Simple sequence repeat

VOO:

Virgin olive oil
References
1.

Bracci T, Busconi M, Fogher C, Sebastiani L (2011) Molecular studies in olive (Olea europaea L.): overview on DNA markers applications and recent advances in genome analysis. Plant Cell Rep 30:449–462

2.

Breton C, Claux D, Metton I, Skorski G, Berville A (2004) Comparative study of methods for DNA preparation from olive oil samples to identify cultivar SSR alleles in commercial oil samples: possible forensic applications. J Agric Food Chem 52:531–537

3.

Busconi M, Foroni C, Corradi M, Bongiorni M, Cattapan F, Fogher C (2003) DNA extraction from olive oil and its use in the identification of the production cultivar. Food Chem 83:127–134

4.

Carriero F, Fontanazza G, Cellini F, Giorio G (2002) Identification of simple sequence repeats (SSRs) in olive (Olea europaea L.). Theor Appl Genet 104:301–307

5.

Chambers GK, MacAvoy ES (2000) Microsatellites: consensus and controversy. Comp Biochem Physiol 126:455–476

6.

Cipriani G, Marrazzo MT, Marconi R, Cimato A, Testolin R (2002) Microsatellite markers isolated in olive (Olea europaea L.) are suitable for individual fingerprinting and reveal polymorphism within ancient cultivars. Theor Appl Genet 104:223–228

7.

Consolandi C, Palmieri L, Severgnini M, Maestri E, Marmiroli N, Agrimonti C, Baldoni L, Donini P, Bellis G, Castiglioni B (2008) A procedure for olive oil traceability and authenticity: DNA extraction, multiplex PCR and LDR-universal array analysis. Eur Food Res Technol 227:1429–1438

8.

De la Torre F, Bautista R, Cànovas FM, Claros G (2004) Isolation of DNA from olive oil and sediments: application in oil fingerprinting. J Food Agric Environ 2:84–89

9.

Giménez MJ, Pistón F, Martína A, Atienza SG (2010) Application of real-time PCR on the development of molecular markers and to evaluate critical aspects for olive oil authentication. Food Chem 118:482–487

10.

Jobling MA, Gill P (2004) Encoded evidence: DNA in forensic analysis. Nat Rev Genet 5:739–751

11.

Marmiroli N, Maestri E, Pafundo S, Vietina M (2009) Molecular traceability of olive oil: from plant genomics to food genomics. In: Berti L, Maury J (eds) Advances in olive resources, transworld research network, Trivandrum India, pp 157–172

12.

Migliaro D, Morreale G, Gardiman M, Landolfo S, Crespan M (2012) Direct multiplex PCR for grapevine genotyping and varietal identification. Plant Genet Resour 11:182–185

13.

Montealegre C, Marina Alegre ML, García-Ruiz C (2010) Traceability markers to the botanical origin in olive oils. J Agric Food Chem 58:28–38

14.

Montemurro C, Pasqualone A, Simeone R, Sabetta W, Blanco A (2007) AFLP molecular markers to identify virgin olive oils from single Italian cultivars. Eur Food Res Technol 226:1439–1444

15.

Muzzalupo I, Pellegrino M, Perri E (2007) Detection of DNA in virgin olive oils extracted from destoned fruits. Eur Food Res Technol 224:469–475

16.

Muzzalupo I, Perri E (2002) Recovery and characterization of DNA from virgin olive oil. Eur Food Res Technol 214:528–531

17.

Muzzalupo I, Stefanizzi F, Perri E, Chiappetta AA (2011) Transcript levels of CHL P gene, antioxidants and chlorophylls contents in olive (Olea europaea L.) pericarps: a comparative study on eleven olive cultivars harvested in two ripening stages. Plant Foods Hum Nutr 66:1–10

18.

Muzzalupo I, Vendramin GG, Chiappetta A (2014) Genetic biodiversity of Italian olives (Olea europaea) germplasm analyzed by SSR markers. Sci World J 2014:1–12

19.

Omar SH (2008) Olive: native of Mediterranean region and health benefits. Pharmacogn Rev 2:135–142

20.

Pafundo S, Agrimonti C, Marmiroli N (2005) Traceability of plant contribution in olive oil by amplified fragment length polymorphisms. J Agric Food Chem 53:6995–7002

21.

Pasqualone A, Caponio F, Blanco A (2001) Inter-simple sequence repeat DNA markers for identification of drupes from different Olea europaea L. cultivars. Eur Food Res Technol 213:240–243

22.

Sefc KM, Lopes MS, Mendonça D, Rodrigues Dos Santos M, Da Cȃmara Laimer, Machado M, Da Camara Machado A (2000) Identification of microsatellite loci in olive (Olea europaea L.) and their characterization in Italian and Iberian olive trees. Mol Ecol 9:1171–1173

23.

Testolin R, Lain O (2005) DNA extraction from olive oil and PCR amplification of microsatellite markers. J Food Sci 70:108–112

24.

Woolfe M, Primrose S (2004) Food forensics: using DNA technology to combat misdescription and fraud. Trends Biotechnol 22:222–226
Acknowledgments
This research was supported by the 'Certification of the varietal composition, geographic origin and the absence of synthetic products in the extra virgin olive oils—CERTOLIO 2012–2015' and by the 'Advanced technological systems and processes embedded in the olive oil sector for the development of products and by-products, the development of new areas and the creation of environmentally friendly production systems' OLIOPIU' 2011–2015 projects.
Conflict of interest
All the authors declare that there is no conflict of interests regarding the publication of this article.
Compliance with Ethics Requirements
This article does not contain any studies with human or animal subjects.
About this article
Cite this article
Muzzalupo, I., Pisani, F., Greco, F. et al. Direct DNA amplification from virgin olive oil for traceability and authenticity. Eur Food Res Technol 241, 151–155 (2015). https://doi.org/10.1007/s00217-015-2455-5
Received:

Revised:

Accepted:

Published:

Issue Date:
Keywords
SSR loci

Extra virgin olive oil

Direct DNA amplification

Engineered DNA polymerase