Abstract
In this work, a method for qualification and quantification of nicotine in dry tea and tea infusions with LC–ESI–MS/MS has been developed. Sample preparation is based on QuEChERS. Nicotine-d4 served as internal standard. This simple and fast method leads to recoveries of 95–104 % and good repeatability. Coefficients of variation are 3.7 % for intra-day precision and 4.6 % for inter-day precision. Limit of quantification (5.9 µg kg−1) is below the requested value of 10 µg kg−1. For some samples, it was superior to use a HILIC column compared with the originally used RP-18. Application to real samples (n = 87) showed nicotine concentrations in dry tea from <0.01 to 1.95 mg kg−1. In brewing studies of green teas and black teas, it was confirmed that the extraction of nicotine into tea brews was between 49 and 52 % for a steeping time of 5 min.
This is a preview of subscription content, log in to check access.
Access options
Buy single article
Instant unlimited access to the full article PDF.
US$ 39.95
Price includes VAT for USA
Subscribe to journal
Immediate online access to all issues from 2019. Subscription will auto renew annually.
US$ 199
This is the net price. Taxes to be calculated in checkout.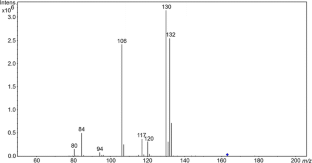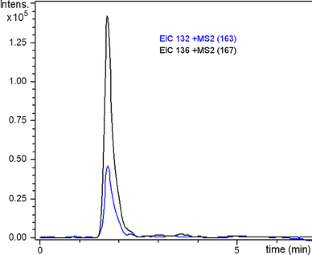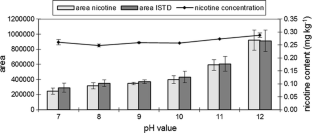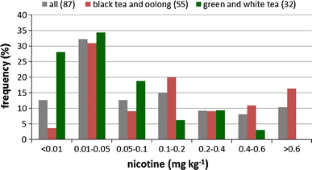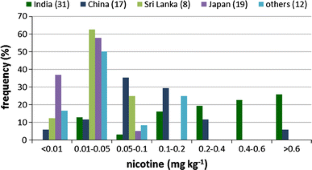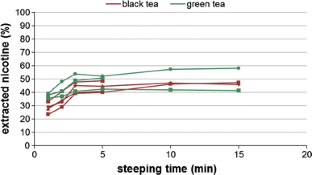 References
1.

EFSA (2011) Setting of temporary MRLs for nicotine in tea, herbal infusions, spices, rose hips and fresh herbs. EFSA J 9(3):2098

2.

Andersson C, Wennström P, Gry J (2003) Nicotine alkaloids in Solanaceous food plants. TemaNord 2003, vol 531. Nordic Council of Ministers, Copenhagen

3.

Leete E (1992) In: Petroski RJ, McCormick SP (eds) Secondary-metabolite biosynthesis and metabolism. Plenum Press, New York

4.

Commission Regulation (EU) No 812/2011 of 10 August 2011 amending Annex III to Regulation (EC) No 396/2005 of the European Parliament and of the Council as regards maximum residue levels for dimethomorph, fluopicolide, mandipropamid, metrafenone, nicotine and spirotetramat in or on certain products. http://eur-lex.europa.eu/legal-content/EN/TXT/HTML/?uri=CELEX:32011R0812&from=EN. Accessed 13 Feb 2015

5.

Commission Regulation (EU) No 1004/2013 of 15 October 2013 amending Annexes II and III to Regulation (EC) No 396/2005 of the European Parliament and of the Council as regards maximum residue levels for 8-hydroxyquinoline, cyproconazole, cyprodinil, fluopyram, nicotine, pendimethalin, penthiopyrad and trifloxystrobin in or on certain products. http://eur-lex.europa.eu/legal-content/EN/TXT/HTML/?uri=CELEX:32013R1004&from=EN. Accessed 13 Feb 2015

6.

Cavalieri C, Bolzoni L, Bandini M (2010) Determination of nicotine in mushrooms by LC–MS/MS with preliminary studies on the impact of drying on nicotine formation. Food Addit Contam Part A 27:473–477

7.

Gabr RQ, Elsherbiny ME, Somayaji V, Pollak PT, Brocks DR (2011) A liquid chromatography-mass spectrometry method for nicotine and cotinine; utility in screening tobacco exposure in patients taking amiodarone. Biomed Chromatogr 25:1124–1131

8.

Schütte-Borkovec K, Heppe CW, Heling AK, Richter E (2009) Analysis of myosmine, cotinine and nicotine in human toenail, plasma and saliva. Biomarkers 14(5):278–284

9.

Kim SR, Wipfli H, Avila-Tang E, Samet JM, Breysse PN (2009) Method validation for measurement of hair nicotine level in nonsmokers. Biomed Chromatogr 23:273–279

10.

Müller C, Bracher F, Plössl F (2011) Determination of nicotine in dried mushrooms by using a modified QuEChERS approach and GC–MS–MS. Chromatographia 73:807–811

11.

Lozano A, Martinez-Uroz MA, Gomez-Ramos MJ, Gomez-Ramos MM, Mezcua M, Fernandez-Alba AR (2011) Determination of nicotine in mushrooms by various GC/MS- and LC/MS-based methods. Anal Bioanal Chem 402:935–943

12.

DIN EN 15662 (2008) Pflanzliche Lebensmittel—Bestimmung von Pestizidrückständen mit GC–MS und/oder LC-MS/MS nach Acetonitril-Extraktion/Verteilung und Reinigung mit dispersiver SPE—QuEChERS-Verfahren. Beuth, Berlin

13.

Lehotay SJ, Son KA, Kwon H, Koesukwiwat U, Fu W, Mastovska K, Hoh E, Leepipatpiboon N (2010) Comparison of QuEChERS sample preparation methods for the analysis of pesticide residues in fruit and vegetables. J Chromatogr A 1217:2548–2560

14.

Anastassiades M, Fernandez-Alba AR (2009) Analysis of nicotine in mushrooms. Community Reference Laboratory (CRL). http://www.crl-pesticides.eu/library/docs/srm/meth_NicotineMushrooms_CrlFvCrlSrm.pdf. Accessed 13 Feb 2015

15.

Pellegrini M, Marchei E, Rossi S, Vagnarelli F, Durgbanshi A, Garcia-Algar O, Vall O, Pichini S (2007) Liquid chromatography/electrospray ionization tandem mass spectrometry assay for determination of nicotine and metabolites, caffeine and arecoline in breast milk. Rapid Commun Mass Spectrom 21:2693–2703

16.

Smyth TJ, Ramachandran VN, McGuigan A, Hopps J, Smyth WF (2007) Characterisation of nicotine and related compounds using electrospray ionisation with ion trap mass spectrometry and with quadrupole time-of-flight mass spectrometry and their detection by liquid chromatography/electrospray ionisation mass spectrometry. Rapid Commun Mass Spectrom 21:557–566

17.

Kromidas S (2000) Handbuch Validierung in der Analytik. Wiley-VCH Verlag GmbH, Weinheim

18.

DIN EN 32645 (2008) Chemical analysis—decision limit, detection limit and determination limit under repeatability conditions—terms, methods, evaluation. Beuth, Berlin

19.

Davis RA, Stiles MF, DeBethizy JD, Reynolds JH (1991) Dietary nicotine: a source of urinary cotinine. Food Chem Toxicol 29:821–827

20.

Siegmund B, Leitner E, Pfannhauser W (1999) Determination of the nicotine content of various edible nightshades (Solanaceae) and their products and estimation of the associated dietary nicotine intake. J Agric Food Chem 47:3113–3120

21.

Sheen SJ (1998) Detection of nicotine in foods and plant materials. J Food Sci 53:1572–1573
Acknowledgments
This research project was supported by the German Ministry of Economics and Technology (via AiF) and the FEI (Forschungskreis der Ernährungsindustrie e.V., Bonn), Project AiF 16508 N. The support of the German Tea Association (Deutscher Teeverband e.V.) and the German Herbal Infusions Association (Wirtschaftsvereinigung Kräuter- und Früchtetee e.V.) is gratefully acknowledged.
Conflict of interest
None.
Compliance with Ethics Requirements
This article does not contain any studies with human or animal subjects.
About this article
Cite this article
Thräne, C., Isemer, C. & Engelhardt, U.H. Determination of nicotine in tea (Camellia sinensis) by LC–ESI–MS/MS using a modified QuEChERS method. Eur Food Res Technol 241, 227–232 (2015) doi:10.1007/s00217-015-2447-5
Received:

Revised:

Accepted:

Published:

Issue Date:
Keywords
Nicotine

Tea

QuEChERS

LC–ESI–MS/MS