Abstract
Detection of species fraud in meat products is very important in order to protect consumers from undesirable adulteration, as well as for the economic, religious and health aspects. The most important reason for verification of the labeling statements is to detect fraudulent substitution of expensive meat components with other cheaper animals or mislabeling. The aim of this study was to develop a multiplex PCR that could be used in the simultaneous identification of multiple meat species. In this study, ten sausages with a minimum beef content of 55 %, from ten different manufacturing companies, and five samples of cow, chicken, goat, camel and donkey raw meats, for the purpose of positive control, were collected from food markets in Tehran, Iran. Total DNA was extracted from each sausage and the raw meats. Primers were selected in different regions of mitochondrial DNA (12S rRNA, cytochrome b and NADH dehydrogenase subunits 2) for identification of meat species. 12S rRNA and NADH dehydrogenase subunits 2 primers generated specific fragments of 183 and 145 bp length, for chicken and donkey, respectively. Three different specific primers were used for amplification of cytochrome b gene in goat, camel and cattle species and amplified species-specific DNA fragments of 157, 200 and 274 bp, respectively. The results proved that half of the specimens were contaminated with chicken meat, and this was greater than the proportion of beef stated on the label, while the other half only had chicken residuals, and no beef content. No contamination was found with goat, donkey or camel meats. These findings showed that molecular methods, such as multiplex PCR, is a potentially reliable, sensitive and accurate assay for the detection of adulterated meat species in mixed meat products.
Access options
Buy single article
Instant access to the full article PDF.
US$ 39.95
Tax calculation will be finalised during checkout.
Subscribe to journal
Immediate online access to all issues from 2019. Subscription will auto renew annually.
US$ 119
Tax calculation will be finalised during checkout.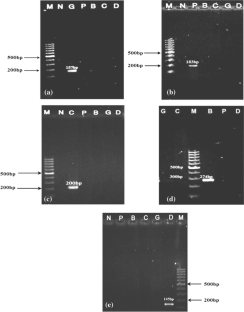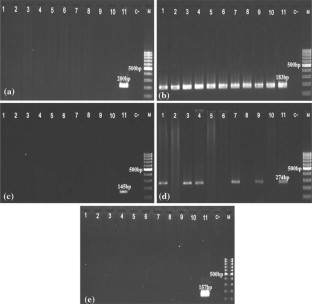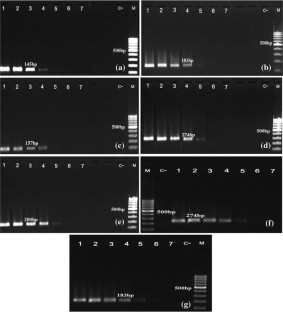 References
1.

Mahajan MV, Gadekar YP, Dighe VD, Kokane RD, Bannalikar AS (2010) Molecular detection of meat animal species targeting MT 12S rRNA gene. Meat Sci 88:23–27

2.

Culbertson JD, Duncan S, Guerrero-Legarreta I, Li-Chan ECY, Ma CY, Manley CH, McMeekin TA, Nip WK, Nollet LML, Rahman MS, Toldr F, Xiong YL (2006) Handbook of food science technology and engineering, vol 1. CRC Press, New York

3.

Pattersan RLS (1985) Biochemical identification of meat species. Elsevier Applied Science, London

4.

Mafra I, Ferreira LVOP, Beatriz MP, Oliveira P (2008) Food authentication by PCR-based methods. Eur Food Res Technol 227:649–665

5.

Ciampolini R, Leveziel H, Mazzanti E, Grohs C, Cianci D (2000) Genomic identification of the breed of an individual or its tissue. Meat Sci 54:35–40

6.

Goffaux F, China B, Dams L, Clinquart A, Daube G (2005) Development of a genetic traceability test in pig based on single nucleotide polymorphism detection. Forensic Sci Int 151:239–247

7.

Zerifi A, Labie C, Benard G (1992) SDS-PAGE technique for the species identification of cooked meat. Fleiswirtschaft 1:54–59

8.

Amstrong SG, Leach DN (1992) The use of HPLC protein profiles in fish species identification. Food Chem 44:147–155

9.

Hsieh YH, Sheu SC, Bridgman RC (1998) Development of a monoclonal antibody specific to cooked mammalian meat mixtures. Meat Sci 15:1–13

10.

Kang'ethe EK, Gathuma JM, Landqvist KJ (1986) Identification of the species of origin of fresh, cooked and canned meat on meat products using antisera to thermostable muscle antigens by Ouctherlony's double diffusion test. J Sci Food Agric 37:157–162

11.

Patterson RL, Jones SJ (1990) Review of current technique for verification of the species origin of meat. Analyst 115:501–506

12.

Calvo JH, Zaragoza P, Osta R (2001) A quick and more sensitive method to identify pork in processed and unprocessed food by PCR amplification of a new specific DNA fragment. J Anim Sci 79:2108–2112

13.

Koh MC, Lim CH, Chua SB, Chew ST, Phang ST (1998) Random amplified polymorphic DNA (RAPD) fingerprints for identification of red meat animal species. Meat Sci 48:275–285

14.

Saez R, Sanz Y, Toldrá F (2004) PCR-based fingerprinting techniques for rapid detection of animal species in meat products. Meat Sci 66:659–665

15.

Asensio L (2007) PCR-based methods for fish and fishery products authentication. Trends Food Sci Technol 18:558–566

16.

Dalvit C, De Marchi M, Cassandro M (2007) Genetic traceability of livestock products: a review. Meat Sci 77:437–449

17.

Arslan A, Ilhak OI, Calicioglu M (2006) Effect of method of cooking on identification of heat processed beef using polymerase chain reaction (PCR) technique. Meat Sci 72:326–330

18.

Kesmen Z, Sahin F, Yetim H (2007) PCR assay for the identification of animal species in cooked sausages. Meat Sci 77:649–653

19.

Arslan A, Ilhak OI, Calicioglu M (2005) Identification of meats using random amplified polymorphic DNA (RAPD) technique. J Muscle Foods 16:37–45

20.

Chikuni K, Ozutsume K, HoishiKawa T, Kato S (1990) Species identification of cooked meats by DNA hybridization assay. Meat Sci 27:119–128

21.

Ebbehoj KF, Thomsen PD (1991) Species differentiation of heated meat products by DNA hybridization. Meat Sci 30:221–234

22.

Ebbehoj KF, Thomsen PD (1991) Differentiation of closely related species by DNA hybridization. Meat Sci 30:359–366

23.

Hunt DJ, Parkes HC, Lumley ID (1997) Identification of the species of origin of raw and cooked meat products using oligonucleotide probes. Food Chem 60:437–442

24.

Bartlett SE, Davidso WS (1991) Identification of Thunnus tuna species by the polymerase chain reaction and direct sequence analysis of their mitochondrial cytochrome b genes. Can J Fish Aquat Sci 48:309–317

25.

Chikuni K, Tabat T, Saito M, Monma M (1994) Sequencing of mitochondrial cytochrome b genes for the identification of meat species. Anim Sci Technol 65(6):571–579

26.

Meyer R, Hoefelein C, Luethy J, Candrian U (1995) Polymerase chain reaction–restriction fragment length polymorphism analysis: a simple method for species identification in food. J AOAC Int 78(6):1542–1551

27.

Desjardins P, Morais R (1999) Sequence and gene organization of the chicken mitochondrial genome. J Mol Biol 212:599–634

28.

Partis L, Croan D, Guo Z, Clark R, Coldham T, Murby J (2000) Evaluation of a DNA fingerprinting method for determining the species origin of meats. Meat Sci 54:369–376

29.

Cespedes A, Garcia T, Carrera E, Gonzalez I, Fernandez A, Hernandez PE (1999) Application of polymerase chain reaction–single strand conformational polymorphism (PCR–SSCP) to identification of flatfish species. J AOAC Int 82:903–907

30.

Rehbein H, Kress G, Schmidt T (1997) Application of PCR SSCP to species identification of fishery products. J Sci Food Agric 74:35–41

31.

Asensio L (2008) Application of multiplex PCR for the identification of grouper meals in the restaurant industry. Food Control 19(11):1096–1099

32.

Dalmasso A, Fontanella E, Piatti P, Civera T, Rosati S, Bottero M (2004) A multiplex PCR assay for the identification of animal species in feedstuffs. Mol Cell Probe 18:81–87

33.

Di Pindo A, Forte VT, Conversano MC, Tantillo G (2004) Duplex polymerase chain reaction for detection of pork meat in horse meat fresh sausages from Italian retail sources. Food Control 16:391–394

34.

Che Man YB, Aida AA, Raha AR, Son R (2007) Identification of pork derivatives in food products by species-specific polymerase chain reaction (PCR) for halal verification. Food Control 18:885–889

35.

Murray MG, Thompson WF (1980) Rapid isolation of high molecular weight plant DNA. Nucleic Acids Res 8:4321–4325

36.

Sambrook J, Fritch EF, Maniatis T (1989) Molecular cloning: a laboratory manual, 2nd edn. Cold spring Habor Laboratory, New York

37.

Chen Y, Wu Y, Xu BL, Wan J, Qian ZM (2005) Species-specific polymerase chain reaction amplification of camel (camelus) DNA extracts. J AOAC Int 88(5):1394–1398

38.

Matsunga T, Chikuni K, Tanabe R, Muroya S, Shibata K, Yamada J, Shinmura Y (1999) A quick and simple method for the identification of meat species and meat products by PCR assay. Meat Sci 51:143–148

39.

Girish PS, Anjaneyulu ASR, Viswas KN, Anand M, Rajkumar N, Shivakumar BM, Bhaskar S (2003) Sequence analysis of mitochondrial 12S rRNA gene can identify meat species. Meat Sci 66:551–556

40.

Umetsu K, Yuasa I (2005) Recent progress in mitochondrial DNA analysis. J Legal Med 7:259–262

41.

Bottero MT, Dalmasso IA, Nucera D, Turi RM, Rosati S, Squadrone S, Goria M, Civera T (2003) Development of a PCR assay for the detection of animal tissues in ruminant feeds. J Food Prot 66:2307–2312

42.

Ghovvati S, Nassiri MR, Mirhoseini SZ, Heravi Moussavi A, Javadmanesh A (2008) Fraud identification in industrial meat products by multiplex PCR assay. Food Control 20:696–699

43.

Chisholm J, Conyers C, Booth C, Lawley W, Hird H (2005) The detection of horse and donkey using real-time PCR. Meat Sci 70:727–732

44.

Zha D, Xing X, Yang F (2010) A multiplex PCR assay for fraud identification of deer products. Food Control 21:1402–1407

45.

Bai W, Xu W, Huang K, Yanfang Y, Cao S, Luo Y (2009) A novel common primer multiplex PCR (CP-M-PCR) method for the simultaneous detection of meat species. Food Control 20:366–370

46.

Lin WF, Hwang DF (2008) A multiplex PCR assay for species identification of raw and cooked bonito. Food Control 19:879–885
Conflict of interest
None.
Compliance with Ethics Requirements
All institutional and national guidelines for the care and use of laboratory animals were followed.
About this article
Cite this article
Parchami Nejad, F., Tafvizi, F., Tajabadi Ebrahimi, M. et al. Optimization of multiplex PCR for the identification of animal species using mitochondrial genes in sausages. Eur Food Res Technol 239, 533–541 (2014). https://doi.org/10.1007/s00217-014-2249-1
Received:

Revised:

Accepted:

Published:

Issue Date:
Keywords
Animal species

Multiplex PCR

Mitochondrial DNA

Sausage