Abstract
The intake of Himanthalia elongata and Gigartina pistillata from the Spanish Atlantic coasts was evaluated in Wistar rats. Both seaweed diets showed higher (p < 0.001) faecal excretion. Colonic fermentation increased (p < 0.001) total short-chain fatty acids (SCFAs) in Himanthalia-fed rats due to the higher (p < 0.001) levels of acetic, propionic and butyric acids. The intake of Gigartina increased (p < 0.001) propionic acid and decreased (p < 0.001) butyric acid. The apparent absorption and true retention of calcium and magnesium enhanced (p < 0.05) with Himanthalia diet, while Gigartina produced no significant effect. The serum concentration of HDL-C increased (p < 0.01), triglycerides (TGL) decreased (p < 0.001) and bile acids diminished (p < 0.001) in faeces of Himanthalia-fed rats. The Gigartina diet produced a decrease (p < 0.001) in TGL, total cholesterol (p < 0.01) and LDL-C (p < 0.05) in serum and reduced TGL in liver (p < 0.001). Thus, both seaweeds improved the lipid profile, and Himanthalia increased SCFA production and the absorption and retention of Ca and Mg as a result of the gut fermentation.
Access options
Buy single article
Instant access to the full article PDF.
USD 39.95
Price excludes VAT (USA)
Tax calculation will be finalised during checkout.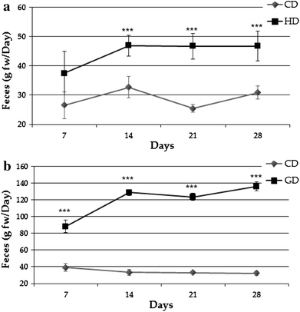 References
LØvstad Holdt S, Kraan S (2011) Bioactive compounds in seaweed: functional food applications and legislation. J Appl Phycol 23:543–597

Gómez-Ordoñez E, Jiménez-Escrig A, Rupérez P (2012) Effect of the red seaweed Mastocarpus stellatus intake on lipid metabolism and antioxidant status in healthy Wistar rats. Food Chem 135:806–811

Jiménez-Escrig A, Gómez-Ordoñez E, Tenorio MD, Rupérez P (2012) Antioxidant and prebiotic effects of dietary fiber co-travelers from sugar kombu in healthy rats. J Appl Phycol 23:503–512

Jiménez-Escrig A, Gómez-Ordoñez E, Rupérez P (2013) Brown and red seaweeds as potential sources of antioxidant nutraceuticals. J Appl Phycol 24:1123–1132

Almela C, Clemente MJ, Vélez D, Montoro R (2005) Total arsenic, inorganic arsenic, lead and cadmium contents in edible seaweed sold in Spain. Food Chem Toxicol 44:1901–1908

AESAN (2009) Informe del Comité Científico de la Agencia Española de Seguridad Alimentaria y Nutrición (AESAN) relativo a la evaluación del riesgo asociado a la posible presencia de arsénico en algas destinadas al consumo humano. Rev Comité Científico 10:53–71

Besada V, Andrade JM, Schultze F, González JJ (2009) Heavy metals in edible seaweeds commercialised for human consumption. J Mar Syst 75:305–313

Gómez-Ordoñez E, Jiménez-Escrig A, Rupérez P (2010) Dietary fiber and physicochemical properties of several edible seaweeds from the northwestern Spanish coast. Food Res Int 43:2289–2294

Kuda T, Yano T, Matsuda N, Nishizawa M (2005) Inhibitory effects of laminarian and low molecular alginate against the putrefactive compounds produced by intestinal microflora in vitro and in rats. Food Chem 91:745–749

Wang Y, Han F, Hu B, Li J, Yu W (2006) In vivo prebiotic properties of alginate oligosaccharides prepared through enzymatic hydrolysis of alginate. Nutr Res 26:597–603

Lynch MB, Sweeney T, Callan JJ, O′Sullivan JT, O′Doherty JV (2010) The effect of dietary Laminaria derived laminarin and fucoidan on intestinal microflora and volatile fatty acid concentration in pigs. Livest Sci 133:157–160

O′Doherty JV, McDonnell P, Figat S (2010) The effect of dietary laminarin and fucoidan in the diets of the weanling piglets on performance and selected microbial populations. Livest Sci 134:208–210

Dillon S, Sweeney T, Figat S, Callan JJ, O′Doherty JV (2010) The effects of lactose inclusion and seaweed extract on performance, nutrient digestibility and microbial populations in newly weaned piglets. Livest Sci 134:205–207

Wu S-C, Wang F-J, Pan C-L (2007) Growth and survival of lactic acid bacteria during the fermentation and storage of seaweed oligosaccharides solution. J Mar Sci Tech 15:104–114

Ramnani P, Chitarri R, Tuohy K, Grant J, Hotchkiss S, Philp K, Campbell R, Gill C, Rowland I (2012) In vitro fermentation and prebiotic potential of novel low molecular weight polysaccharides derived from agar and alginate seaweeds. Anaerobe 18:1–6

Michel C, Lahaye M, Bonnet C, Mabeau S, Barry J-L (1996) In vitro fermentation by human faecal bacteria of total and purified dietary fibres from brown seaweeds. Br J Nutr 75:263–280

Dierick N, Ovyn A, De Smet S (2009) Effect of feeding intact brown seaweed Ascophylum nodosum on some digestive content in edible tissues in pigs. J Sci Food Agric 89:584–594

Amano H, Kakinuma M, Coury DA, Ohno H, Hara T (2005) Effect of a seaweed mixture on serum lipid level and platelet aggregation in rats. Fishe Sci 71:1160–1166

Bocanegra A, Benedí J, Sánchez-Muniz FJ (2006) Differential effects of kombu and nori seaweed dietary supplementation on liver glutathione status in normo- and hypercholesterolaemic growing rats. Brit J Nutr 95:696–702

Paxman JR, Richardson JC, Dettmar PW, Corfe BM Alginate reduce the increased uptake of cholesterol in overweight male subjects: a pilot study. Nutr Res 28:501–505

Boletín Oficial del Estado (BOE) (2007) Ley 32/2007, de 7 de noviembre, para el cuidado de los animals, en su explotación, transporte, experimentación y sacrificio. BOE 268:45914–45920

Villanueva MJ, Yokoyama WH, Hong YJ, Barttley GE, Rupérez P (2011) Effect of high-fat diets supplemented with okara soybean by-product on lipid profiles of plasma, liver and feces in Syrian hamsters. Food Chem 124:72–79

Gudiel Urbano M, Goñi I (2002) Bioavailability of nutrients in rats fed on edible seaweeds, Nori (Porphyra tenera) and Wakame (Undaria pinnatifida) as a source of dietary fibre. Food Chem 76:281–286

Guarner F, Malagelada JR (2003) Gut flora in health and disease. Lancet 361:512–519

Wyatt GM, Horn N, Gee JM, Johnson IT (1998) Intestinal microflora and gastrointestinal adaptation in the rat in response to nondigestible dietary polysaccharides. Brit J Nutr 60:197–207

Louis P, Scott KP, Duncan SH, Flint HJ (2007) Understanding the effects of the diet on bacterial metabolism in the large intestine. J Appl Micro 102:1197–1208

Cho SS, Samuel P (2009) Fiber ingredients: food applications and health benefits. CRC Press, Boca Raton, FL

Campbell JM, Fahey GC, Wolf BW (1997) Selected indigestible oligosaccharides affect large bowel mass, cecal and fecal short-chain fatty acids, pH and microflora in rats. J Nutr 127:130–136

Busche R, von Engelhardt W (2007) pH gradients and micro-pore filter at the luminal surface affect fluxes of propionic acid across the guinea pig large intestine. J Comp Physiol B 177:821–831

Morita T, Kasaoka S, Oh-hashi A, Ikai M, Numasaki Y, Kiriyama S (1998) Resistant proteins alter cecal short-chain fatty acid profiles in rats fed high mylase cornstarch. J Nutr 128:1156–1164

Cummings JH, Pomare EW, Branch WJ, Naylor CPE, Macfarlane GT (1987) Short chain fatty acids in human large intestine, portal, hepatic and venous blood. Gut 28:1221–1227

Trinidad P-T, Wolever TMS, Thompson LU (1993) Interactive effects of Ca and short chain fatty acids on absorption in the distal colon of man. Nutr Res 13:417–425

Kashimura J, Kimura M, Itokawa Y (1996) The effects of isomaltulose, isomalt, and isomaltulose-based oligomers on mineral absorption and retention. Biol Trace Elem Res 54:239–250

Younes H, Demigné C, Rèmèsy C (1996) Acidic fermentation in the caecum increases absorption of calcium and magnesium in the large intestine of the rat. Br J Nutr 75:301–314

Bocanegra A, Nieto A, Bastida S, Benedí J, Sánchez-Muniz FA (2008) Nori but not a Kombu, dietary supplement decreases the cholesterolaemia, liver fat infiltration and mineral bioavailability in hypercholesterolaemic growing Wistar rats. Br J Nutr 99:272–280

O′Sullivan L, Murphy B, McLoughlin P, Duggan P, Lawlor PG, Hughes H, Gardiner GE (2010) Prebiotics from marine macroalgae for human and animal health applications. Mar Drugs 8:2038–2064

Chen ZY, Jiao R, Ma KY (2008) Cholesterol-lowering nutraceuticals and functional foods. J Agric Food Chem 56:8761–8773

Erkkilä AT, Lichtenstein AH (2006) Fiber and cardiovascular disease risk: how strong is the evidence? J Cardiovasc Nurs 21:3–8

Hong YJ, Turowski M, Lin J, Yokoyama WH (2007) Simultaneous characterization of bile acid, sterols, and determination of acylglycerides in feces from soluble cellulose-fed hamsters using HPLC with evaporative light-scattering detection and APCI-MS. J Agric Food Chem 55:9750–9757

Wong JM, de Souza R, Kendall CW, Emam A, Jenkins DJ (2006) Colonic health: fermentation and short chain fatty acids. J Clin Gastroenterol 40:235–243

Carr TP, Wood KJ, Hassel CA, Bahl R, Gallagher DD (2003) Raising intestinal contents viscosity leads to greater excretion of neutral steroids but not bile acids in hamsters and rats. Nutr Res 23:91–102
Acknowledgments
This research work was supported by the Spanish Ministerio de Ciencia e Innovación, through Project AGL2008-00998 ALI. Thanks are given to the algal supplier Porto-Muiños (Coruña, Spain).
Conflict of interest
None.
Compliance with Ethics Requirements
This article does not contain any studies with human or animal subjects.
About this article
Cite this article
Villanueva, MJ., Morcillo, M., Tenorio, MD. et al. Health-promoting effects in the gut and influence on lipid metabolism of Himanthalia elongata and Gigartina pistillata in hypercholesterolaemic Wistar rats. Eur Food Res Technol 238, 409–416 (2014). https://doi.org/10.1007/s00217-013-2116-5
Received:

Revised:

Accepted:

Published:

Issue Date:

DOI: https://doi.org/10.1007/s00217-013-2116-5
Keywords