Abstract
This study focused on optimization of processing conditions of enzymatic degumming process for soybean oil using phospholipase A1 immobilized onto magnetic nanoparticles. A response surface methodology was developed and used to obtain optimum processing conditions. Four variables (temperature, reaction time, enzyme dosage, and added water) were investigated based on two response functions (phosphorus and free fatty acids (FFA) contents in degummed soy oil). For each response, second-order polynomial models were developed using multiple linear regression analysis. The optimum operating parameters of enzymatic degumming process were as follows: temperature of 56 °C, reaction time of 6.3 h, enzyme dosage of 0.10 g/kg, and added water of 2.13 ml/100 g. According to these optimum conditions, final residual phosphorus and FFA contents of degummed soy oil were reduced, respectively, to 10.38 mg/kg and 1.09/100 g using magnetic immobilized phospholipase A1. This finding is applicable for the physical refining of soybean oil or refining crude oils from field- and frost-damaged beans which have high content of non-hydratable phosphatides.
Access options
Buy single article
Instant access to the full article PDF.
USD 39.95
Price excludes VAT (USA)
Tax calculation will be finalised during checkout.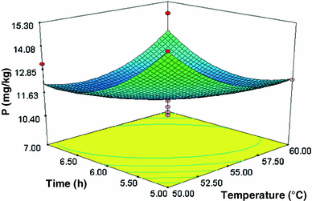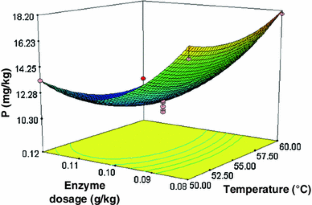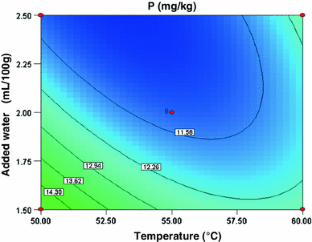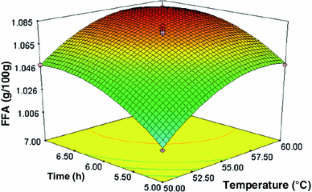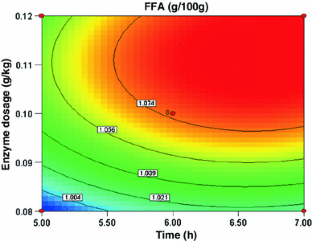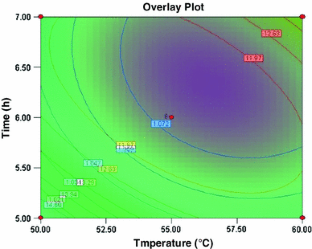 References
Wim DG, Mare K (2004) Refining practice. In: Hamm W, Hamilton RJ (eds) Edible oil processing. Sheffield Academic Press, UK, pp 83–105

Subramanian R, Nakajimaa M, Yasui A, Nabetani H, Kimura T, Maekawa T (1999) Evaluation of surfactant-aided degumming of vegetable oils by membrane technology. J Am Oil Chem Soc 76:1247–1253

Dahlke K (1998) An enzymatic process for the physical refining of seed oils. Chem Eng Technol 21:278–281

Subramanian R, Raghavarao KSMS, Nabetani H, Nakajimaa M, Kimura T, Maekawa T (2001) Differential permeation of oil constituents in nonporous denser polymeric membranes. J Membrane Sci 187:57–69

Clausen K (2001) Enzymatic oil-degumming by a novel microbial phospholipase. Eur J Lipid Sci Technol 103:333–340

Klaus D (1998) An enzymatic process for the physical refining of seed oils. Chem Eng Technol 21:278–281

Dahlke K, Eichelsbacher M (1998) EnzyMax@ and ALCON@Lurgi's route to physical refining. AOCS Press, Champiagn, pp 53–59

De Maria L, Vind J, Oxenboll KM, Svendsen A, Patkar S (2007) Phospholipases and their industrial applications. Appl Microbiol Biotechnol 74:290–300

Yang J, Wang Y, Yang B, Mainda G, Guo Y (2006) Degumming of vegetable oil by a new microbial lipase. Food Technol Biotechnol 44:101–104

Sheelu G, Kavitha G, Fadnavis N (2008) Efficient immobilization of lecitase in gelatin hydrogel and degumming of rice bran oil using a apinning basket reactor. J Am Oil Chem Soc 85:739–748

Yang B, Zhou R, Yang JG, Wang YH, Wang WF (2008) Insight into the enzymatic degumming process of soybean oil. J Am Oil Chem Soc 85:421–425

Khoshnevisan K, Bordbar AK (2011) Immobilization of cellulase enzyme on superparamagnetic nanoparticles and determination of its activity and stability. J Chem Eng 171:669–673

Bahar T, Celebi SS (2000) Performance of immobilized glucoamylase in a magnetically stabilized fluidized bed reactor (MSFBR). Enz Microb Technol 26:28–33

Lei L, Bai Y (2009) Study on immobilization of lipase onto magnetic microspheres with epoxy groups. J Magn Magn Mat 321:252–258

Lei L, Liu X (2011) Study on synthesis of poly (GMA)-grafted Fe3O4/SiOX magnetic nanoparticles using atom transfer radical polymerization and their application for lipase immobilization. Mater Chem Phys 125:866–871

Liu S, Yang F, Zhang C, Ji H, Hong P, Deng C (2009) Optimization of process parameters for supercritical carbon dioxide extraction of Passiflora seed oil by response surface methodology. J Supercritical Fluids 48:9–14

Yu DY, Ma Y, Xue J, Jiang LZ, Shi J (2013) Characterization of immobilized phospholipase A1 on magnetic nanoparticles for oil degumming application. LWT-Food Sci Technol 50:519–525

AOCS (1997) Official methods and recommended practices of the American Oil Chemist's Society. Ca 12-55. AOCS, Champaign

AOCS (1997) Official methods and recommended practices of the American Oil Chemist's Society. Ca 5a-40. AOCS, Champaign

Yu DY, Jiang LZ, Li ZL, Shi J, Xue J, Kakuda YK (2012) Immobilization of phospholipase A1 and its application in soybean oil degumming. J Am Oil Chem Soc 89:649–656

Bornscheuer U (2000) Enzymes in lipid modification. Wiley-VCH Verlag GmbH & Co. KGaA, Weinheim, pp 263–306
Acknowledgments
This work was supported by a grant from the National Natural Science Foundation of China (NSFC): Study on method of controlling TFAs in oil by orientated hydrogenation and mechanism of molecular reaction under CO2 supercritical state (No: 31271886), General program.
Conflict of interest
None.
Compliance with Ethics Requirements
This article does not contain any studies with human or animal subjects.
About this article
Cite this article
Yu, D., Ma, Y., Jiang, L. et al. Optimization of magnetic immobilized phospholipase A1 degumming process for soybean oil using response surface methodology. Eur Food Res Technol 237, 811–817 (2013). https://doi.org/10.1007/s00217-013-2057-z
Received:

Revised:

Accepted:

Published:

Issue Date:

DOI: https://doi.org/10.1007/s00217-013-2057-z
Keywords
Soybean oil

Enzymatic degumming

Optimization

Magnetic immobilized phospholipase A1

Response surface methodology