Abstract
'Lemon Myrtle' is becoming increasingly popular in Europe both for use in cuisine and phytotherapy. However, this common name covers two completely different species, Backhousia citriodora F. Muell. and Leptospermum citratum Challinor, Cheel & A.R.Penfold. These species differ with respect to secondary compounds and even can cause, if mixed up and applied in high dose, toxic effects. We describe how the two species can be discriminated microscopically making use of differences in the morphology of leaf pavement cells and the relative size of palisade parenchyma. Based on the large subunit of ribulose-1,5-bisphosphate carboxylase oxygenase (rbcL) as molecular marker, the phylogenetic position of the two species within the Myrtaceae could be clarified. This sequence information was used to develop a simple assay to discriminate the two species even in dried and highly fragmented mixtures as typically occurring in commercial samples. This assay utilises the occurrence of single-nucleotide exchanges between those species that produce different fragments when the rbcL amplificates are restricted with Sac II.
Access options
Buy single article
Instant access to the full article PDF.
US$ 39.95
Tax calculation will be finalised during checkout.
Subscribe to journal
Immediate online access to all issues from 2019. Subscription will auto renew annually.
US$ 119
Tax calculation will be finalised during checkout.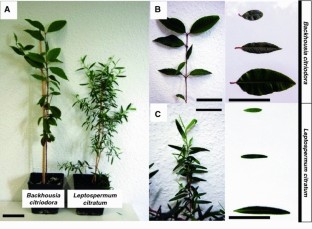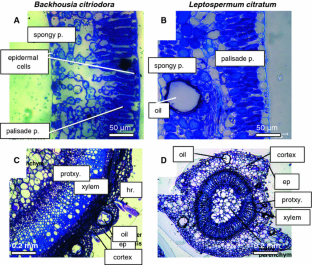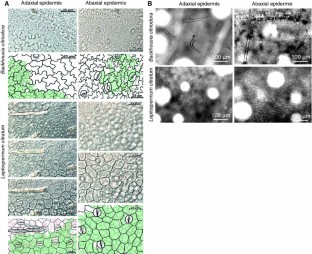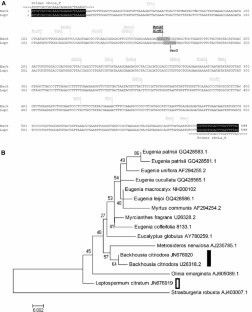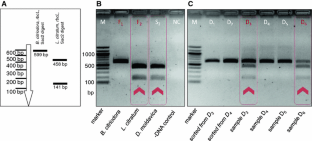 References
1.

Ernst E (1998) Harmless herbs? A review of the recent literature. Am J Med 104:170–178

2.

European Parliament and European Council (1997) Regulation on novel foods and novel food ingredients no. 258/97 of 27 January 1997. J Eur Comm L 43:1–5

3.

Green JM, Draper AK, Dowler EA (2003) Short cuts to safety: risk and `rules of thumb' in accounts of food choice. Health Risk Soc 5:33–52

4.

Hahn H, Michaelson I (1996) Mikroskopische Diagnostik pflanzlicher Nahrungs-, Genuss- und Futtermittel, einschliesslich Gewürze. Springer, Berlin

5.

von Mueller FJH (1859) Fragmenta Phytographiae Australiae 1:78

6.

Thompson J (1989) A revision of the genus Leptospermum (Myrtaceae). Telopea 3:301–448

7.

Atkinson W, Brice H (1955) Antibacterial substances produced by flowering plants. Aust J Exp Biol 33:547–554

8.

Greive KA, Staton JA, Miller PF, Peters BA, Oppenheim VMJ (2010) Development of Melaleuca oils as effective natural-based personal insect repellents. Aust J Entomol 49:40–48

9.

Burke BE, Baillie JE, Olson RD (2004) Essential oil of Australian lemon myrtle (Backhousia citriodora) in the treatment of molluscum contagiosum in children. Biomed Pharmacother 58:245–247

10.

Hood JR, Burton DM, Wilkinson JM, Cavanagh HMA (2010) The effect of Leptospermum petersonii essential oil on Candida albicans and Aspergillus fumigatus. Med Mycol 48:922–931

11.

Lazar-Baker E, Hetherington S, Ku V, Newman S (2011) Evaluation of commercial essential oil samples on the growth of postharvest pathogen Monilinia fructicola (G. Winter) Honey. Lett Appl Microbiol 52:227–232

12.

Doran JC, Brophy JJ, Lassak EV, House APN (2001) Backhousia citriodora F. Muell. Rediscovery and chemical characterization of the L-citronellal form and aspects of its breeding system. Flavour Fragr J 16:325–328

13.

Hayes AJ, Markovic B (2002) Toxicity of Australian essential oil Backhousia citriodora (Lemon myrtle). Part 1. Antimicrobial activity and in vitro cytotoxicity. Food Chem Toxicol 40:535–543

14.

Hayes AJ, Markovic B (2003) Toxicity of Australian essential oil Backhousia citriodora (Lemon myrtle). Part 2. Absorption and histopathology following application to human skin. Food Chem Toxicol 41:1409–1416

15.

Consortium for the Barcode of Life (2009) A DNA barcode for land plants. Proc Natl Acad Sci USA 106:12794–12797

16.

Walsh NG, Entwisle TJ (1996) Flora of Victoria, vol 3. Inkata Press, Melbourne

17.

Doyle JJ, Doyle JL (1987) A rapid DNA isolation procedure from small quantities of fresh leaf tissues. Phytochem Bull 19:11–15

18.

Tamura K, Dudley J, Nei M, Kumar S (2007) MEGA4: molecular evolutionary genetics analysis (MEGA) software version 4.0. Mol Biol Evol 24:1596–1599

19.

Saitou N, Nei M (1987) The neighbor-joining method: a new method for reconstructing phylogenetic trees. Mol Biol Evol 4:406–425

20.

Felsenstein J (1985) Confidence limits on phylogenies: an approach using the bootstrap. Evolution 39:783–791

21.

O'Brien TP, Feder N, McCully ME (1964) Polychromatic staining of plant cell walls by Toluidine Blue O. Protoplasma 59:367–373
Acknowledgments
We acknowledge Angelika Piernitzki and Joachim Daumann, Botanical Garden of the University, for excellent horticultural support during the project and Olivia Huber for skillful technical support during DNA extraction and analysis.
Conflict of interest
The authors declare that they do not have any conflict of interest.
About this article
Cite this article
Horn, T., Barth, A., Rühle, M. et al. Molecular diagnostics of Lemon Myrtle (Backhousia citriodora versus Leptospermum citratum). Eur Food Res Technol 234, 853–861 (2012). https://doi.org/10.1007/s00217-012-1688-9
Received:

Revised:

Accepted:

Published:

Issue Date:
Keywords
Backhousia citriodora F.Muell

Lemon Myrtle

Leptospermum citratum Challinor, Cheel & A.R.Penfold

Molecular identification

Polymerase chain reaction (PCR)

Ribulose-bisphosphate carboxylase oxygenase large subunit (rbcL)