Abstract
It has been previously shown that anthocyanins effectively neutralize free radicals and can act as an antioxidative and anti-aging agent and prevent dementia. In addition, anthocyanins promote expression of rhodopsin, which facilitates night vision impairment, blurred vision, eye fatigue due to physical and mental fatigue, and a loss in rhodopsin has been shown to result from various eye diseases. In this study, the free radical scavenging properties of anthocyanins were evaluated for the 1,1-diphenyl-2-picrylhydrazyl (DPPH) radical, alkyl radical, and hydroxyl radical using electron spin resonance spectroscopy. The DPPH radical scavenging activity of anthocyanins increased in a dose-dependent manner, with a 50% inhibitory concentration (IC50) value of 2.9 μg/mL. The alkyl radical scavenging activity of anthocyanin was also high, with a IC50 value of 52.2 μg/mL. In addition, the hydroxyl radical scavenging activity of anthocyanins was concentration-dependent. The inhibitory effect of anthocyanins on lipid peroxidation was examined using the ferric thiocyanate and thiobarbituric acid assays. The inhibitory activity of anthocyanins was found to be comparable to that of Vitamin E. In addition, the ability of anthocyanins to reduce oxidative DNA damage was assessed in vitro by measuring the conversion of supercoiled pBR322 plasmid DNA to the open circular form. Also, we have found that anthocyanins' inhibitory activity of the H2O2-induced G2/M phase arrest in ARPE-19 cells. Anthocyanins enhanced the activities of superoxide dismutase, catalase, glutathione peroxidase, and glutathione S-transferase in ARPE-19 cells. Taken together, the present results demonstrate that anthocyanins possess potent antioxidative activity.
Access options
Buy single article
Instant access to the full article PDF.
USD 39.95
Price excludes VAT (USA)
Tax calculation will be finalised during checkout.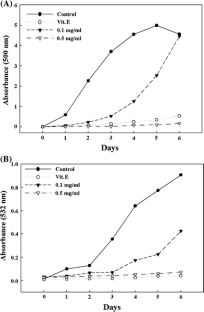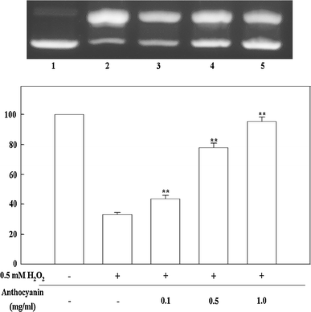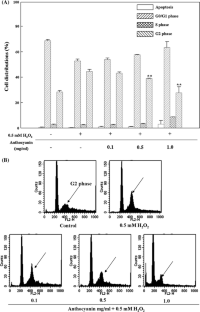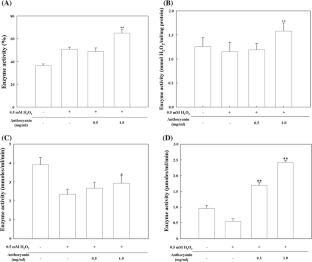 References
Robert EK, Kyle DK, Joshua A, Bomser JA (2005) Resveratrol reduces oxidation and proliferation of human retinal pigment epithelial cells via extracellular signal-regulated kinase inhibition. Chem-Biol Interact 151:143–149

Liang FQ, Green L, Wang C, Alssadi R, Godley BF (2004) Melatonin protects human retinal pigment epithelial (RPE) cells against oxidative stress. Exp Eye Res 78:1069–1075

Cai J, Nelson KC, Wu M, Sternberg P, Jones DP (2000) Oxidative damage and protection of the RPE. Prog Retin Eye Res 19:205–221

Jin GF, Hurst JS, Godley BF (2001) Hydrogen peroxide stimulates apoptosis in cultured human retinal pigment epithelial cells. Curr Eye Res 22:165–173

Garg TK, Chang JY (2003) Oxidative stress causes ERK phosphorylation and cell death in cultured retinal pigment epithelium: prevention of cell death by AG126 and 15-deoxy-delta 12, 14-PGJ2. BMC Ophthalmol 3:5–20

Manfra M, Nisco MD, Bolognese A, Nuzzo V, Sofo A, Scopa A, Santi L, Tenoree GC, Novellinoe E (2011) Anthocyanin composition and extractability in berry skin and wine of Vitis vinifera L. cv. Aglianico. J Sci Food Agric 91:2749–2755

Lee SJ, Kim EK, Hwang JW, Kim CG, Choi DK, Lim BO, Moon SH, Jeon BT, Park PJ (2010) Neuroprotective effect of Hericium erinaceum against oxidative stress on PC-12 cells. J Korean Soc Appl Biol Chem 54:112–117

Kim EK, Lee SJ, Jeon BT, Moon SH, Kim BK, Park TK, Han JS, Park PJ (2009) Purification and characterisation of antioxidative peptides from enzymatic hydrolysates of venison protein. Food Chem 114:1365–1370

Saha K, Lajis NH, Israf DA, Hamzah AS, Khozirah S, Khamis S, Syahida A (2004) Evaluation of antioxidant and nitric oxide inhibitory activities of selected Malaysian medicinal plants. J Ethnopharmacol 92:263–267

Mackeen MM, Ali AM, Lajis NH, Kawazu K, Hassan Z, Amran M, Habsah M, Mooi LY, Mohamed SM (2000) Antimicrobial, antioxidant, antitumour-promoting and cytotoxic activities of different plant part extracts of Garcinia atroviridis Griff. ex. T. Anders. J Ethnopharmacol 72:395–402

Yeung SY, Lan WH, Huang CS, Lin CP, Chan CP, Chang MC (2002) Scavenging property of three cresol isomers against H2O2, hypochlorite, superoxide and hydroxyl radicals. Food Chem Toxicol 40:1403–1413

Clairborne A (1984) In: Greenwald RA (ed) Handbook of methods for oxygen radical research. CRC Press Inc, Boca Raton

Tamura M, Oschino N, Chance B (1982) Some characteristics of hydrogen and alkyl-hydroperoxides metabolizing systems in cardiac tissue. J Biochem 92:1019–1031

Habig WH, Pubst MJ, Jakoby WB (1974) Glutathione s-transferase. J Biol Chem 249:7130–7139

Lionetto MG, Giordano ME, Calisi A, Erroi E, Nuccio FD, Schettino T (2011) Effect of the daily ingestion of a purified anthocyanin extract from grape skin on rat serum antioxidant capacity. Physiol Res 60:637–645

Fournand D, Vicens A, Sidhoum L, Souquet JM, Moutounet M, Cheynier V (2006) Accumulation and extractability of grape skin tannins and anthocyanins at different advanced physiological stages. J Agric Food Chem 54:7331–7338

Kong JM, Chia LS, Goh NK, Chia TF, Brouillard R (2003) Analysis and biological activities of anthocyanins. Phytochemistry 64:923–933

Hirawan R, William DJ, Beta T (2011) Comparative evaluation of the antioxidant potential of infant cereals produced from purple wheat and red rice grains and LC-MS analysis of their anthocyanins. J Agric Food Chem (in press)

Xuewu D, Yueming J, Xinguo S, Zhaoqi Z, John S (2007) Antioxidant properties of anthocyanins extracted from litchi(Litchi chinenesis Sonn.) fruit pericarp tissues in relation to their role in the pericarp browning. Food Chem 101:1365–1371

Bates AD, Maxwell A (2005) DNA topology. Oxford University Press, UK

Park PJ, Kim EK, Lee SJ, Park SY, Kang DS, Jung BM, Kim KS, Je JY, Ahn CB (2009) Protective effects against H2O2-induced damage by enzymatic hydrolysates of an edible brown seaweed, sea tangle (Laminaria japonica). J Med Food 12(1):159–166

Kim EK, Lee SJ, Moon SH, Jeon BT, Ahn CB, Kim BK, Lim BO, Park PJ (2009) Free radical scavenging activity and comparative proteomic analysis of antioxidative protein against H2O2-induced oxidative stress in neuronal cells. Food Chem 117:232–240

Wang ZY, Shen Lj, Tu LL, Hu DN, Liu GY, Zhou ZL, Lin Y, Chen LH, Qu J (2009) Erythropoietin protects retinal pigment epithelial cells from oxidative damage. Free Radic Biol Med 46:1032–1041

Halliwell B (1999) Antioxidant defence mechanisms: From the beginning to the end (of the beginning). Free Radic Res 31:261–272

Zhang Z, Huang C, Li J, Leonard SS, Lanciotti R, Butterworth L, Shi X (2001) Vanadate-induced cell growth regulation and the role of reactive oxygen species. Arch Biochem Biophys 392:311–320

Zamocky M, Koller F (1999) Understanding the structure and function of catalases: clues from molecular evolution and in vitro mutagenesis. Prog Biophys Mol Biol 72:19–66

Tome ME, Baker AF, Powis G, Payne CM, Briehl MM (2001) Catalase-overexpressing thymocytes are resistant to glucocorticoid-induced apoptosis and exhibit increased net tumor growth. Cancer Res 61:2733–2766

Ursini F, Maiorino M, Brigelius FR, Aumann KD, Roveri A, Schomburg D, Flohe L (1995) Diversity of glutathione peroxidases. Methods Enzymol 252:38–52
Acknowledgments
This work was supported by Ministry of Education Science and Technology (MEST) and the Regional Innovation Center Program of the Ministry of Knowledge Economy through the Bio-Food & Drug Research Center (RRC) at Konkuk University, Korea.
About this article
Cite this article
Hwang, JW., Kim, EK., Lee, SJ. et al. Anthocyanin effectively scavenges free radicals and protects retinal cells from H2O2-triggered G2/M arrest. Eur Food Res Technol 234, 431–439 (2012). https://doi.org/10.1007/s00217-011-1648-9
Received:

Revised:

Accepted:

Published:

Issue Date:

DOI: https://doi.org/10.1007/s00217-011-1648-9
Keywords