Abstract
Protein hydrolysates are of a significant interest, due to their potential application as a source of bioactive peptides in nutraceutical and pharmaceutical domains. The present study was focused on bovine hemoglobin hydrolysate obtained with pig pepsin in the presence of 30% ethanol. This hydrolysate was fractioned by reversed-phase high-performance liquid chromatography (RP-HPLC) into 12 major fractions (F1–F12). All fractions were analyzed by ESI/MS and ESI/MS/MS, in order to characterize and identify the peptides in these fractions. This hydrolysis permitted to generate a new serial of bioactive peptides with both antimicrobial and ACE inhibitory activities. Identified peptides were TKAVEHLDDLPGALSELSDLHAHKLRVDPVNFKLLSHSLL, LDDLPGALSELSDLHAHKLRVDPVNFKLLSHSL, KLLSHSL, and LLSHSL corresponding respectively to the 67-106, 73-105, 99-105, and 100-105 fragments of the α chain of bovine hemoglobin. They were the first found from bovine hemoglobin. These purified peptides have an antibacterial activity against four bacteria strains: Kocuria luteus A270, Listeria innocua, Escherichia coli, and Staphylococcus aureus with a MIC between 187.1 and 35.2 μM. On the other hand, these peptides displayed at the same time ACE inhibitory activity with an IC50 range from 42.55 to 1,095 μM.
Access options
Buy single article
Instant access to the full article PDF.
USD 39.95
Price excludes VAT (USA)
Tax calculation will be finalised during checkout.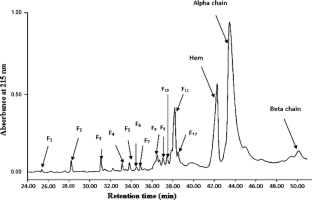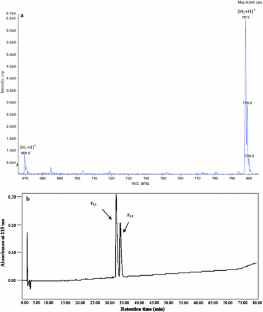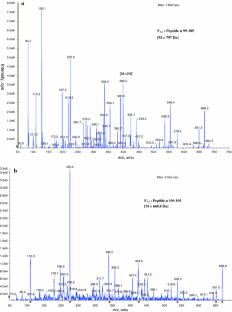 Abbreviations
ESI/MS:

Electrospray ionization mass spectrometry

ESI/MS/MS:

Electrospray ionization tandem mass spectrometry

RP-HPLC:

Reversed-phase high-performance liquid chromatography

DH:

Degree of hydrolysis

HHL:

Hippuryl-l-histidyl-l-leucine

HA:

Hippuric acid

ACE:

Angiotensin I-converting enzyme
References
Mito K, Fujii M, Kuwahara M, Matsumura N, Shimizu T, Sugano S, Karaki H (1996) Antihypertensive effect of angiotensin I-converting enzyme inhibitory peptides derived from hemoglobin. Eur J Pharmacol 304:93–98

Froidevaux R, Krier F, Nedjar-Arroume N, Vercaigne-Marko D, Kosciarz E, Ruckebusch C, Dhulster P, Guillochon D (2001) Antibacterial activity of a pepsin-derived bovine hemoglobin fragment. FEBS Lett 491:159–163

Daoud R, Dubois V, Bors-Dodita L, Nedjar-Arroume N, Krier F, Chihib NE, Mary P, Kouach M, Briand G, Guillochon D (2005) New antibacterial peptide derived from bovine hemoglobin. Peptides 26:713–719

Nedjar-Arroume N, Dubois-Delval V, Miloudi K, Daoud R, Krier F, Kouach M, Briand G, Guillochon D (2006) Isolation and characterization of four antibacterial peptides from bovine hemoglobin. Peptides 27:2082–2089

Yu Y, Hu J, Miyaguchi Y, Bai X, Du Y, Lin B (2006) Isolation and characterization of angiotensin I-converting enzyme inhibitory peptides derived from porcine hemoglobin. Peptides 27:2950–2956

Nedjar-Arroume N, Dubois-Delval V, Adje EY, Traisnel J, Krier F, Mary P, Kouach M, Briand G, Guillochon D (2008) Bovine hemoglobin: an attractive source of antibacterial peptides. Peptides 29:969–977

Yeaman MR, Yount NY (2003) Mechanisms of antimicrobial peptide action and resistance. Pharmacol Rev 55:27–55

Hong F, Ming L, Yi S, Zhanxia L, Yongquan W, Chi L (2008) The antihypertensive effect of peptides: a novel alternative to drugs? Peptides 29:1062–1071

Nielsen PM, Peterson D, Dambmann C (2001) Improved method for determining food protein degree of hydrolysis. J Food Sci 66:642–646

Zhao QY, Piot JM, Gautier V, Cottenceau G (1996) Peptic peptide mapping by HPLC, on line with photodiode array detection, of a haemoglobin hydrolysate produced at pilot-plant scale from an ultrafiltration process. Appl Microbiol Biotechnol 45:778–784

Parish CA, Jiang H, Tokiwa Y, Berova N, Nakanishi K, Mc Cabe D, Zuckerman W, Xia MM, Gabay JE (2001) Broad-spectrum antimicrobial activity of hemoglobin. Bioorg Med Chem 9:377–382

Nakamura Y, Yamamoto N, Sakai K, Okubo A, Yamazaki S, Takano T (1995) Purification and characterization of angiotensin I-converting-enzyme inhibitors from sour milk. J Dairy Sci 78:777–783

Strub JM, Goumon Y, Lugardon K, Capon C, Lopez M, Moniatte M, Van Dorsselaer A, Aunis D, Metz-Boutigue MH (1996) Antibacterial activity of glycosylated and phosphorylated chromogranin α-derived peptide 173–194 from bovine adrenal medullary chromaffin granules. J Biol Chem 271:28533–28540

Dathe M, Schumann M, Wieprecht T, Winkler A, Beyermann M, Krause E, Matsuzaki K, Murase O, Bienert M (1996) Peptide helicity and membrane surface charge modulate the balance of electrostatic and hydrophobic interactions with lipid bilayers and biological membranes. Biochemistry 35:12612–12620

Duncan DB (1955) Multiple and multiple F test. Biometrics 11:1–42

Kristinsson HG, Rasco BA (2000) Biochemical and functional properties of Atlantic salmon (Salmo salar) muscle proteins hydrolyzed with various alkaline proteases. J Agric Food Chem 48:657–666

Su RX, Qi W, He ZM (2007) Time-dependent nature in peptic hydrolysis of native bovine hemoglobin. Eur Food Res Technol 225:637–647

Powers JPS, Hancock REW (2003) The relationship between peptide structure and bacterial activity. Peptides 24:1681–1691

Hancock RE, Rozek A (2002) Role of membranes in the activities of antimicrobial cationic peptides. FEMS Microbiol Lett 206:143–149

Brogden KA (2005) Antimicrobial peptides: pore formers or metabolic inhibitors in bacteria? Nat Rev Microbiol 3:238–250

Zasloff M (2002) Antimicrobial peptides of multicellular organisms. Nature 415:389–395

Marynka KS, Rotem I, Portnaya U, Cogan Mor A (2007) In vitro discriminative antipseudomonal properties resulting from acyl substitution of N-terminal sequence of dermaseptin s4 derivatives. Chem Biol 14:75–85

Wu M, Maier E, Benz R, Hancock RE (1999) Mechanism of interaction of different classes of cationic antimicrobial peptides with planar bilayers and with the cytoplasmic membrane of Escherichia coli. Biochemistry 38:7235–7242

Andreu D, Rivas L (1998) Animal antimicrobial peptides: an overview. Biopolymers 47:415–433

Nishikata MT, Kanehira H, Oh H, Tani M, Tazaki Kuboki Y (1991) Salivary histatin as an inhibitor of a protease produced by the oral bacterium Bacteroides gingivalis. Biochem Biophys Res Commun 174:625–663

Meisel H (1997) Biochemical properties of regulatory peptides derived from milk proteins. Biopolymers 43:119–128

Wu J, Ding X (2001) Hypotensive and physiological effect of angiotensin converting enzyme inhibitory peptides derived from soy protein on spontaneously hypertensive rats. J Agric Food Chem 49:501–506

Wu J, Aluko RE, Nakai S (2006) Structural requirements of angiotensin I-converting enzyme inhibitory peptides: quantitative structure-activity relationship study of di- and tripeptides. J Agric Food Chem 54:732–738

Zhao Y, Li B, Dong S, Liu Z, Zhao X, Wang J, Zeng M (2009) A novel ACE inhibitory peptide isolated from Acaudina molpadioidea hydrolysate. Peptides 30:1028–1033

Balti R, Nedjar-Arroume N, Adjé YE, Guillochon D, Nasri M (2010) Analysis of novel angiotensin I-converting enzyme inhibitory peptides from enzymatic hydrolysates of Cuttlefish (Sepia officinalis) muscle proteins. J Agric Food Chem 58:3840–3846

Lu J, Ren DF, Xue YL, Sawano Y, Miyakawa T, Tanokura M (2010) Isolation of an antihypertensive peptide from alcalase digest of Spirulina platensis. J Agric Food Chem 58:7166–7171

Cao W, Zhang C, Hong P, Ji H, Hao J (2010) Purification and identification of an ACE inhibitory peptide from the peptic hydrolysate of Acetes chinensis and its antihypertensive effects in spontaneously hypertensive rats. Int J Food Sci Technol 45:959–965

Balti R, Nedjar-Arroume N, Bougatef A, Guillochon D, Nasri M (2010) Three novel angiotensin I converting enzyme (ACE) inhibitory peptides from cuttlefish (Sepia officinalis) using digestive proteases. Food Res Int 43:1136–1143

Wang Z, Wang G (2004) APD: The antimicrobial peptide database. Nucleic Acids Res 32:D590–D592
Acknowledgments
This work was supported by the University of Lille I. Estelle Yaba Adje has a fellowship from Ivorian government.
About this article
Cite this article
Adje, E.Y., Balti, R., kouach, M. et al. α 67-106 of bovine hemoglobin: a new family of antimicrobial and angiotensin I-converting enzyme inhibitory peptides. Eur Food Res Technol 232, 637–646 (2011). https://doi.org/10.1007/s00217-011-1430-z
Received:

Revised:

Accepted:

Published:

Issue Date:

DOI: https://doi.org/10.1007/s00217-011-1430-z
Keywords
Bovine hemoglobin

Hydrolysis

Antimicrobial peptides

ACE inhibitory activity