Abstract
Thermal inactivation of quality-related enzymes in both cauliflower crude enzyme extracts and fresh tissue samples was studied in temperature range 50–100 °C. For crude enzyme extracts, several parameters, reaction rate constants (k) and activation energy (E a) as well as decimal reduction time (D) and (z) values, were used to characterize the thermal stability. The rates of inactivation were found to follow first-order inactivation kinetics. Activation energies varied between 101.18 and 208.42 kJ mol−1 with z values of 10.59–24.09 °C. The examined kinetics indicated that lipoxygenase was the most heat resistant followed by peroxidase, polyphenol oxidase, pectin methyl esterase and ascorbic acid oxidase. Furthermore, the obtained results from the blanched fresh tissues indicated that inactivation of lipoxygenase secured disappearing of any other enzyme activities. Therefore, this study recommends using lipoxygenase as an indicator enzyme to optimize the thermal treatments of cauliflower products.
Access options
Buy single article
Instant access to the full article PDF.
USD 39.95
Price excludes VAT (USA)
Tax calculation will be finalised during checkout.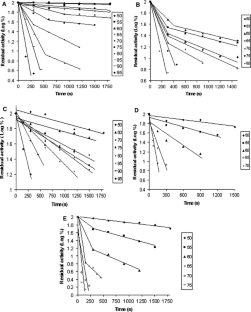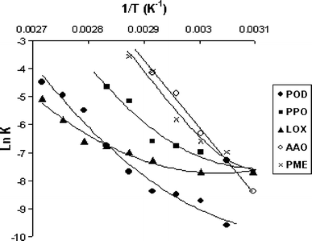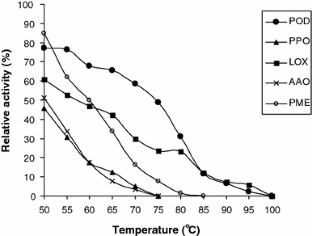 References
Das JR, Bhat SG, Gowda LR (1997) J Agric Food Chem 45:2031–2035

Valero E, Garcia-Carmona F (1998) J Agric Food Chem 46:2447–2451

Clemente E (1996) Ciênc Tecnol Aliment 16:1–5

Tijskens LMM, Rodis PS, Hertog ML ATM, Proxenia N, Dijk CV (1999) J Food Eng 39:167–177

Anthon GE, Barrett DM (2002) J Agric Food Chem 50:4119–4125

Adams J (1991) Food Chem 60:201–206

Fils B, Sauvage FX, Nicolas J (1985) Sci Aliment 5:217–232

McEvily AJ, Iyengar R, Otwell WS (1992) Crit Rev Food Sci Nutr 32:253–273

Williams DC, Lim MH, Chen AO, Pangborn RM, Whitaker JR (1986) Food Technol 40:130–140

Fachin D, Van Loey A, Indrawati I, Ludikhuyze L, Hendrickx M (2003) J Food Sci 67:1610–1615

Sharma SR, Singh PK, Chable V, Tripathi SK (2005) J New Seeds 6:151–193

Baardseth P, Naesset E (1989) Food Chem 32:39–46

Fellows PJ (2000) Food processing technology, 2nd edn. Woodhead Publishing Ltd, Cambridge

Abu-Goukh AA, Bashir HA (2003) Food Chem 83:213–218

Mazumdar BC, Majumder K (2003) Methods on physicochemical analysis of fruits. DAYA Publishing House, Delhi, p 163

Oktay M, Kufreviolglu I, Kocacalipkan I, Pakiroglu H (1995) J Food Sci 60:494–496

Bonnet JL, Crouzet J (1977) J Food Sci 42:625–628

Baker RA, Bruemmer JH (1968) Proc Fla State Hort Soc 81:269. http://www.calzyme.com. Accessed Dec 2003

Jiang CM, Wu CL, Chang HM (2003) J Food Sci 68:1590–1594

Gross KC (1982) Hort-Science 17:933–934

Lee CY, Pennesi AP (1984) J Food Sci 49:1616–1617

Chattopadhyay K, Mazumdar S (2000) Biochemistry 39:263–270

Khan AA, Robinson DS (1993) Food Chem 47:53–59

Neves VA, Lourenço EJ (1998) Braz Arch Biol Technol 41:179–186

Neves VA (2002) Braz Arch Biol Technol 45:7–16

Lee CY, Pennesi AP, Dickson MH (1984) J Agric Food Chem 32:18–21

Ganthavorn C, Nagal C, Powers JR (1991) J Food Sci 56:47–49

Regaldo C, Arvizu OP, Garcia-Almendarez BE, Whitaker JR (1999) J Food Biochem 23:435–450

Thongsook T, Barrett DM (2005) J Agric Food Chem 53:3215–3222

Holdsworth SD (1992) Aseptic processing and packaging of food products. Elsevier Applied Science, London

Gkinis AM, Fennema OR (1978) J Food Sci 43(2):527–531

McLellan KM, Robinson DS (1981) Food Chem 7:257–266

Vámos-Vigyázó L (1981) CRC Crit Rev Food Sci Nutr 15:49–127

Kampis A, Bartucz-Kovács O, Hoschke A, Vámos-Vigyázo L (1984) Lebensm Wiss Technol 17:293–295

Liu EH, Lamport DTA (1974) Plant Physiol 54:870–876

Blain JA, Patterson JDE, Pearce M (1968) J Sci Food Agric 19:713–717

Weemaes CA, Ludikhuyze LR, Van den Broeck I, Hendrickx ME, Tobback PP (1998) Lebensm Wiss Technol 31:44–49

Gomez-Lopez VM (2002) Food Chem 77:163–169

Mdluli KM (2005) Food Chem 92:311–323

McCord JD, Kilara A (1983) J Food Sci 48:1479–1484

Aquilera JM, Oppermann K, Sanchez F (1987) J Food Sci 52:990–993

Ansah YJO (1989) J Agric Food Chem 37:901–904

Tadaaki W, Yukio S (2003) J Cookery Sci Jpn 36:243–248

Gokmen V, Bahceci KS, Serpen A, Acar J (2005) Lebensm Wiss Technol 38:903–908

Borhan M, Synder HE (1979) J Food Sci 38:40–42

Park KH, Kim YM, Lee CW (1988) J Agric Food Chem 36:1012–1014

Morales-Blancas EE, Chandia VE, Cisneros-Zevallos L (2002) J Food Sci 67:146–154

Anthon GE, Barrett DM (2003) Food Chem 81:275–279

Indrawati I, Van Loey AM, Ludikhuyze LR, Hendrickx ME (1999) Biotechnol Prog 15:273–277

Busto MD, Owusu-Apenten RK, Robinson DS, Wu Z, Casey R, Hughes RK (1999) Food Chem 65:323–329

Indrawati I, Van Loey AM, Ludikhuyze LR, Hendrickx ME (2000) J Agric Food Chem 48:1850–1859

Indrawati I, Van Loey AM, Ludikhuyze LR, Hendrickx ME (2001) J Food Sci 66:686–693

Anese M, Sovrano S (2006) Food Chem 95:131–137

Murao S, Itoh H, Ymima T, Ozaki Y, Fukuyasu S, Shin T (1992) Biosci Biotechnol Biochem 56:847–852

Saari NB, Fujita S, Haragchi K, Tono T (1994) J Sci Food Agric 65:153–156

Saari NB, Fujita S, Haragchi K, Miyazoe R, Tono T (1995) J Sci Food Agric 68:515–519

Saari NB, Fujita S, Miyazoe R, Okugawa M (1995) J Food Biochem 19:321–327

Munyaka AW, Makule EE, Oey I, Loey AY, Hendrickx M (2010) J Food Sci 75:336–340

Versteeg C, Rombouts FM, Spaansen CH, Pilnik W (1980) J Food Sci 45:969–971

Ly-Nguyen B, Van Loey AM, Fachin D, Verlent I, Duvetter T, Vu ST, Smout C, Hendrickx ME (2002) Biotechnol Prog 18:1447–1450

Anthon GE, Sekine Y, Watanabe N, Barrett DN (2002) J Agric Food Chem 50:6153–6159

Denes J, Baron A, Drilleau J (2000) J Sci Food Agric 80:1503–1509

Leite KMS, Tadiotti AC, Baldochi D, Oliveira OMMF (2006) Food Chem 94:565–572

Pilink W, Voragen AGJ (1993) In: Nagodawithana T, Reed G (eds) Enzymes in food processing. Academic Press, London, pp 363–399

King DL, Klein BP (1987) J Food Sci 52:220–221

Barrett DM, Theerakulkait C (1995) Food Technol 49:62–65

Nagy-Gasztonyi M, Kardos-Neumann A, Biacs PA (2000) Acta Aliment 29:181–186

Sheu SC, Chen AO (1991) J Food Sci 56:448–451
About this article
Cite this article
Rayan, A.M.M., Gab-Alla, A.A., Shatta, A.A. et al. Thermal inactivation kinetics of quality-related enzymes in cauliflower (Brassica oleracea var. botrytis ) . Eur Food Res Technol 232, 319–326 (2011). https://doi.org/10.1007/s00217-010-1391-7
Received:

Revised:

Accepted:

Published:

Issue Date:

DOI: https://doi.org/10.1007/s00217-010-1391-7
Keywords