Abstract
In this study, smooth hound protein hydrolysates (SHPHs), obtained by treatment with various gastrointestinal proteases, were analyzed for their angiotensin I-converting enzyme (ACE) inhibitory activities. Protein hydrolysates were obtained by treatment with crude alkaline enzyme extract, low molecular weight (LMW) alkaline protease, trypsin-like protease and pepsin from Mustelus mustelus, and bovine trypsin. All hydrolysates exhibited inhibitory activity toward ACE. Hydrolysate generated with alkaline protease extract displayed the highest ACE inhibitory activity, and the higher inhibition activity (82.6% at 2 mg/mL) was obtained with a hydrolysis degree of 18.8%. This hydrolysate was then fractionated by size exclusion chromatography on a Sephadex G-25 into five major fractions (P1–P5). ACE inhibitory activities of all fractions were assayed, and P3 was found to display a high ACE inhibitory activity (62.24% at 1 mg/mL). P3 was then fractionated by reversed-phase high-performance liquid chromatography (RP-HPLC) and ten fractions of ACE inhibitors were found (F1–F10). Sub-fraction F3 showed the strongest ACE inhibitory activity, being able to suppress more than 60% of initial enzyme activity at a concentration of 100 μg/mL. The amino acid sequence of peptide F3 was determined by ESI/MS and ESI–MS/MS as Ala-Gly-Ser, and the IC50 value for ACE inhibitory activity was 0.13 ± 0.03 mg/mL. Further, purified peptide F3 maintained inhibitory activity even after in vitro digestion with gastrointestinal proteases in order to demonstrate gastrointestinal stability digestion to enable oral application. These results indicate that smooth hound protein hydrolysate possesses potent antihypertensive activity.
Access options
Buy single article
Instant access to the full article PDF.
USD 39.95
Price excludes VAT (USA)
Tax calculation will be finalised during checkout.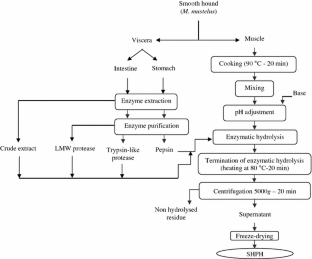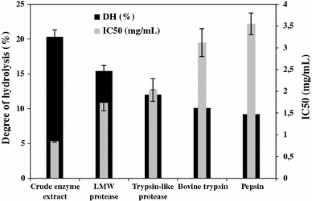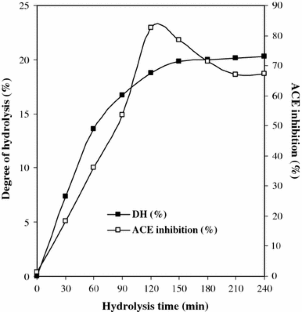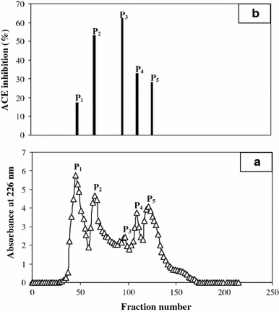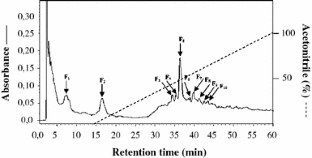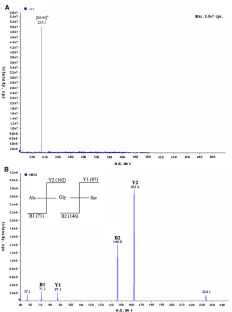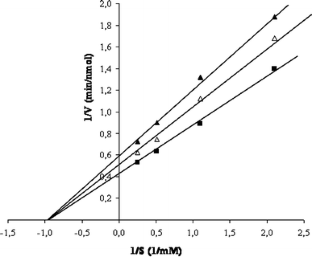 Abbreviations
SHPH:

Smooth hound protein hydrolysate

ACE:

Angiotensin-converting enzyme

LMW:

Low molecular weight

DH:

Degree of hydrolysis
References
Scheidegger KJ, Butler S, Witztum JL (1997) J Biochem Chem 272:21609–21615

Ondetti MA, Rubin B, Cushman DW (1982) Annu Rev Biochem 51:283–288

Fujita H, Yokoyama K, Yoshikawa M (2000) J Food Sci 65:564–569

Kuster DJ, Marshall GR (2005) J Comput Aided Mol Des 19:609–615

Meisel H, Goepfert A, Guenther S (1997) Milchwissenschaft 52:307–311

Cheung HS, Wang FL, Miguel AO, Emily FS, David WC (1980) J. Biol Chem 255:401–407

Ferreira SH, Bartelt DC, Greene LJ (1970) Biochemistry 9:2583–2593

Silva SV, Malcata FX (2005) Int Dairy J 15:1–15

Marczak ED, Usui A, Fujita H, Yang Y, Yokoo M, Lipkowski AW et al (2003) Peptides 24:791–798

Lee DH, Kim JH, Park JS, Choi YJ, Lee JS (2004) Peptides 25:621–627

Vermeirssen VA (2004) Biochimie 86:231–239

Arihara K, Nakashima Y, Mukai T, Ishikawa S, Itoh M (2001) Meat Sci 57:319–324

Kim SK, Byun HG, Park PJ, Shahidi F (2001) J Agric Food Chem 49:2992–2997

Kuba M, Tana C, Tawata S, Yasuda M (2005) Process Biochem 40:2191–2196

Saito Y, Wanezaki K, Kawato A, Imayasu S (1994) Biosci Biotechnol Biochem 58:1767–1771

Fahmi A, Morimura S, Guo HS, Shigematsu T, Kida K, Uemurac Y (2004) Process Biochem 39:1195–1200

Bougatef A, Nedjar-Arroume N, Ravallec-Plé R, Leroy Y, Guillochon D, Barkia A, Nasri M (2008) Food Chem 111:350–356

Hyun CK, Shin HK (2000) Process Biochem 36:65–71

Yu Y, Hu J, Bai X, Du Y, Lin B (2006) Process Biochem 41:1589–1593

Costa EL, Gontijo JAR, Netto FM (2007) Int Dairy J 17:632–640

Matsui T, Matsufuji H, Seki E, Osajima K, Nakashima M, Osajima Y (1993) Biosci Biotechnol Biochem 57:922–925

Bougatef A, Hajji M, Balti R, Lassoued I, Triki-Ellouz Y, Nasri M (2009) Food Chem 114:1198–1205

Khantaphant S, Benjakul S (2008) Comp Biochem Physiol 151B:410–419

Bougatef A, Balti R, Ben Zaied S, Souissi N, Nasri M (2008) Food Chem 107:774–784

Bougatef A, Jellouli K, Balti R, Haddar A, Triki-Ellouz Y, Barkia A, Nasri M (2008) In: Koeffer EN (ed) Progress in food chemistry. Nova Science, pp 183–199. ISBN: 978-1-60456-303-0

Bougatef A, Balti R, Jellouli K, Triki-Ellouz Y, Nasri M (2008) In Nasri M (ed) Recent research developments in food by-products technology and biotechnology. Research signpost, pp 1–19. ISBN: 978-81-308-0259-6

Kembhavi AA, Kulkarni A, Pant A (1993) Appl Biochem Biotechnol 38:83–92

Adler-Nissen J (1986) In: Adler-Nissen J (eds) Enzymic hydrolysis of food proteins. Elsevier, Copenhagen, pp 57–109

Hoyle NT, Merritt JH (1994) J Food Sci 59:76–79

Nakamura Y, Yamamoto N, Sakai K, Okubo A, Yamazaki S, Takano T (1995) J Dairy Sci 78:777–783

Wu J, Ding X (2002) Food Res Int 35:367–375

Kristinsson HG, Rasco BA (2000) J. Agric Food Chem 48:657–666

van der Ven C, Gruppen H, de Bont DBA, Voragen AG (2002) J Int. Dairy J 12:813–820

He HL, Chen XL, Wu H, Sun CY, Zhang YZ, Zhou BC (2007) Bioresour Technol 98:3499–3505

Yokoyama K, Chiba H, Yoshikawa K, Chiba H, Yoshikawa M (1992) Biosci Biotech Biochem 56:1541–1545

Ono S, Hosokawa M, Miyashita K, Takahashi K (2005) Int J Food Sci Technol 41:383–386

Matsufuji H, Matsui T, Seki E, Osajima K, Nakashima M, Osajima Y (1994) Biosci Biotech Biochem 58:2244–2245

Panyam D, Kilara A (1996) Trends Food Sci. Technol. 7:120–125

Jérôme T, Laurent M, Jean-Luc G (2002) FEBS Lett 531:369–374

Lee JR, Kwon DY, Shin HK, Yang CB (1999) Food Sci Biotechnol 8:172–178

Mullally MM, Meisel H, FitzGerald RJ (1997) FEBS Lett 402:99–101

Meisel H (1997) Biopolymers 43:119–128

Wu J, Ding X (2001) J Agric Food Chem 49:501–506

Wu J, Aluko RE, Nakai S (2006) J Agric Food Chem 54:732–738

Turner AJ, Hooper NM (1992) Trends Pharmacol Sci 23:177–183

Gobbetti M, Ferranti P, Smacchi E, Goffredi F, Addeo F (2000) Appl Environ Microbiol 9:3898–3904

Sheih IC, Fang TJ, Wu TK (2009) Food Chem 115:279–284

Wang J, Hu J, Cui J, Xuefang B, Dua Y, Miyaguchi Y, Lin B (2008) Food Chem 111:302–308

Je JY, Park PJ, Kwon JY, Kim SKA (2004) J. Agric Food Chem 52:7842–7845
Acknowledgment
This work was funded by Ministry of Higher Education and Scientific Research-Tunisia.
About this article
Cite this article
Bougatef, A., Balti, R., Nedjar-Arroume, N. et al. Evaluation of angiotensin I-converting enzyme (ACE) inhibitory activities of smooth hound (Mustelus mustelus) muscle protein hydrolysates generated by gastrointestinal proteases: identification of the most potent active peptide. Eur Food Res Technol 231, 127–135 (2010). https://doi.org/10.1007/s00217-010-1260-4
Received:

Revised:

Accepted:

Published:

Issue Date:

DOI: https://doi.org/10.1007/s00217-010-1260-4
Keywords
Smooth hound muscle

M. mustelus

Intestine crude extract

Enzymatic treatment

ACE inhibitory activities

Protein hydrolysates