Abstract
In this study, four different protocols were tested for their ability to extract DNA from blended refined vegetable oils: the in-house prepared Wizard and CTAB methods and the methods based on the use of the commercial kits Wizard® Magnetic DNA purification system for food and Nucleospin® for food. The performance of the extraction protocols was determined by end-point polymerase chain reaction (PCR) targeting the soybean lectin gene with primers suitable for the amplification of small fragments and confirmed by real-time PCR with specific hydrolysis probes. From the tested protocols, the Nucleospin method was the only one able to produce amplifiable DNA from refined vegetable oils. To verify the presence of Roundup Ready® (RR) soybean, event-specific primers were used for end-point PCR assays. The amplification of trace amounts of RR soybean by real-time PCR confirmed the label statements of two samples. The results highlight the importance of the DNA extraction protocol and the critical choice of PCR primers on processed food matrices, such as refined oils. Considering the few reports and difficulties pointed out in the literature to obtain amplifiable DNA from refined vegetable oils, the present results can be a step forward in the traceability of refined oils regarding authenticity issues and genetically modified organism detection.
Access options
Buy single article
Instant access to the full article PDF.
USD 39.95
Price excludes VAT (USA)
Tax calculation will be finalised during checkout.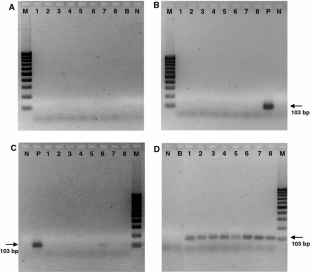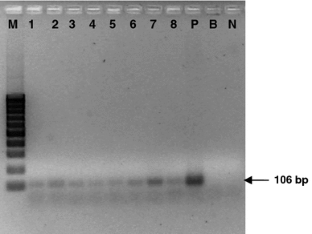 References
James C (2008) ISAAA Brief 39, accessible in http://www.ISAAA.org

http://www.soystats.com/2008/page_35.htm. Accessed on the 14 of January of 2009

Mafra I, Ferreira IMPLV, Oliveira MBPP (2008) Eur Food Res Technol 227:649–665

Gryson N, Ronsse F, Messens K, De Loose M, Verleyen T, Dewettinck K (2002) JAOCS 79(2):171–174

Gryson N, Messens K, Dewettinck K (2004) JAOCS 81(3):231–234

Marioda A, Matthäusb B, Eichnerc K, Husseind IH (2006) Eur J Lipid Sci Technol 108:298–308

Breton C, Claux D, Metton I, Skorski G, Bervillé A (2004) J Agric Food Chem 52:531–537

Consolandi C, Palmieri L, Severgnini M, Maestri E, Marmiroli N, Agrimonti C, Baldoni L, Donini P, De Bellis G, Castiglioni G (2008) Eur Food Res Technol 227:1429–1438

Doveri S, Sullivan DMO, Lee D (2006) J Agric Food Chem 54:9221–9226

Martins-Lopes P, Gomes S, Santos E, Guedes-Pinto H (2008) J Agric Food Chem 56:11786–11791

Muzzalupo I, Perri E (2002) Eur Food Res Technol 214:528–531

Muzzalupo I, Pellegrino M, Perri E (2007) Eur Food Res Technol 224:469–475

Hellebrand M, Nagy M, Mörsel JT (1998) Z Lebensm Unters Forsch A 206:237–242

Pauli U, Liniger M, Zimmermann A (1998) Z Lebensm Unters Forsch A 207:264–267

Bogani P, Minunni M, Spiriti MM, Zavaglia M, Tombelli S, Buiatti M, Mascini M (2009) Food Chem 113:658–664

Doveri S, Lee D (2007) J Agric Food Chem 55:4640–4644

Lipp M, Brodmann P, Pietsch K, Pauwels J, Anklam E (1999) J AOAC Int 82:923–928

Mafra I, Silva SA, Moreira EJMO, Silva CSF, Oliveira MBPP (2008) Food Control 19:1183–1190

Querci M, Maretti M, Mazzara M (2006) Qualitative detection of MON810 maize, Bt-176 maize and Roundup Ready® soybean by PCR. In Querci M, Jermini M, Eede GV (eds) Training course on The Analysis of Food Samples for the Presence of Genetically Modified Organisms (Session 9). European Commission DG-JRC. Luxembourg: Office for Official Publications of the European Communities (http://gmotraining.jrc.it)

Costa J, Mafra I, Amaral JS, Oliveira MBPP (2010) Food Res Int 43:301–306

ISO 21570 (2005) Foodstuffs–Methods of analysis for the detection of genetically modified organisms and derived products–quantitative nucleic acid based methods, 1st ed. International Standard ISO 21570. ISO, Geneva

Corbisier P, Broothaerts W, Gioria S, Schimmel H, Burns M, Baoutin AA, Emslie KR, Furui S, Kurosawa Y, Holden MJ, Kim HH, Lee YM, Kawaharasaki M, Sin D, Wang J (2007) J Agric Food Chem 55:3249–3257

Peano C, Lesignoli F, Gulli M, Corradini R, Samson MC, Marchelli R (2005) Anal Biochem 344(2):174–182

Pinto AD, Forte V, Guastadisegni MC, Martino C, Schena FP, Tantillo G (2007) Food Control 18:76–80

Pasqualone A, Montemurro C, Summo C, Sabetta W, Caponio F, Blanco A (2007) J Agric Food Chem 55:3857–3862
About this article
Cite this article
Costa, J., Mafra, I., Amaral, J.S. et al. Detection of genetically modified soybean DNA in refined vegetable oils. Eur Food Res Technol 230, 915–923 (2010). https://doi.org/10.1007/s00217-010-1238-2
Received:

Revised:

Accepted:

Published:

Issue Date:

DOI: https://doi.org/10.1007/s00217-010-1238-2
Keywords