Abstract
Recycled paper and board used in food packaging materials (boxes, paper bags) often cause migration of mineral oil into food at levels which are unacceptable according to present toxicological assessments. When foods in recycled board are densely packed into larger boxes or onto pallets, most of the hydrocarbons up to n-C20 may migrate into the packed food within a few weeks, those up to n-C28 at a decreasing rate. Unprinted recycled board contained 300–1,000 mg/kg mineral oil <n-C28. The main sources are the inks used for printing newspapers: newspapers contained roughly 3,000 mg/kg mineral oil <n-C28. These mineral oils fall into classes for which JECFA established a tolerable daily intake of 0.01 mg/kg body weight. Using standard assumptions for calculating specific migration limits, a maximum tolerable concentration in food of 0.6 mg/kg is derived. This evaluation assumes highly refined white oils, whereas the oils found in recycled board are of technical quality and contain 15–25% aromatic compounds, predominantly with 1–3 aromatic rings, as shown by comprehensive GC × GC. This finding precipitates authorities into a dilemma: recycling is supported for the sustainable use of materials, but on the basis of present toxicological assessments the migration is often far beyond acceptable.
This is a preview of subscription content, log in to check access.
Access options
Buy single article
Instant access to the full article PDF.
US$ 39.95
Price includes VAT for USA
Subscribe to journal
Immediate online access to all issues from 2019. Subscription will auto renew annually.
US$ 199
This is the net price. Taxes to be calculated in checkout.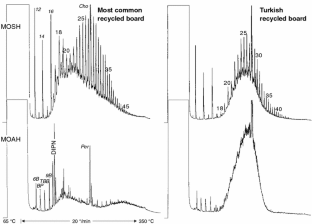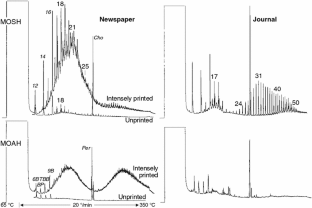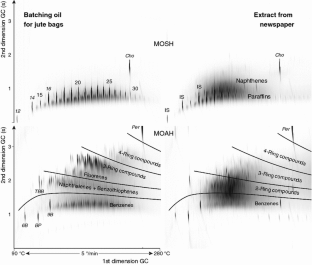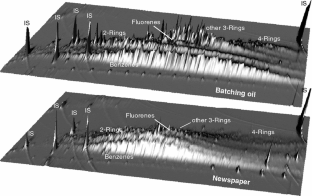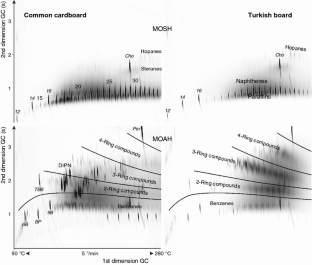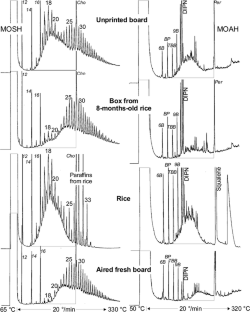 References
1.

Escabasse JY, Ottenio D (2002) Food Addit Contam 19:79–92

2.

Castle L, Offen CP, Bater MJ, Gilbert J (1997) Food Addit Contam 14:35–44

3.

Sipilainen-Malm T, Latva-Kala K, Tikkanen L, Suihko ML, Skyttä E (1997) Food Addit Contam 14:695–703

4.

Castle L, Damant AP, Honeybone CA, Johns SM, Jickells SM, Sharman M, Gilbert J (1997) Food Addit Contam 14:45–52

5.

Aurela B, Kumala H, Söderhjelm L (1999) Food Addit Contam 16:571–577

6.

Nerin C, Asensio E (2004) Anal Chim Acta 508:185–191

7.

Hagenbarth MJ (2005) Food Addit Contam 22:1042–1052

8.

Bradley EL, Honkalampi-Hämäläinen U, Weber A, Andersson MA, Bertaud F, Castle L, Dahlman O, Hakulinen P, Hoornstra D, Lhuguenot J-C, Mäki-Paakkanen J, Salkinoja-Salonen M, Speck DR, Severin I, Stammati A, Turco L, Zucco F, von Wright A (2008) Food Chem Toxicol 46:2498–2509

9.

Droz C, Grob K (1997) Z Lebensm Unters Forsch 205:239–241

10.

Fauris C, Lundström H, Vilaginès R (1998) Food Addit Contam 15:716–728

11.

Binderup ML, Pedersen GA, Vinggaard AM, Rasmussen ES, Rosenquist H, Cederberg T (2002) Food Addit Contam 19:13–28

12.

Ozaki A, Yamaguchi Y, Fujita T, Kuroda K, Endo K (2005) Food Addit Contam 22:1053–1060

13.

Franz R (2002) Food Addit Contam 19(Suppl):93–110

14.

Baldwin MK, Berry PH, Esdaile DJ, Linnett SL, Martin JG, Peristianis GC, Priston RA, Simpson BJ, Smith JD (1992) Toxicol Pathol 20:426–435

15.

Smith JH, Mallett AK, Priston RA, Brantom PG, Worrell NR, Sexsmith C, Simpson BJ (1996) Toxicol Pathol 24:214–230

16.

Scientific Committee for Food (SCF) (1995) Opinion on mineral and synthetic hydrocarbons, 22 September 1995

17.

Joint FAO/WHO Expert Committee on Food Additives (JECFA) http://www.inchem.org/documents/jecfa/jeceval/jec_1655.htm

18.

Joint FAO/WHO Expert Committee on Food Additives (JECFA) (2002) 59th report. WHO Technical Report Series 913, pp 11–20. http://whqlibdoc.who.int/trs/WHO_TRS_913.pdf

19.

Grob K, Biedermann M, Caramaschi A, Pacciarelli B (1991) J High Resol Chromatogr 14:33–39

20.

Grob K, Lanfranchi M, Egli J, Artho A (1991) J AOAC 74:506–512

21.

Grob K, Artho A, Biedermann M, Caramaschi A, Mikle H (1992) J Assoc Off Anal Chem 75:283–287

22.

Grob K, Artho A, Biedermann M, Mikle H (1993) Z Lebensm Unters Forsch 197:370–374

23.

Grob K, Artho A, Biedermann M (1991) Int Lab 6:12–16

24.

Biedermann M, Fiselier K, Grob K (2009) J Agric Food Chem 57:8711–8721

25.

Biedermann M, Grob K (2009) J Chromatogr A 1216:8652–8658

26.

Biedermann M, Grob K (2009) J Sep Sci 32:3726–3737

27.

Mariani MB, Chiacchierini E, Gesumundo C (1999) Food Addit Contam 16:207–213

28.

Fiselier K, Rutschmann E, McCombie G. Grob K (2009) Eur Food Res Technol 230:619–626

29.

Swiss "Verordnung des EDI über Bedarfsgegenstände", Article 21, http://www.admin.ch/ch/d/sr/8/817.023.21.de.pdf
About this article
Cite this article
Biedermann, M., Grob, K. Is recycled newspaper suitable for food contact materials? Technical grade mineral oils from printing inks. Eur Food Res Technol 230, 785–796 (2010). https://doi.org/10.1007/s00217-010-1223-9
Received:

Revised:

Accepted:

Published:

Issue Date:
Keywords
Recycled paper and board

Printing ink

Migration from cardboard

Mineral oil saturated hydrocarbons (MOSH)

Mineral oil aromatic hydrocarbons (MOAH)