Abstract
Pulses, nuts and seeds represent an important part of human diet in many countries and epidemiological studies associated their consumption with many health benefits. These foods are often consumed after roasting that may destroy some bioactive compounds, but it can also form antioxidant compounds through the Maillard reaction. In this paper, a direct procedure for the extraction-independent measurement of the total antioxidant capacity named QUENCHER was applied to raw and roasted pulses, nuts and seeds. The results highlighted a high value of total antioxidant capacity (TAC) for some raw seed and pulses showing marked inter-varietal differences among beans examined. TAC value measured by QUENCHER was generally higher than that found using multiple extraction procedure. The effect of roasting on the TAC is the result of the thermal degradation of naturally occurring antioxidant compounds and the formation of new Maillard reaction products having antioxidant activity. In most of the foods studied, the final balance was negative with a substantial loss of antioxidant activity upon roasting. The main driver of the final TAC is the presence of reactants: in rich-starch materials, such as chickpea, cashew and borlotti beans, roasting is accompanied by a progressive increase in TAC, which is likely related with the formation of antioxidant Maillard reaction products.
Access options
Buy single article
Instant access to the full article PDF.
USD 39.95
Price includes VAT (USA)
Tax calculation will be finalised during checkout.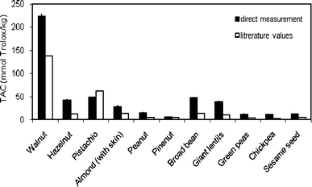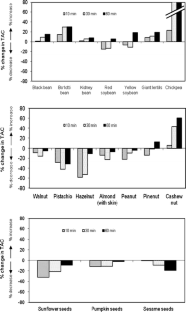 References
1.

Lairon D, Arnault N, Bertrai S, Planells R, Clero E, Hercberg S, Boutron-Ruault MC (2005) Dietary fiber intake and risk factors for cardiovascular disease in French adults. Am J Clin Nutr 82:1185–1194

2.

Duane WC (1997) Effects of legume consumption on serum cholesterol, biliary lipids, and sterol metabolism in humans. J Lipid Res 38:1120–1128

3.

Kris-Etherton PM, Hu FB, Ros E, Sabaté J (2008) The role of tree nuts and peanuts in the prevention of coronary heart disease: multiple potential mechanisms. J Nutr 138:1746S–1751S

4.

Skrbic B, Filipcev B (2008) Nutritional and sensory evaluation of wheat breads supplemented with oleic-rich sunflower seed. Food Chem 108(1):119–129

5.

Kanu PB, Zhu K, Kanu JB, Zhou H et al (2007) Biologically active components and nutraceuticals in sesame and related products: a review and prospect. Trends Food Sci Technol 18:599–608

6.

Pellegrini N, Serafini M, Salvatore S, Del Rio D et al (2006) Total antioxidant capacity of spices, dried fruits, nuts, pulses, cereals and sweets consumed in Italy assessed by three different in vitro assays. Mol Nutr Food Res 50:1030–1038

7.

Serpen A, Capuano E, Fogliano V, Gökmen V (2007) A new procedure to measure the antioxidant activity of insoluble food components. J Agric Food Chem 55(19):7676–7681

8.

Serpen A, Gökmen V, Pellegrini N, Fogliano V (2008) Direct measurement of total antioxidant capacity of cereal products. J Cereal Sci 48(3):816–820

9.

Gökmen V, Serpen A, Fogliano V (2009) Direct measurement of the total antioxidant capacity of foods: the 'QUENCHER' approach. Trends Food Sci Technol 20:278–288

10.

Nicoli MC, Anese M, Parpinel M (1999) Influence of processing on the antioxidant properties of fruit and vegetables. Trends Food Sci Technol 10:94–100

11.

Manzocco L, Calligaris S, Mastrocola D, Nicoli MC, Lerici CR (2001) Review of non-enzymatic browning and antioxidant capacity in processed foods. Trends Food Sci Technol 11:340–346

12.

Sacchetti G, Mattia CD, Pittia P, Mastrocola D (2009) Effect of roasting degree, equivalent thermal effect and coffee type on the radical scavenging activity of coffee brews and their phenolic fraction. J Food Eng 90:74–80

13.

Arlorio M, Locatelli M, Travaglia F, Coisson J-D et al (2008) Roasting impact on the contents of clovamide (N-caffeoyl-L-DOPA) and the antioxidant activity of cocoa beans (Theobroma cacao L.). Food Chem 106:967–975

14.

Rocha-Guzmán NE, Herzog A, González-Laredo RF, Ibarra-Pérez FJ et al (2007) Antioxidant and antimutagenic activity of phenolic compounds in three different colour groups of common bean cultivars (Phaseolus vulgaris). Food Chem 103(2):521–527

15.

Madhujith T, Amarowicz R, Shahidi F (2004) Phenolic antioxidants in beans and their effects on inhibition of radical-induced DNA damage. J Am Oil Chem Soc 81(7):691–696

16.

Xu BJ, Yuan SH, Chang SKC (2007) Comparative analyses of phenolic composition, antioxidant capacity, and color of cool season legumes and other selected food legumes. J Food Sci 72(2):S167–S177

17.

Takahata Y, Ohnishi-Kameyama M, Furuta S, Takahashi M, Suda I (2001) Highly polymerized procyanidins in brown soybean seed coat with a high radical-scavenging activity. J Agric Food Chem 49(12):5843–5847

18.

Pascual-Teresa S, Santos-Buelga C, Rivas-Gonzalo JC (2000) Quantitative analysis of flavan-3-ols in Spanish foodstuffs and beverages. J Agric Food Chem 48:5331–5337

19.

Duenas M, Sun B, Hernandez T, Estrella I, Spranger MI (2003) Proanthocyanidin composition in the seed coat of lentils (Lens culinaris L.). J Agric Food Chem 51(27):7999–8004

20.

Kornsteiner M, Wagner K, Elmadfa I (2006) Tocopherols and total phenolics in 10 different nut types. Food Chem 98(2):381–387

21.

Gentile C, Tesoriere L, Butera D, Fazzari M et al (2007) Antioxidant activity of sicilian pistachio (Pistacia vera L. Var.Bronte) nut extract and its bioactive components. J Agric Food Chem 55(3):643–648

22.

Alasalvar C, Karamać M, Amarowicz R, Shahidi F (2006) Antioxidant and antiradical activities in extracts of hazelnut kernel (Corylus avellana L.) and hazelnut green leafy cover. J Agric Food Chem 54(13):4826–4832

23.

Chukwumah Y, Walker L, Vogler B, Verghese M (2007) Changes in the phytochemical composition and profile of raw, boiled and roasted peanuts. J Agric Food Chem 55(22):9266–9273

24.

Kubo I, Masuoka N, Ha TJ, Tsujimoto K (2006) Antioxidant activity of anacardic acids. Food Chem 99(3):555–562

25.

Wu X, Beecher GR, Holden JM, Haytowitz DB et al (2004) Lipophilic and hydrophilic antioxidant capacities of common foods in the United States. J Agric Food Chem 52(11):4026–4037

26.

Halvorsen BL, Carlsen MH, Phillips KM, Bøhn SK et al (2006) Content of redox-active compounds (i.e., antioxidants) in foods consumed in the United States. Am J Clin Nutr 84:95–135

27.

Shahidi F, Liyana-Pathirana CM, Wall DS (2006) Antioxidant activity of white and black sesame seeds and their hull fractions. Food Chem 99(3):478–483

28.

Arya M, Rao LJ (2007) An impression of coffee carbohydrates. Crit Rev Food Sci Nutr 47:51–67

29.

Granvogl M, Bugan S, Schieberle P (2006) Formation of amines and aldehydes from parent amino acids during thermal processing of cocoa and model systems: new insights into pathways of the strecker reaction. J Agric Food Chem 54(5):1730–1739

30.

Hayase F, Hirashima S, Okamoto G, Kato H (1989) Scavenging of active oxygen by melanoidins. Agric Biol Chem 53:3383–3385

31.

Arcan I, Yemenicioglu A (2007) Antioxidant activity of protein extracts from heat-treated or thermally processed chickpeas and white beans. Food Chem 103(2):301–312

32.

Pokorny J, Schmidt S (2001) In: Pokorny J, Yanishlieva N, Gordon M (eds) Antioxidants in food—practical applications. Woodhead Publishing, Cambridge, pp 331–354

33.

Amaral JS, Casal S, Seabra RM, Oliveira BP (2006) Effect of roasting on hazelnut lipids. J Agric Food Chem 54(4):1315–1321

34.

Alasalvar C, Shahidi F, Cadwallader KR (2003) Comparison of natural and roasted Turkish tombul hazelnut (Corylus avellana L.) volatiles and flavor by DHA/GC/MS and descriptive sensory analysis. J Agric Food Chem 51:5067–5072

35.

Talcott ST, Passeretti S, Duncan CE, Gorbet DW (2005) Polyphenolic content and sensory properties of normal and high oleic acid peanuts. Food Chem 90(3):379–388

36.

USDA National Nutrient Database for Standard Reference Release 20, 2007

37.

Mohamed HMA, Awatif II (1998) The use of sesame oil unsaponifiable matter as a natural antioxidant. Food Chem 62(3):269–276

38.

Murkovic M, Piironen V, Lampi AM, Kraushofer T, Sontag G (2004) Changes in chemical composition of pumpkin seeds during the roasting process for production of pumpkin seed oil part 1: non-volatile compounds. Food Chem 84(3):359–365
About this article
Cite this article
Açar, Ö.Ç., Gökmen, V., Pellegrini, N. et al. Direct evaluation of the total antioxidant capacity of raw and roasted pulses, nuts and seeds. Eur Food Res Technol 229, 961–969 (2009). https://doi.org/10.1007/s00217-009-1131-z
Received:

Revised:

Accepted:

Published:

Issue Date:
Keywords
Roasting

Antioxidants

Nuts

Pulses

Seeds