Abstract
Three Lactobacillus strains were selected and used together as sourdough starter. Sourdough performances were evaluated for 30 days. Three breads were manufactured: wheat sourdough bread (WSB), WSB enriched with oat and rye fibres (WSB-DF) and wheat yeasted bread (WYB) fermented with baker's yeast alone. WSB-DF and WSB showed higher specific volume and lower firmness than WYB. Sensory analysis showed that WSB-DF and WSB were preferred due to acidulous smell, taste and aroma. Compared to WYB and WSB, WSB-DF had high level of dietary fibre (DF). WYB was used as the control to estimate the hydrolysis index (HI = 100). WSB-DF had values of HI lower than WSB (59 vs. 86%). As estimated on 20 volunteers, the value of GI for WSB-DF was ca. 41%. WSB-DF bread manufactured at industrial plant combined low-GI with physiologically significant supply of DF and high standard structure and sensory features.
This is a preview of subscription content, log in to check access.
Access options
Buy single article
Instant access to the full article PDF.
US$ 39.95
Price includes VAT for USA
Subscribe to journal
Immediate online access to all issues from 2019. Subscription will auto renew annually.
US$ 199
This is the net price. Taxes to be calculated in checkout.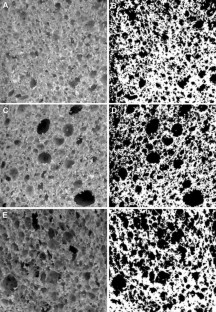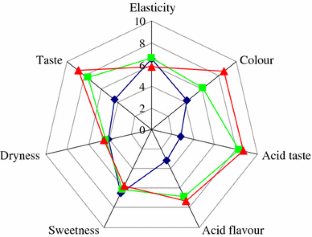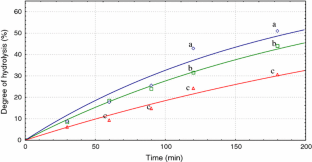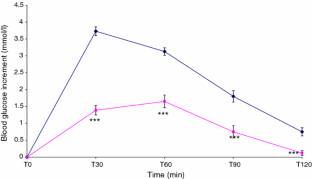 Abbreviations
GI:

Glycemic index

WSB:

Wheat sourdough bread

WYB:

Wheat flour fermented with baker's yeast

WSB-DF:

Wheat flour enriched with oat and rye fibres and fermented with defined multi-species sourdough starter

HI:

Hydrolysis index

DF:

Dietary fibre

IAUC:

Incremental area under the blood glucose curve

CVD:

Cardiovascular disease
References
1.

Jenkins DJ, Kendall CW, Augustin LS, Francesci S, Hamidi M, Marchie A, Jekins AL, Axelsen M (2002) Am J Clin Nutr 76:266–273

2.

Björck IEM, Liljeberg HGM (2003) Proc Nutr Soc 62:201–206

3.

Yamada Y, Hosoya S, Nishimura S, Tanaka T, Kajimoto Y, Nishimura A, Kajimoto O (2005) Biosci Biotechnol Biochem 69:559–566

4.

Li J, Wang J, Kaneko T, Qin LQ, Sato A (2004) Nutrition 20:1003–1007

5.

Ludwig D (2000) J Nutr 130:280S–283S

6.

Austin LS, Gallus S, Bosetti C, Levi F, Negri E, Francescani S, Dak Maso L, Jenkins DJ, Kendal CW, La Vecchia C (2003) Int J Can 105:404–407

7.

Jenkins DJ, Wolever TM, Ocana AM, Vuksan V, Cunnane SC, Jenkins M, Wong GS, Singer W, Bloom SR, Blendis LM et al (1990) Diabetes 39:775–781

8.

Venter CS, Vorster HH, Cummings JH (1990) Am J Gastroenterol 85:549–553

9.

Wolever TM, Brighenti F, Royall D (1989) Am J Gastroenterol 84:1027–1037

10.

Katina K (2005) Academic Dissertation, VTT Biotechnology, Helsinki

11.

Jenkins DJA, Axelsen M, Kendall CWC, Augustin LSA, Vuksan V, Smith U (2000) Br J Nutr 83:157–163

12.

De Angelis M, Rizzello CG, Alfonsi G, Arnault P, Cappelle S, Tossut P, Di Cagno R, Gobbetti M (2007) Br J Nutr 98:1196–1205

13.

De Angelis M, Di Cagno R, Gallo G, Curci M, Siragusa S, Crecchio C, Parente E, Gobbetti M (2007) Int J Food Microbiol 114:69–82

14.

Siragusa S, Di Cagno R, Ercolini D, Minervini F, Gobbetti M, De Angelis M (2009) Appl Environ Microbiol 75:1099–1109

15.

De Angelis M, Siragusa S, Berloco M, Caputo L, Settanni L, Alfonsi G, Amerio M, Grandi A, Ragni A, Gobbetti M (2006) Res Microbiol 157:792–801

16.

Corsetti A, De Angelis M, Dellaglio F, Paparella A, Settanni L, Gobbetti M (2003) J Appl Microbiol 94:641–654

17.

Esteller M, Zancanaro O, Santos Palmeira CN, Caetano da Silva Lannes S (2006) Eur Food Res Technol 222:26–31

18.

Sapirstein HD, Roller R, Bushuk W (1994) Cereal Chem 71:383–391

19.

Knuckles BE, Hudson CA, Chiu MM, Sayre RN (1997) Cereal Foods World 42:94–99

20.

Haglund Å, Johansson L, Dahlstedt L (1998) J Cereal Sci 27:199–207

21.

Liljeberg HGM, Akerberg A, Björck IME (1996) Food Chem 56:389–394

22.

El SN (1999) Food Chem 6:67–69

23.

Gobbetti M, De Angelis M, Corsetti A, Di Cagno R (2005) Trends Food Sci Technol 16:57–69

24.

Kedia G, Vàzquez JA, Pandiella SS (2008) J Appl Microbiol 105:1227–1237

25.

Vasiljevic T, Kealy T, Mishra VK (2007) J Food Sci 72:405–411

26.

Hammes WP, Gaenzle MG (1998) In: Woods BJB (ed) Microbiology of fermented foods. Blackie Academic/Professional, London, UK, pp 199–216

27.

Bourdon I, Yokoyama W, Davis P, Hudson C, Backus R, Richter D, Knuckles B, Schneeman BO (1999) Am J Clin Nutr 69:55–63

28.

Liljerberg HGM, Björck IME (1998) Eur J Clin Nutr 52:368–371

29.

Åkerberg A, Liljeberg H, Björck I (1998) J Cereal Sci 28:71–80

30.

Östman EM, Fri AH, Groop LC, Biörck IME (2006) Eur J Clin Nutr 60:334–341

31.

Östman EM, Nilsson M, Liljeberg Elmstahl HGM, Molinm G, Björck IME (2002) J Cereal Sci 36:339–346

32.

Bornet FRJ, Jardy-Gennetier AE, Jacquet N, Stowell J (2007) Appetite 49:535–553

33.

Bran-Miller J, Hayne S, Petocz P, Colagiuri S (2003) Diabetes Care 26:2261–2267

34.

WHO/FAO expert consultation (2004) WHO Technical Report Series 916

35.

Brennan CS, Clearly LJ (2007) Food Res Intern 40:291–296

36.

Jeya C, Henry K, Lightowler HJ, Newens KJ, Pata N (2007) Int J Food Sci Nutr 59:61–69

37.

Maioli M, Pes GM, Sanna M, Cerchi S, Dettori M, Manca E, Farris GM (2008) Acta Diabetol 45:91–96

38.

Van der Meulen R, Scheirlinck I, Van Schoor A, Huys G, Vancanneyt M, Vandamme P, De Vuyst L (2007) Appl Environ Microbiol 73:4741–4750

39.

Burton P, Lightowler HJ (2007) Eur J Clin Nutr 4:1–6

40.

Rizkalla SW, Laromiguiere M, Champ M, Bruzzo F, Boillot J, Slama G (2007) Eur J Clin Nutr 61:175–183

41.

Liljeberg H, Björck I (1994) Eur J Clin Nutr 48:151–163

42.

Foster-Powell K, Susan HA, Janette C, Brand-Miller (2002) AJCN 76:5–56
About this article
Cite this article
De Angelis, M., Damiano, N., Rizzello, C.G. et al. Sourdough fermentation as a tool for the manufacture of low-glycemic index white wheat bread enriched in dietary fibre. Eur Food Res Technol 229, 593–601 (2009). https://doi.org/10.1007/s00217-009-1085-1
Received:

Revised:

Accepted:

Published:

Issue Date:
Keywords
Bread

Dietary fibre

GI

Sourdough