Abstract
Côtes du Rhône red wines prepared from both different types of grape and processing were tested in hamsters receiving an atherogenic diet for 12 weeks and a daily gavage with 12% ethanol, red wines from vinification by flash release (GRE FD, SYR FD and BLEND FD), by tanisage (BLEND TAN), by traditional vinification (BLEND), or water as control. Except BLEND TAN, consumption of wines lowered plasma total and LDL-cholesterol. Aortic lipid deposits were reduced by ethanol (30%), wines (54% on average) or BLEND TAN (65%). Cardiac production of superoxide anion decreased from 20% (BLEND and BLEND TAN) to 33% (SYR FD and BLEND FD). The expression of NAD(P)H oxidase decreased by 44% (SYR FD), 26% (BLEND), 47% (BLEND FD) and 44% (BLEND TAN). Except ethanol and GRE FD, wines increased uricemia by 15% on average. These findings indicate that chronic consumption of red wine has potential beneficial effects to prevent the development of atherosclerosis. Prevention of NAD(P)H oxidase induction and preservation of aortic lipids oxidation likely contribute to this effect.
Access options
Buy single article
Instant access to the full article PDF.
USD 39.95
Price includes VAT (USA)
Tax calculation will be finalised during checkout.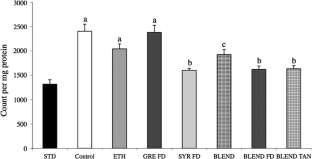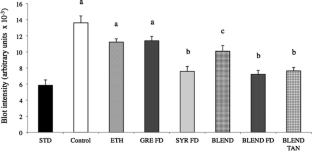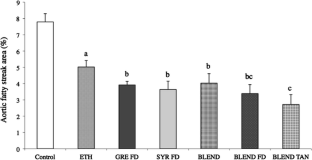 References
1.

Lusis AJ (2000) Nature 407:233

2.

Ross R (1999) N Engl J Med 340:115

3.

Frei B (1994) Am J Med 97:5S, 22S

4.

Inoue T, Nodek K (2006) J Hypertens 24:2121

5.

Bonomini F, Tengattint S (2008) Histol Histopathol 23:381

6.

Guzik TJ, West NE, Black E, McDonald D, Ratnatunga C, Pillai R, Channon KM (2000) Circ Res 86:E85

7.

Harrison D, Griendling KK, Landmesser U, Hornig B, Drexler H (2003) Am J Cardiol 91:7A

8.

Griendling KK, Sorescu D, Ushio-Fukai M (2000) Circ Res 86:494

9.

Klatsky AL, Friedman GD, Siegelaub AB (1974) Ann Intern Med 81:294

10.

Kozararevic DJ, McGee D, Vojvodic N, Racic Z, Dawber T, Gordon T, Zukel Y (1980) Lancet 1:613

11.

Goldberg DM, Hahn SE, Parkes GJ (1995) Clin Chim Acta 237:155

12.

Renaud S, de Lorgeril M (1992) Lancet 339:1523

13.

Kanner J, Frankel E, Grant R, German B, Kinsella E (1994) J Agric Food Chem 42:64

14.

Teissèdre PL, Frankel EN, Waterhouse AL, Peleg H, German JG (1996) J Sci Food Agric 50:55

15.

Frankel EN, Kanner J, German JB, Parks E, Kinsella JE (1993) Lancet 341:454

16.

Romero I, Páez A, Ferruelo A, Luján M, Berenguer A (2002) BJU Int 89:950

17.

Roig R, Cascon E, Arola L, Blade C, Salvado MJ (1999) Life Sci 64:1517

18.

Maxwell S, Cruickshank A, Thorpe G (1994) Lancet 344:193

19.

Whitehead TP, Robinson D, Allaway S, Syms J, Hale A (1995) Clin Chem 41:32

20.

Fuhrman B, Lavy A, Aviram M (1995) Am J Clin Nutr 61:549

21.

Delbosc S, Paizanis E, Magous R, Araiz C, Dimo T, Cristol JP, Cros G, Azay J (2005) Atherosclerosis 179:43

22.

Singleton V, Rossi JA (1965) Am J Enol Vitic 16:144

23.

Lamuela-Raventos RM, Waterhouse AL (1994) Am J Enol Vitic 45:1

24.

Bate-Smith EC (1975) Phytochemistry 16:194

25.

Ribéreau-Gayon J, Peynaud E, Sudraud P, Ribéreau-Gayon P (1976) Traité d'Œnologie. Sciences et techniques du vin. Tome 1, Bordas, France

26.

Drinkine J, Lopes P, Kennedy JA, Teissèdre PL, Saucier C (2007) J Agric Food Chem 55:1109

27.

National Research Council (1985) Guide for the care and the use of laboratory animals. Publication no. 85-23 (revised). National Institutes of Health, Bethesda, MD

28.

Reeves PG, Nielsen FH, Fahey GC Jr (1993) J Nutr 123:1939

29.

Sutra T, Décordé K, Riss J, Dallas C, Cristol JP, Rouanet JM (2007) J Agric Food Chem 55:4258

30.

Al-Awwadi NA, Araiz C, Bornet A, Delbosc S, Cristol JP, Linck N, Azay J, Teissèdre PL, Cros G (2005) J Agric Food Chem 53:151

31.

Lotito SB, Frei B (2006) Free Radic Biol Med 4:1727

32.

Day A, Stansbie D (1995) Clin Chem 41:1319

33.

Maxwell S, Thorpe G (2000) Eur J Heart 21:1482

34.

Natella F, Ghiselli A, Guidi A, Ursini F, Scaccini C (2001) Free Radic Biol Med 30:1036

35.

Hayek T, Fuhrman B, Vaya J, Rosenblat M, Belinky P, Coleman R, Elis A, Aviram M (1997) Arterioscler Thromb Vasc Biol 17:2744

36.

Butcher EC (1991) Cell 67:1033

37.

Witzum JL, Steinberg D (1991) J Clin Invest 88:1785

38.

Sato M, Ray PS, Maulik G, Maulik N, Engelman RM, Bertelli AAE, Bertelli A, Das DK (2000) J Cardiovasc Pharmacol 35:263

39.

Van Der Sluis AA, Dekker M, Jongen WMF (1997) Canc Lett 114:107

40.

Kondo K, Kurihara M, Miyata N, Suzuki T, Toyoda M (1999) Arch Biochem Biophys 362:79

41.

Rimm EB, Williams P, Fosher K, Criqui M, Stampfer MJ (1999) Br Med J 319:1523

42.

Rimm EB, Klatsky A, Grobbee D, Stampfer MJ (1999) Br Med J 312:731

43.

Bonnefont-Rousselot D, Rouscilles A, Bizard C, Delattre J, Jore D, Gardès-Albert M (2001) Free Radic Res 155:279

44.

Serafini M, Maiani G, Ferro-Luzzi AF (1997) J Agric Food Chem 45:3148

45.

Andrews B, Burnand K, Paganga G, Browse N, Rice-Evans C, Sommerville K, Leake D, Taub N (1995) Atherosclerosis 11:77

46.

Auger C, Teissèdre PL, Gérain P, Lequeux N, Bornet A, Serisier S, Besançon P, Caporiccio B, Cristol JP, Rouanet JM (2005) J Agric Food Chem 53:2015
Acknowledgments
Ying Qian is recipient of a fellowship from Inter Rhône. We are grateful to Dr. L. Barnavon and Dr. C. Riou for their assistance in winemaking and wine production.
About this article
Cite this article
Qian, Y., Agne, A., Chira, K. et al. A moderate consumption of Côtes du Rhône red wines affects the progression of aortic lesions, and reduces oxidative stress and p22phoxNADPH oxidase activation in an experimental model of diet-induced atherosclerosis, according to the vinification process. Eur Food Res Technol 229, 485–493 (2009). https://doi.org/10.1007/s00217-009-1065-5
Received:

Revised:

Accepted:

Published:

Issue Date:
Keywords
Vinification process

Polyphenols

Red wine

NAD(P)H oxidase

Hamsters

Atherosclerosis