Abstract
Antimicrobial and in vitro anti-tumor activities of Melaleuca alternifolia (tea tree) oil (TTO) were analyzed. The results indicated that TTO possessed significant antimicrobial activity towards all tested microorganisms except Aspergillus niger. The minimum inhibitory concentration (MIC) of TTO towards Staphylococcus epidermidi, Bacillus subtilis, Escherichia coli and Candida albicans was 0.25% (v/v). Time kinetic experiments showed that Staphylococcus epidermidi, Escherichia coli and Candida albicans were completely killed after exposure to TTO at 2× MIC for 1, 4 and 8 h, repectively. TTO also exhibited strong cytotoxicity towards human lung cancer cell line (A549), human breast cancer cell line (MCF-7) and human prostate cancer cell line (PC-3). The IC50 values obtained were 0.012% (v/v), 0.031% (v/v) and 0.037% (v/v), respectively. Flow cytometric analysis demonstrated that TTO restrained the cell cycle progression of PC-3 and MCF-7 cell lines at the G0/G1 phase and A549 cell at the S phase.
Access options
Buy single article
Instant access to the full article PDF.
USD 39.95
Price excludes VAT (USA)
Tax calculation will be finalised during checkout.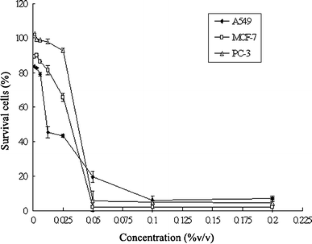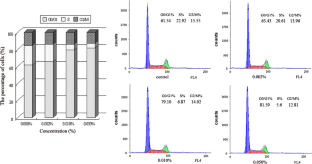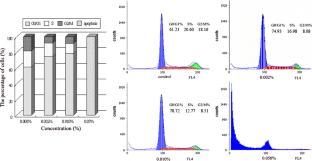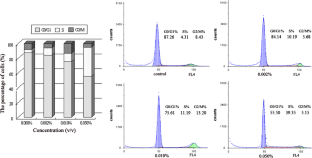 References
Zabaras D, Spooner-Hart RN, Wyllie SG (2002) Biochem Syst Eco 30:399–412

Kotan R, Kordali S, Cakir A (2007) Z Naturforsch C 62:507–513

Olagnier D, Costes P, Berry A, Linas MD, Urrutigoity M, Dechy-Cabaret O, Benoit-Vical F (2007) Bioorg Med Chem Lett 17:6075–6078

Liapi C, Anifantis G, Chinou I, Kourounakis AP, Theodosopoulos S, Galanopoulou P (2007) Planta Med 73:1247–1254

Ren Z, Gould MN (1998) Carcinogenesis 19:827–832

Legault J, Dahl W, Debiton E, Pichette A, Madelmont JC (2003) Planta Med 69:402–407

Wiseman DA, Werner SR, Crowell PL (2007) J Pharmacol Exp Ther 320:1163–1170

Carson CF, Reily TV (1995) J Appl Bacteriol 78:264–269

Carson CF, Hammer KA, Riley TV (2006) Clin Microbiol Rev 19:50–62

Woollard AC, Tatham KC, Barker S (2007) J Wound Care 16:255–257

Calcabrini A, Stringaro A, Toccacieli L, Meschini S, Marra M, Colone M, Salvatore G, Mondello F, Arancia G, Molinari A (2004) J Invest Dermatol 122:349–360

Schnitzler P, Schön K, Reichling J (2001) Pharmazie 56:343–347

Hayes AJ, Leach DN, Markham JL (1997) J Essent Oil Res 9:575–582

Mikus J, Harkenthal M, Steverding D, Reichling J (2000) Planta Med 66:366–368

Carson CF, Hammer KA, Riley TV (2006) Clin Microbiol Rev 1950–1962

Hernández T, Canales M, Avila JG, García AM, Martínez A, Caballero J, Romo de Vivar A, Lira R (2005) J Ethnopharmacol 96:551–554

Fu YJ, Zu YG, Chen LY, Efferth T, Liang HL, Liu ZG, Liu W (2007) Planta Med 73:1275–1280

Fu YJ, Zu YG, Chen LY, Shi XG, Wang Z, Sun S, Efferth T (2007) Phytother Res 21:989–994

Popiołkiewicz J, Polkowski K, Skierski JS, Mazurek AP (2005) Cancer Lett 229:67–75

Murthy PS, Ramalakshmi K, Srinivas P (2009) Food Chem 114:1014–1018

Cross SE, Russell M, Southwell I, Roberts MS (2008) Eur J Pharm Biopharm 69:214–222

Evandri MG, Battinelli L, Daniele C, Mastrangelo S, Bolle P, Mazzanti G (2005) Food Chem Toxicol 43:1381–1387

Mondello F, Gentile E, Girolamo A, Salvatore G (2003) Piante Med 2:185–193

Iori A, Grazioli D, Gentile E, Marano G, Salvatore G (2005) Vet Parasitol 129:173–176

Hammer KA, Carson CF, Riley TV (2002) J Antimicrob Chemother 50:195–199

Hammer KA, Carson CF, Riley TV (2003) J Appl Microbiol 95:853–860

Carson CF, Mee BJ, Riley TV (2002) Antimicrob Agents Chemother 46:1914–1920

Uribe S, Ramirez J, Peña A (1985) J Bacteriol 161:1195–1200

Kararli TT, Kirchhoff CF, Penzotti SC (1995) J Control Release 34:43–51

Moreiraa MR, Ponceb AG, del Vallea CE, Roura SI (2005) Food Sci Technol 38:565–570

Bagg J, Jackson MS, Petrina Sweeney M, Ramage G, Davies AN (2006) Oral Oncol 42:487–492

Cassella S, Casse JP, Smith I (2002) Int J Aromather 12:2–15

Hammer KA, Carson CF, Riley TV, Nielsen JB (2006) Food Chem. Toxicol 44:616–625
Acknowledgments
The authors gratefully acknowledge the financial supports from the National Natural Science Foundation of China (30770231), National Key Technology R & D Program (2006BAD18B0401), the Agriculture Commercialization of Research Findings Foundation (05EFN21700432), Innovative Program for Importation of International Advanced Agricultural Science and Technology, Nation Forestry Bureau (2006-4-75), and Research Foundation for Science and Technology Innovation Talents of Harbin (2006RFXXS001).
Additional information
X. Liu and Y. Zu contributed equally to this paper.
About this article
Cite this article
Liu, X., Zu, Y., Fu, Y. et al. Antimicrobial activity and cytotoxicity towards cancer cells of Melaleuca alternifolia (tea tree) oil. Eur Food Res Technol 229, 247–253 (2009). https://doi.org/10.1007/s00217-009-1057-5
Received:

Revised:

Accepted:

Published:

Issue Date:

DOI: https://doi.org/10.1007/s00217-009-1057-5
Keywords
Antimicrobial activity

Cell cycle

Cytotoxicity to tumor cells

Melaleuca alternifolia (Myrtaceae)

Tea tree oil