Abstract
In order to study the effects of environmental conditions, antioxidant and antimicrobial activities of tea saponins (TS) in different pH values were evaluated. The antioxidant activity was examined by reducing power, superoxidant radical scavenging activity, metal chelating activity and so on. Antimicrobial activity was investigated using gram-negative, gram-positive bacterial and fungi. In vitro antioxidant activities exhibited pH dependency, and increased with increasing concentration of the extract. When pH was 8.0, TSs showed the best antioxidant activities, while the reversal result was found in antimicrobial measurement. At pH 8.0 and concentration 2.0 mg/mL, TSs scavenged 90.5% of superoxide radical. At pH 4.8, the minimum inhibitory concentration of TS was lower than 0.00625 % (w/v). The results indicate that TS can be an ideal antioxidant, and its antioxidant and antimicrobial activity depend on pH values.
Access options
Buy single article
Instant access to the full article PDF.
USD 39.95
Price excludes VAT (USA)
Tax calculation will be finalised during checkout.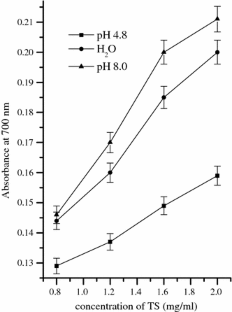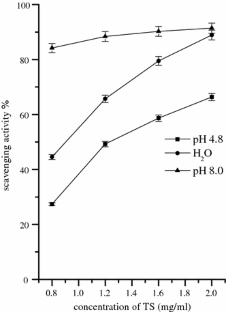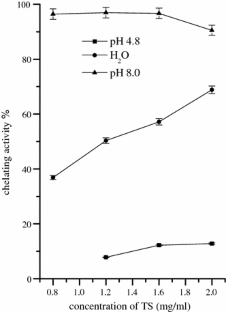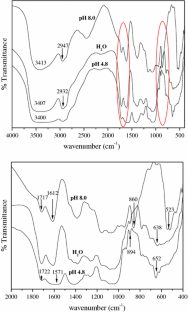 References
Wina E, Muetzel S, Becker K (2005) J Agric Food Chem 53:8093–8105

Akagi M, Fukuishi N, Kan T, Sagesaka YM, Akagi R (1997) Biol Pharm Bull 20:565–567

Sur P, Chaudhuri T, Vedasiromoni JR, Gomes A, Ganguly DK (2001) Phytother Res 15:174–176

Sagesaka YM, Uemura T, Suzuki Y, Sugiura T, Yoshida M, Yamaguchi K, Kyuki K (1996) Yakugaku Zasshi 116:238–243

Zhao SM (1998) World Phytomed 13:3–6

Frei B, Higdon JV (2003) J Nutr 133:3275S–3284S

Karakaya S, Kavas A (1999) J Sci Food Agric 79:237–242

Nihal M, Ahmad N, Mukhtar H, Wood GS (2005) Int J Cancer 114:513–521

Yamauchi Y, Azuma K, Tomita M, Horie H, Kohata K (2001) Jpn Agric Res Q 35:185–188

Tomita M, Yamamoto S, Yamaguchi K, Ohigashi H, Yagi T, Kohata K, Berden JA (2000) J Biosci Bioeng 90:637–642

Morikawa T, Matsuda H, Li N, Nakamura S, Li X, Yoshikawa M (2006) Heterocycles 68:1139–1148

Murakami T, Nakamura J, Kageura T, Matsuda H, Yoshikawa M (2000) Chem Pharm Bull 48:1720–1725

Murakami T, Nakamura J, Matsuda H, Yoshikawa M (1999) Chem Pharm Bull 47:1759–1764

Gülçin I, Küfrevioglu ÖI, Oktay M, Büyükokuroglu ME (2004) J Ethnopharmacol 90:205–215

Gülçin I, Mshvildadze V, Gepdiremen A, Elias R (2004) Planta Med 70:561–563

Gülçin I, Oktay M, Kireçci E, Küfrevioglu ÖI (2003) Food Chem 83:371–382

Dean SG, Svoboda KP (1989) J Hortic Sci 64:205–210

Farag RS, Daw ZY, Hewedi FM, El-Baroty GSA (1989) J Food Protect 52:665–667

Oyaizu M (1986) Jpn J Nutr 44:307–315

Beauchamp C, Fridovich I (1971) Anal Biochem 44:276–287

Dasgupta N, De B (2004) Food Chem 88:219–224

Dinis TCP, Madeira VMC, Almeida LM (1994) Arch Biochem Biophys 315:161–169

Xing R, Liu S, Guo Z, Yu H, Wang P, Li C, Li Z, Li P (2005) Bioorg Med Chem 13:1573–1577

Ruch RJ, Chung SU, Klauning JE (1984) Method Enzymol 105:198–209

Meir S, Kanner J, Akiri B, Hadas SP (1995) J Agric Food Chem 43:1813–1815

Yamaguchi R, Tatsumi MA, Kato K, Yoshimitsu U (1988) Agric Biol Chem 52:849–850

Diplock AT (1997) Free Radic Res 27:511–532

Yildirim A, Mavi A, Kara AA (2001) J Agric Food Chem 49:4083–4089
About this article
Cite this article
Li, Y., Du, Y. & Zou, C. Effects of pH on antioxidant and antimicrobial properties of tea saponins. Eur Food Res Technol 228, 1023–1028 (2009). https://doi.org/10.1007/s00217-009-1014-3
Received:

Revised:

Accepted:

Published:

Issue Date:

DOI: https://doi.org/10.1007/s00217-009-1014-3
Keywords
Tea saponins

Antioxidant

Antimicrobial

pH