Abstract
The aim of this work was to carry out the physicochemical and functional characterization of the purified galactomannan obtained from mesquite seed's endosperm (MSG). From the seeds, a MSG content of 13/100 g with a purity of 94/100 g was determined. The dispersions of MSG samples (up to 5 g/100 mL) exhibited a shear thinning non-Newtonian behavior, with 35.68 mPa.s of viscosity, and surface tension values between 43.5 and 61.06 dynes/cm. The chromatographic analysis revealed a 1.1:1 mannose/galactose ratio, with a molecular weight between 900,000 and 1,000,000 Da. The calorimetric analysis showed a specific vitreous transition temperature of 52.92 °C. The values of apparent viscosity were superior to those of commercial galactomannans, which indicates that MSG can be used too as a thickening agent. The obtained results provide information, which contribute to a better knowledge of MSG, in order to consider its sustainable exploitation in a future.
Access options
Buy single article
Instant access to the full article PDF.
USD 39.95
Price excludes VAT (USA)
Tax calculation will be finalised during checkout.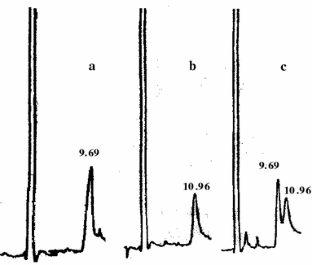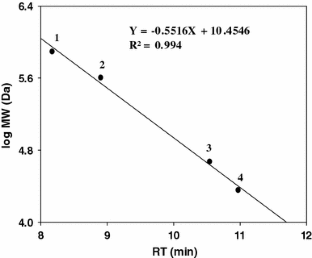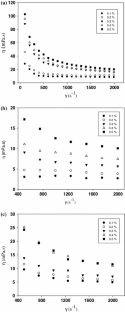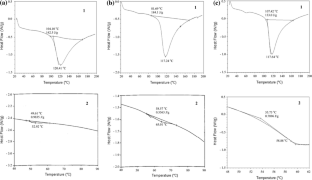 References
Becker R, Sayre R, Saunders R (1984) J Am Oil Chem Soc 61:931–938

Rzedowski J (1988) Acta Bot Mex 3:7–19

Maldonado A (2000) El mezquite en México: rasgos de importancia productiva y necesidades de desarrollo. In: Frías J (ed) El mezquite, árbol de usos múltiples. Estado actual del conocimiento en México, Universidad de Guanajuato, México, pp 37–50

Felker P (1996) Commercializing mesquite, leucaena and cactus in Texas. In: Janick J (ed) Progress in new crops, ASHS Press, Alexandria, pp 133–137

Hernández A, Ramos E, Falcony C, Salazar J (2001) An approximation to calorimetric analysis on dispersions at different concentrations of mesquite (Prosopis sp.) and locust bean (Ceratonia sp.) seed gums. In: Welti J, Barbosa G, Aguilera J (eds) Proceedings of the eighth international congress on engineering and food, vol 1. Technomic, USA, pp 211–215

Leung D, Bewley J, Reid J (1981) Planta 153:95–100. doi:10.1007/BF00384089

Pinto I et al (2007) NMR study of galactomannans from the seeds of mesquite tree (Prosopis juliflora (Sw) DC). Food Chem 101:70–73. doi:10.1016/j.foodchem.2005.11.052

Glicksmann M (1969) Gum technology in the food industry. Academic Press, USA

Meyer D, Becker R, Gumbnam M (1986) J Agric Food Chem 34:914–919. doi:10.1021/jf00071a037

Vázquez M (1988) Rev Agroquim Tecnol Alim 28:251–260

Romeo M (1989) Alimentos 4:23–27

Figuereido A (1990) Food Technol 118–128

Bravo L, Grados N, Saura F (1994) J Sci Food Agric 65:303–306

Hernández A, Ramos E, Falcony C, Salazar J (2004) Latin Am Appl Res 34:195–202

Sierakowski M, Milas M, Besbrieres J, Rinaudo M (2000) Carb Polym 42:51–57. doi:10.1016/S0144-8617(99) 00137-X

International AOAC (1997) Official methods of analysis, 16th edn, 3rd revision. Association of Official Anlytical Chemists. Washington, DC, USA

Dubois M, Gilles K, Hamilton J, Roberts P, Smith F (1956) Anal Chem 28:350–356. doi:10.1021/ac60111a017

Van de Kamer J, Van Ginkel L (1952) Cereal Chem 29:239–251

Lawrence J, Lyengar J (1985) J Chromatogr 350:237–244. doi:10.1016/S0021-9673(01) 93522-8

Fry J (1996) Biological data analysis. A practical approach. OIRC Press, USA, p 418

Del Valle F, Escobedo M, Muñoz M, Ortega R, Bourges H (1983) J Food Sci 48:914–919

Gallao M, Furtado R, Brito E (2005) J Sci Food Agric 85:2321–2324. doi:10.1002/jsfa.2279

Estévez A, Sáenz C, Hurtado M, Escobar B, Espinoza S, Suárez C (2004) J Sci Food Agric 84:1487–1492. doi:10.1002/jsfa.1795

Goycoolea F, Morris E, Gidley M (1995) Carb Polym 27:69–71. doi:10.1016/0144-8617(95) 00030-B

Whistler R (1993) Industrial gums, polysaccharide and their derivatives. Academic Press, USA, p 642

Egorov A, Meshtechkina N, Shcherbukhin V (2003) Appl Biochem Microbiol 39:398–402

Meshtechkina N, Anulov O, Shcherbukhin V (1998) Appl Biochem Microbiol 34:497–500

Anulov O, Meshtechkina N, Shcherbukhin V (1997) Appl Biochem Microbiol 33:564–566

Anulov O, Smirnova N, Meshtechkina N, Shreter I, Shcherbukhin V (1995) Appl Biochem Microbiol 31:550–553

Samil Kök M (2007) Carb Polym 70:68–76. doi:10.1016/j.carbpol.2007.03.003

Edwards M, Bulpin P, Dea I, Reid J (1989) Planta 178(1):41–51. doi:10.1007/BF00392525

Edwards M, Scott C, Gidley M, Reid T (1992) Planta 187:67–74. doi:10.1007/BF00201625

Dea I, Morrison A (1975) Adv Carbohydr Chem Biochem 31:241–312

Reid J (1985) Adv Bot Res 11:125–155

Reid J, Meier H (1970) Phytochem 9:513–520. doi:10.1016/S0031-9422(00) 85682-4

Steffe J (1996) Rheological methods in food process engineering. Freeman Press, USA, p 418

Sharma S (1981) Food Technol 59–67

Mewis J (1979) J Non Newtonian Fluid Mech 6:1–20. doi:10.1016/0377-0257(79) 87001-9

Kaya V, Picard G (1996) Bioresour Technol 56:147–155. doi:10.1016/0960-8524(96) 00013-2

Garti N, Madar Z, Aserin A, Sternheim B (1997) Food Sci Technol 30:305–311. doi:10.1006/fstl.1996.0179

McClements D (1999) Food emulsions. CRC Press, USA, p 378

Ander P, Sonnessa A (1973) Principios de química. LIMUSA. México, pp 426–429

Bresolin T, Milas M, Rinaudo M, Ganter J (1998) Int J Biol Macromol 23:263–275. doi:10.1016/S0141-8130(98) 00061-0
Acknowledgments
The authors appreciate the financing through the grant EU STD-3 number CT-94-0341, to Prof. F. Saura-Calixto and Dr. L. Bravo from IF of CSIC-Madrid; to N. Grados of University of Piura-Peru, and to the scholarship 144306 granted by CONACYT-Mexico to LCM. They also appreciate the technical support of P. Méndez-Castrejón, and M. Márquez-Robles from CINVESTAV-IPN.
About this article
Cite this article
Chaires-Martínez, L., Salazar-Montoya, J.A. & Ramos-Ramírez, E.G. Physicochemical and functional characterization of the galactomannan obtained from mesquite seeds (Prosopis pallida). Eur Food Res Technol 227, 1669–1676 (2008). https://doi.org/10.1007/s00217-008-0892-0
Received:

Revised:

Accepted:

Published:

Issue Date:

DOI: https://doi.org/10.1007/s00217-008-0892-0
Keywords
Galactomannan

Mesquite seeds gum

Prosopis pallida

Viscosity

Differential scanning calorimeter (DSC)