Abstract
Chemical–physical properties, colour parameters, antioxidant activities (AA), carotenoid and polyphenol levels (CL) in seven cultivars of yellow flesh peaches, five cultivars of yellow flesh nectarines and one cultivar of white flesh nectarines at harvest time and after 7 days of cold storage were evaluated. Peaches had major variability in flesh firmness (FF) and titratable acidity (TA) and lower soluble solid concentration (SSC) than nectarines. Evaluation of ground colour parameters, a*, b* and L*, showed that nectarines had a yellow-orange hue with high lightness, while peaches were darker, tending to red-green. Hydrophilic, lipophilic antioxidant activities of extracts (W-AA and L-AA), carotenoids and polyphenols levels (CL and PL) were evaluated and their relation with commercial maturation. The average of W-AA at harvest time was 11.0 TEAC, while the L-AA values at harvest time was on average higher in peaches (2.0 TEAC) than in nectarines (1.3 TEAC). The yellow flesh had higher amounts of total carotenoids (182.45 μg/100 g fw for peaches and 117.37 μg/100 g fw for yellow flesh nectarines). During cold storage, W-AA increased for nectarines (+22.9% in yellow flesh and +19.2% in white flesh) and peaches as well as polyphenolic compounds (+13.37%) while, contents of carotenoids decreased (−8.7%).
This is a preview of subscription content, log in to check access.
Access options
Buy single article
Instant access to the full article PDF.
US$ 39.95
Price includes VAT for USA
Subscribe to journal
Immediate online access to all issues from 2019. Subscription will auto renew annually.
US$ 199
This is the net price. Taxes to be calculated in checkout.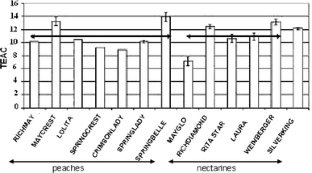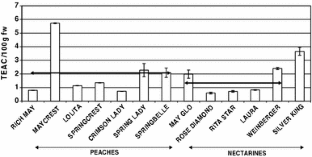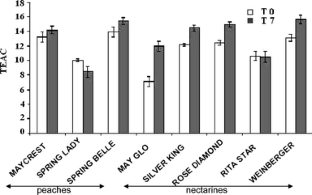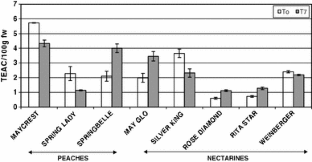 References
1.

Ames BM, Shigens MK, Hagen TM (1993) Proc Natl Acad Sci USA 90:7915–7922

2.

Steinmets KA, Potter JD (1991) Cancer Causes Control 2(6):427–442

3.

Halliswell B (1996) Annu Rev Nutr 16:33–50

4.

Cevallos-Casals BA, Byrne D, Okie WR, Cisneros-Zevallos L (2006) Food Chem 96:273–280

5.

Byrne D, Texas AM, Vizzotto M (2004) HortScience 39(4):798

6.

Scalzo J, Politi A, Pellegrini N, Mezzetti B, Battino M (2005) Nutrition 21(2):207–213

7.

Dalla Valle AZ, Mignani I, Spinardi A, Galvano F, Cappellano S (2007) Eur Food Res Technol 225:167–172

8.

Pellegrini N, Re R, Yang M, Rice-Evans C (1999) Methods Enzymol 229:379–389

9.

Fogliano V, Verde V, Randazzo G, Ritieni A (1999) J Agric Food Chem 47:1035–1040

10.

Graziani G, Pernice R, Lanzuise S, Vitaglione P, Anese M, Fogliano V (2003) Eur Food Res Technol 216:116–121

11.

Box JD (1983) Water Res 17(5):511–525

12.

Alavoine F, Crochon M, Fady C, Fallot J, Moras P, Pech JC (1988) Cemagref, Ministere de l'Agriculture, France

13.

Hunter RS (1975) The Measurement of Appearance. J. Wiley ed., Interscience, NY

14.

Gil MI, Tomas-Barberan FA, Hess-Pierce B, Kader AA (2002) J Agric Food Chem 50:4976–4982

15.

Kopas-Lane LM, Warthesen JJ (1995) J Food Sci 60(4):773

16.

Thomas P, Joshi MR (1988) J Food Sci Technol 23(5):447–455

17.

Vinson JA, Su X, Zubik L, Bose P (2001) J Agric Food Chem 49:5315–5321

18.

Connor AM, Luby JJ, Hancock JF, Berkheimer S, Hanson EJ (2002) J Agric Food Chem 50:893–898

19.

Imeh U, Khokhar S (2002) J Agric Food Chem 50:6301–6306

20.

Delwiche MJ, Baumgardner RA (1985) J Am Soc Hortic Sci 110(1):53–57
About this article
Cite this article
Di Vaio, C., Graziani, G., Marra, L. et al. Antioxidant capacities, carotenoids and polyphenols evaluation of fresh and refrigerated peach and nectarine cultivars from Italy. Eur Food Res Technol 227, 1225–1231 (2008). https://doi.org/10.1007/s00217-008-0840-z
Received:

Revised:

Accepted:

Published:

Issue Date:
Keywords
Peaches

Nectarines

Antioxidant activity

Carotenoids

Refrigeration