Abstract
Coriander (Coriandrum sativum L.) seed oil (COR) is a promising oil with high levels of bioactive compounds. Very little information, however, is available on the effect of administration of COR on different aspects of plasma lipid profile in experimental animals. In view of the important implications, the effect of administration of COR and oil blend [a mixture of soybean oil, coriander oil and sunflower oil (4:2:4, w/w/w; Blend)] on the profile of plasma lipids was investigated in 24 male albino rats placed on a cholesterol-rich (1%) basal diet as compared to rats on a cholesterol-free basal diet. Coriander seed oil and Blend were analyzed for composition of fatty acid, sterol and tocopherol. The levels of bioactive compounds (sterols and tocopherols) were higher in COR than in the Blend. In addition, the antiradical potential of COR and Blend was measured and the results showed that COR had stronger radical scavenging activity than Blend. In the biological experiment, rats were divided into four diet groups. The negative control group (control) consumed the basal diet (BD) only, which contained wheat starch, casein and cellulose, as well as mineral and vitamin mixtures. To the BD were added 1 g/100 g cholesterol (Chol/group), or both (Chol/COR group) and (Chol/Blend group). The groups did not differ before the experiment, which lasted 60 days. Plasma total lipids (TL), triacylglycerols (TAG), total cholesterol (TC), low-density lipoprotein-cholesterol (LDL-C) and high-density lipoprotein-cholesterol (HDL-C) were measured at day 15, 30, 45 and 60 during the experiment period. Generally, COR and Blend-supplemented diets decreased the levels of TL, TC, TAG and LDL-C in plasma. In addition, significant increase in the levels of HDL-C was observed for Chol/COR and Chol/Blend groups. The results demonstrated that COR, and to a relatively lesser degree Blend, have hypocholesterolemic properties in rats fed a cholesterol-rich diet.
This is a preview of subscription content, log in to check access.
Access options
Buy single article
Instant access to the full article PDF.
US$ 39.95
Price includes VAT for USA
Subscribe to journal
Immediate online access to all issues from 2019. Subscription will auto renew annually.
US$ 199
This is the net price. Taxes to be calculated in checkout.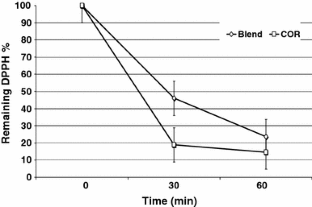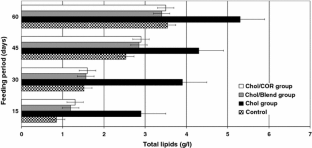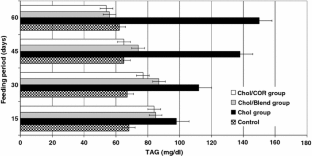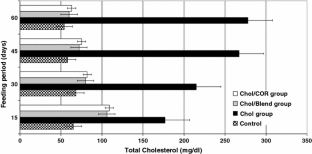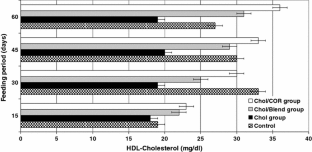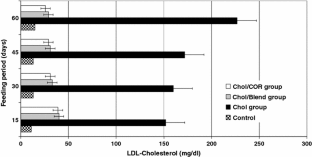 Abbreviations
COR:

Coriander seed oil

Blend:

A mixture of soybean oil, coriander oil and sunflower oil (4:2:4, w/w/w)

HDL-C:

HDL-cholesterol

LDL-C:

LDL-cholesterol

TC:

Total cholesterol

TAG:

Triacylglycerols

TL:

Total lipids

BD:

Basal diet

DPPH:

1,1-Diphenyl-2-picrylhydrazyl

Chol:

Cholesterol
References
1.

Sharma RD, Raghuram TC (1991) Phytother Res 30:145–147

2.

Ravi R, Prakash M, Keshava Bhat K (2007) Eur Food Res Technol 225:367–374

3.

Meier zu Beerentrup H, Röbbelen G (1987) Fat Sci Technol 89:227–230

4.

Ramadan MF, Moersel J-T (2002) Eur Food Res Technol 215:204–209

5.

Eierdanz H, Hirsinger F (1990) Fat Sci Technol 92:463–467

6.

Princen LH, Rothfus JA (1984) J Am Oil Chem Soc 61:281–289

7.

Ramadan MF, Moersel J-T (2002) Eur Food Res Technol 214:521–527

8.

Ramadan MF, Moersel J-T (2003) Food Chem 80:197–204

9.

Ramadan MF, Kroh LW, Moersel J-T (2003) J Agric Food Chem 51:6961–6969

10.

Ramadan MF, Moersel J-T (2004) Euro J Lipid Sci Technol 106:35–43

11.

Ramadan MF, Moersel J-T (2006) J Food Comp Anal 19:838–842

12.

Lewis YS (1986) Food Policy Indian Food Ind 5:101–107

13.

Heimermann HW, Holman RT, Gordon DT, Kowalyshyn DE, Jensen RG (1973) Lipids 8:45–46

14.

Seher A, Fiebig HJ (1983) Fette Seifen Anstrichm 85:333–338

15.

Weber N, Richter KD, Schulte E, Mukherjee KD (1995) J Nutr 125:1563–1568

16.

Weber N, Vosmann K, Brühl L, Mukherjee KD (1997) Nutr Res 17:89–98

17.

Weber N, KiewittI I, Mukhejee KD (1999) Nutr Res 19:997–1007

18.

Grundy SM (1986) New Eng J Med 314:745–748

19.

Grundy SM, Florentin N, Nix D, Whelan MF (1988) Am J Clin Nutr 47:965–969

20.

Mattson FH, Grundy SM (1985) J Lipid Res 26:194–202

21.

Mensink RP, Katan MB (1987) Lancet 1:122–124

22.

Mensink RP, Katan MB (1989) New Eng J Med 321:436–441

23.

Mensink RP, de-Groot MJM, Van den Broeke LT, Severijnen-Nobels AP, Demacker PNM, Katan MB (1989) Metabolism 38:172–178

24.

Wahrburg U, Martin H, Sandkamp M, Schulte H, Assmann G (1992) Am J Clin Nutr 56:678–683

25.

Hoy CE, Holmer G (1981) Lipids 16:102–108

26.

Mohrhauer H, Rahm JJ, Seufert J, Holman RT (1967) J Nutr 91:521–527

27.

Arens M, Schulte E, Weber K (1994) Fat Sci Technol 96:67–68

28.

Coudon B, Bouige D (1973) Ann Biol Clin (Paris) 31:3–7

29.

Richmond W (1973) Clin Chem 19:1350–1356

30.

Demacker AG, Hijmans BJ, Brenninkmeijer AP, Jansen JS, van't Laar A (1984) Clin Chem 30:1797–1800

31.

Fossati P, Prencipe L (1982) Clin Chem 28:2077–2080

32.

Murphy DJ (1994) In: Murphy DJ (ed) Designer oil crops. Breeding, processing and biotechnology, VCH Verlagsgesellschaft, Weinheim, pp 5–71

33.

Subbaram MR, Youngs GG (1967) J Am Oil Chem Soc 44:425–428

34.

Finley JW, Shahidi F (2001) The chemistry, processing and health benefits of highly unsaturated fatty acids: an overview. In: John WJ, Shahidi F (eds) Omega-3 fatty acids, chemistry, nutrition and health effects. American Chemical Society, Washington DC, pp 1–13

35.

Riemersma RA (2001) Euro J Lipid Sci Technol 103:372–373

36.

Yang B, Karlsson RM, Oksman PH, Kallio HP (2001) J Agric Food Chem 49:5620–5629

37.

Ntanios F (2001) Euro J Lipid Sci Technol 103:102–106

38.

Sokol RJ (1996) Vitamin E. In: Ziegler EE, Filer LJ (eds) Present knowledge in nutrition. ILSI Press, Washington DC, pp 130–136

39.

Rimm EB, Stampfer MJ, Ascherio A, Giovannucci E, Colditz GA, Willett WC (1993) New Eng J Med 328:1450–1456

40.

Gey KF, Puska P, Jordan P, Moser UK (1991) Am J Clin Nutr 53:3245–3265

41.

Kallio H, Yang B, Peippo P, Tahvonen R, Pan R (2002) J Agric Food Chem 50:3004–3009

42.

Kamal-Eldin A, Andersson R (1997) J Am Oil Chem Soc 74:375–380

43.

Kamal-Eldin A, Appelqvist LA (1996) Lipids 31:671–701

44.

Schwarz K, Bertelsen G, Nissen LR, Gardner PT, Heinonen MI, Hopia A, Huynh-Ba T, Lambelet P, McPhail D, Skibsted LH, Tijburg L (2000) Eur Food Res Technol 21:319–328

45.

Jung U, Lee SK, Hum S, Chung GH, Chung M, Lee CH (2001) Food Sci Biotechnol 10:354–359

46.

Aguilera CM, Ramirez-Tortosa MC, Mesa MD, Gil A (2001) Nutr Hosp 16:78–91 (Article in Spanish)

47.

Sandström M, Petersen CE, Marckmann P (2000) Atherosclerosis 151:114–120

48.

Julius U (2003) Exp Clin Endocrinol Diabetes 111:60–65

49.

Lichtenstein AH (2003) J Womens Health (Larchmt) 12:109–114

50.

Sacks S, Katan M (2002) Am J Med 113:13–24

51.

Kwiterovich PO, Coresh J, Smith HH, Bachoric PS, Derby CA, Pearson TA (1992) Am J Cardiol 69:1015–1021

52.

Hodis HN, Mack WJ, Azen SP, Alaupovic P, Pagoda JM, La Bree L, Hemphill LC, Kramsh DM, Blankenhorn DH (1994) Circulation 90:42–49

53.

Faggiotto A, Ross R (1984) Arteriosclerosis 4:341–356

54.

Faggiotto A, Ross R, Harker L (1984) Arteriosclerosis 4:323–340

55.

Freedman D, Newman WI, Tracy R, Voors AE, Srinivasan SR, Webber LS, Restrepo C, Strong JP, Berenson GS (1988) Circulation 77:856–864

56.

Witztum JL, Steinberg D (1991) J Clin Invest 88:1785–1792

57.

Gorinstein S, Zachwieja Z, Folta M, Barton H, Piotrowicz J, Zemser M, Weisz M, Trakhtenberg S, Martin-Belloso O (2001) J Agric Food Chem 49:952–957

58.

Gorinstein S, Zemser M, Haruenkit R, Chuthakorn R, Martin-Belloso O, Trakhtenberg S (1988) J Nutr Biochem 10:367–371

59.

Gorinstein S, Zemser M, Lichman I, Berebi A, Kleipfish A, Libman I, Trakhtenberg S, Caspi A (1997) J Intern Med 241:47–51

60.

Spiller GA (1991) Cereal Foods World 36:812–814

61.

Mattson FH (1989) J Am Diet Assoc 89:387–391

62.

Truswell AS, Choudhury N (1998) Eur J Clin Nutr 52:312–315

63.

Espin JC, Rivas CS, Wichers HJ (2001) J Agric Food Chem 48:648–656

64.

Pellegrini N, Visioli F, Buratti S, Brighenti F (2001) J Agric Food Chem 49:2532–2538

65.

Matsuno H, Kozawa O, Niwa M, Abe A, Takiguchi Y, Uematsu Y (2001) Lipids 36:453–460

66.

Kempaiah RK, Srinivasan K (2002) Mol Cell Biochem 236:155–161

67.

Visioli F, Galli C (2001) Curr Atheroscler Rep 3:64–67
About this article
Cite this article
Ramadan, M.F., Amer, M.M.A. & Awad, A.E. Coriander (Coriandrum sativum L.) seed oil improves plasma lipid profile in rats fed a diet containing cholesterol. Eur Food Res Technol 227, 1173–1182 (2008). https://doi.org/10.1007/s00217-008-0833-y
Received:

Revised:

Accepted:

Published:

Issue Date:
Keywords
Coriander seed oil

Coriandrum sativum L.

Hypocholesterolemia

Soybean oil

Sunflower oil

Vegetable oil blends

Radical scavenging activity

Lipid profile

LDL-cholesterol

HDL-cholesterol