Abstract
Dendrobium officinale is commonly used as a traditional valuable Chinese tonic hygienic food. In order to authenticate the quality of hygienic food in the market and geoherbalism in the process of GAP (good agriculture practice), sequences of chloroplast genes (matK and rbcL), the nuclear rDNA ITS region and mitochondria gene nad1 intron2 were used to survey eight populations of D. officinale. No difference was found in sequences of matK, rbcL and nad1 intron2 between populations, except for nine single nucleotide polymorphisms (SNPs) sites in rDNA ITS regions. Two pairs of allele-specific PCR primers based on SNPs were designed to authenticate two genuine populations (GSG and FSC populations). The AS-PCR (allele-specific PCR) fragments of GSG and FSC populations are about 600 and 560 bp, and annealing temperatures are 55–57 and 58–60°C, respectively. Dried "Fengdou" food samples from genuine populations could also be authenticated using two pairs of diagnostic primers. It is demonstrated that methods based on SNPs of rDNA ITS region and AS-PCR are simple, practical and effective for genuine germplasm authentication of D. officinale during the process of GAP and hygienic food quality control.
Access options
Buy single article
Instant access to the full article PDF.
USD 39.95
Price excludes VAT (USA)
Tax calculation will be finalised during checkout.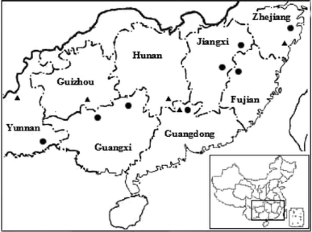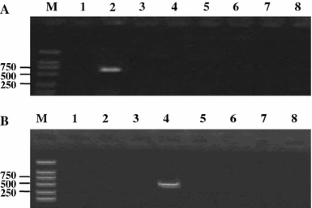 References
The Pharmacopoeia Commission of PRC (2000) Pharmacopoeia of the People's Republic of China. Chemical Industry Press, Beijing, China

Ding XY, Xu LS, Wang ZT, Zhou KY, Xu H, Wang YQ (2002) Planta Med 68:191–192

Sun K, Zhang H, Chen W, Chen XL, Ma RJ (2003) J Northwest Normal U 39:100–103

Wang CZ, Li P, Ding JY, Fishbein A, Yuan CS (2007) Biol Pharm Bull 30:779–782

Wang DG, Fan JB, Siao CJ, Berno A, Young P, Sapolsky R, Ghandour G, Perkins N, Winchester E, Spencer J (1998) Science 280:1077–1082

Stoneking M (2001) Nature 409:821–822

Nasu S, Suzuki J, Ohta R, Hasegawa K, Yui R, Kitazawa N, Monna L, Minobe Y (2002) DNA Res 9:163–171

Sasaki Y, Fushimi H, Komatsu K (2004) Biol Pharm Bull 27:144–146

Shen J, Ding XY, Zhang WM, Bao SL, Chang J, Tang F (2005) Acta Pharm Sin 40:80–86

Cao H, Cai JN, Liu YP, Wang ZT, Xu LS (2001) Chin Pharm J 36:373–376

Qin MJ, Huang Y, Yang G, Xu LS, Zhou KY (2003) Acta Pharm Sin 38:147–152

Yang ZY, Chao Z, Huo KK, Xie H, Tian ZP, Pan SL (2007) Phytomedicine 14:416–422

Wang CZ, Li P, Ding JY, Peng X, Yuan CS (2007) Phytomedicine 14:628–632

Yang DY, Fushimi H, Cai SQ, Komatsu K (2004) Biol Pharm Bull 27:375–383

Ding XY, Wang ZT, Zhou KY, Xu LS, Xu H, Wang YQ (2003) Planta Med 69:587–588

Xu H, Wang ZT, Ding XY, Zhou KY, Xu LS (2006) Planta Med 72:89–92

Xue CY, Li DZ, Lu JM, Yang JB, Liu JQ (2006) Planta Med 72:1223–1226

Park MJ, Kim MK, In JG, Yang DC (2006) Food Res Int 39:568–574

Li P, Cai ZH, Xing JB (2001) Chin Tradit Herb Drugs 32:834–837

Yoon MS, Song QJ, Choi IY, Specht JE, Hyten DL, Cregan PB (2007) Theor Appl Genet 114:885–899

Schwarz G, Bäumler S, Block A, Felsenstein FG, Wenzel G (2004) Nucleic Acids Res 32:e24

Ding XY, Xu LS, Wang ZT, Shi GX, Xu H (2001) Chin Tradit Herb Drugs 32:828–831

Xiao XH, Liu FQ, Yuan HL, He CS, Shi CH (2000) Chin Tradit Herb 31:561–564
Acknowledgements
The authors thank the National Natural Science Foundation of China (No. 30370144) for financial support.
About this article
Cite this article
Ding, G., Xu, G., Zhang, W. et al. Preliminary geoherbalism study of Dendrobium officinale food by DNA molecular markers. Eur Food Res Technol 227, 1283–1286 (2008). https://doi.org/10.1007/s00217-007-0812-8
Received:

Revised:

Accepted:

Published:

Issue Date:

DOI: https://doi.org/10.1007/s00217-007-0812-8
Keywords