Abstract
The importance of raw material and extraction parameters for obtaining a high content of flavonoids and phenolic acids in elderflower extracts was investigated. Nine phenolic acids (3-O-, 4-O-, and 5-O-caffeoylquinic acid, 3-O- and 5-O-p-coumaroylquinic acid, 1,5-di-O-, 3,4-di-O-, 3,5-di-O- and 4,5-di-O-caffeoylquinic acid) and six flavonol glycosides (quercetin-3-O-rutinoside, quercetin-3-O-glucoside, kaempferol-3-O-rutinoside, isorhamnetin-3-O-rutinoside, isorhamnetin-3-O-glucoside, and quercetin-3-O-6″-acetylglucoside) were identified and quantified in elderflowers and/or extracts thereof by liquid chromatography-mass spectrometry (LC-MS) and high-performance liquid chromatography-diode array detection (HPLC-DAD), respectively. The yield of elderflower extracts depended significantly on processing conditions and raw material properties and the maximum yield of elderflower extract was obtained by extraction for a maximum of 10 days at 4 °C using an extraction liquid consisting of a maximum of 20 w/w % sugars and 5% citric acid. The effects of the extraction liquid composition and raw material on the concentration of phenolic acids and flavonol glycosides in elderflower extracts were determined by factor analysis. Several elderberry genotypes were found to be useful for processing of elderflower extracts with a relative high concentration of phenolic acids and flavonol glycosides.
This is a preview of subscription content,
to check access.
Access this article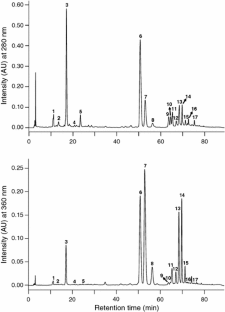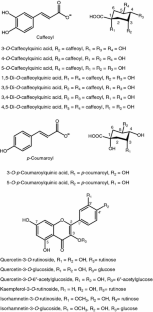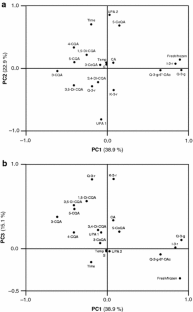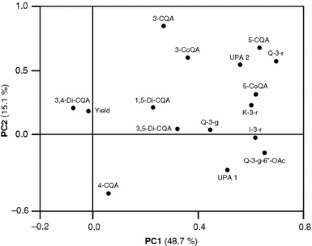 Similar content being viewed by others
References
Toulemonde B, Richard HMJ (1983) J Agric Food Chem 31:365–370

Gottfried R (1993) Food Mark Technol 7:9–10

Jørgensen U, Hansen M, Christensen LP, Jensen K, Kaack K (2000) J Agric Food Chem 48:2376–2383

Viberg U, Sjöholm I (1997) Livsmedelsteknik 6–7:32–33

Kaack K, Christensen LP, Hughes M, Eder R (2006) Eur Food Res Technol 223:57–70

Davidek J (1961) Nature 189:487–488

Lamaison JL, Petitjean-Freytet C, Carnat A (1991) Ann Pharm Fr 49:258–262

Petitjean-Freytet C, Carnat A, Lamaison JL (1991) J Pharm Belg 46:241–246

Hawryl MA, Hawryl A, Soczewinski E (2002) J Planar Chromatogr Modern TLC 15:4–10

Urbanek M, Pospisillova M, Polasek M (2002) Electrophoresis 23:1045–1052

Dawidowicz AL, Wianowska D, Baraniak B (2003) LWT Food Sci Technol 39:308–315

Dawidowicz AL, Wianowska D, Gawdzik J, Smolarz DH (2003) J Liq Chromatogr Relat Technol 26:2381–2397

Wach A, Pyrzyńska K, Biesaga M (2007) Food Chem 100:699–704

Lopez-Lazaro M (2002) Curr Med Chem Anti-Cancer Agents 2:691–714

Yang CS, Landau JM, Huang M-T, Newmark HL (2001) Annu Rev Nutr 21:381–406

Moon YJ, Wang X, Morris ME (2006) Toxicol In Vitro 20:187–210

Galati G, O´Brien PJ (2004) Free Radical Biol Med 37:287–303

Morton LW, Caccetta RA-A, Puddey IB, Croft KD (2000) Clin Exp Pharmacol Physiol 27:152–159

Steinberg FM, Bearden MM, Keen CL (2003) J Am Diet Assoc 103:215–223

Schroeter H, Boyd C, Spencer JPE, Williams RJ, Cadenas E, Rice-Evans C (2002) Neurobiol Aging 23:861–880

Youdim KA, Spencer JPE, Schroeter H, Rice-Evans C (2002) Biol Chem 383:503–519

Spencer JPE, Mohsen MMAE, Rice-Evans C (2004) Arch Biochem Biophys 423:148–161

Erlund I (2004) Nutr Res 24:851–874

Williams RJ, Spencer JPE, Rice-Evans C (2004) Free Radical Biol Med 36:838–849

Olthof MR, Hollman PCH, Katan MB (2001) J Nutr 131:66–71

Netzel M, Strass G, Kaul C, Bitsch I, Dietrich H, Bitsch R (2002) Food Res Intern 35:213–216

Murkovic M, Abuja PM, Bergmann AR, Zirngast A, Adam U, Winklhofer-Roob BM, Toplak H (2004) Eur J Clin Nutr 58:244–249

Laranjinha JAN, Almeida LM, Madeira VMC (1994) Biochem Pharmacol 48:487–494

Nardini M, D'Aquino M, Tomassi G, Gentili V, Di Felice M, Scaccini C (1995) Free Radical Biol Med 19:541–552

Middleton E, Kandaswami C (1992) Biochem Pharmacol 43:1167–1179

Barak V, Halperin T, Kalickman I (2001) Eur Cytokine Netw 12: 290–296

Serkedjieva J (1996) Fitoterapia 67:351–358

Zakay-Rones Z, Thom E, Wollan T, Wadstein J (2004) J Int Med Res 32:132–140

Hernández NE, Tereschuk ML, Abdala LR (2000) J Ethnopharmacol 73:317–322

Liu W, Wu CF, Yu QH, Guo YY (1991) Fitoterapia 62:83–85

Barak V, Birkenfeld S, Halperin T, Kalickman I (2002) Isr Med Assoc J 4:919–922

Valko M, Rhodes CJ, Moncol J, Izakovic M, Mazur M (2006) Chem Biol Interact 160:1–40

Überla K (1971) Faktorenanalyse. Springer, Heidelberg

Sharma S (1996) Applied multivariate techniques. Wiley, New York pp 99–143

Chang Q, Wong Y-S (2004) J Agric Food Chem 52:6694–6699

Seitz U, Bonn G, Oefner P, Popp M (1991) J Chromatogr 559:499–504

Pietta P, Bruno A, Mauri P, Rava A (1992) J Chromatogr 593:165–170

Clifford MN, Johnston KL, Knight S, Kuhnert N (2003) J Agric Food Chem 51:2900–2911

Clifford MN, Knight S, Kuhnert N (2005) J Agric Food Chem 53:3821–3832

Kammerer D, Carle R, Schieber A (2004) Rapid Commun Mass Spectrom 18:1331–1340

Seitz U, Oefner PJ, Nathakarnkitkool S, Popp M, Bonn GK (1992) Electrophoresis 13:35–38
Acknowledgments
The authors wish to thank Mr. Kim G. Vitten and Mrs. Lone Borum for their excellent technical assistance and the industrial companies Bottle Green Drinks Company, Thorncroft Vineyard Ltd., Steirische Beerenobst-genossenschaft, Beerenfrost Kuelhaus GmbH, Fyns Bærdyrkerforening, Rynkeby Foods and Dansk Erhvervsfrugtavl for their financial and technical support. We also thank EU (project no. FAIR CT98 9653, Elderopt) and the Danish Ministry of Food, Agriculture and Fisheries (J. nr. 93s-2466-Å01-01432) for their financial support.
About this article
Cite this article
Christensen, L.P., Kaack, K. & Fretté, X.C. Selection of elderberry (Sambucus nigra L.) genotypes best suited for the preparation of elderflower extracts rich in flavonoids and phenolic acids. Eur Food Res Technol 227, 293–305 (2008). https://doi.org/10.1007/s00217-007-0723-8
Received:

Revised:

Accepted:

Published:

Issue Date:

DOI: https://doi.org/10.1007/s00217-007-0723-8
Keywords