Abstract
Kvass is a fermented cereal beverage which produced from malt, rye flour, stale rye bread, and sucrose and is consumed mainly in Eastern Europe. Moreover, it is of interest as one of the few examples of traditional, non-alcoholic cereal-based beverages. In this study, a commercial kvass sample was characterized with respect to the fermentation microflora and the concentration of microbial metabolites. Lactobacillus casei and Leuconostoc mesenteroides were present in cell counts of 7.3 × 107 and 6.0 × 107 cfu mL−1, respectively. Saccharomyces cerevisiae was present in cell counts of 3.0 × 107 cfu mL−1. PCR-DGGE analysis verified that all dominant fermentation organisms were cultivated. Microbial metabolites in kvass were ethanol, lactate, and acetate. One of the kvass isolates, Ln. mesenteroides FUA 3086 harboured a putative dextransucrase gene and formed dextran and isomalto-oligosaccharides from sucrose and maltose. Fermentation of model kvass wort confirmed that all kvass isolates grew in the fermentation substrate, moreover, formation of isomaltotriose by Ln. mesenteroides FUA 3086 was observed in model kvass fermentation.
This is a preview of subscription content, log in to check access.
Access options
Buy single article
Instant access to the full article PDF.
US$ 39.95
Price includes VAT for USA
Subscribe to journal
Immediate online access to all issues from 2019. Subscription will auto renew annually.
US$ 199
This is the net price. Taxes to be calculated in checkout.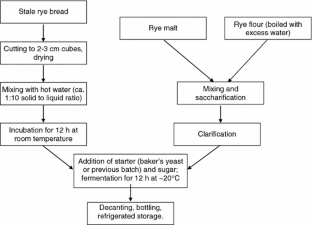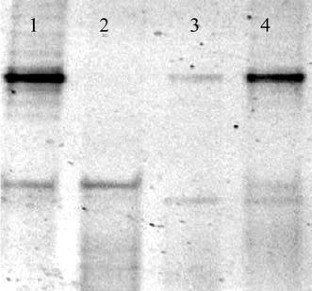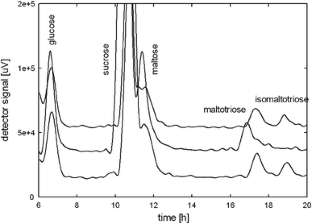 References
1.

Korolev DA (1963) Russkii kvas (Russian kvass) Moscow, Pishchepromizdat

2.

Ivanova EG, Kiseleva LV, Lenets NG (2006) Pivo I Napitki 2:50–51

3.

Ermakov AA, Sitalo NA, Ivanov VS, Yakubovich FF, Emel'yanova NA (1982) Pishevaya Promyshlennost 4:30–31

4.

Kosminskii GI, Tsed EA, Yakirevich LM (1996) Izvestiya Vysshikh Uchebnykh Zavedenii Pischevaya Tekhnologiya 5/6:47–48

5.

Stolz P, Böcker G, Hammes WP, Vogel RF (1995) Z Lebensm Unters Forsch 201:91–96

6.

Müller MRA, Wolfrum G, Stolz P, Ehrmann MA, Vogel RF (2001) Food Microbiol 18:217–227

7.

Ehrmann MA, Müller MRA, Vogel RF (2003) Int J Syst Evol Microbiol 53:7–13

8.

Sandhu GS, Kline BC, Stockman L, Roberts GD (1995) J Clin Microbiol 33:2913–2919

9.

Walter J, Tannock GW, Tilsala-Timisjarvi A, Rodtong S, Loach DM, Munro K, Alatossava T (2000) Appl Environ Microbiol 66:297–303

10.

Chung CH, Day DF (2002) J Ind Microbiol Biotechnol 29:196–199

11.

Chelo IM, Zé-Zé L, Tenreiro R (2007) Int J Syst Evol Microbiol 57:276–286

12.

Van Beek S, Priest FG (2002) Appl Environ Microbiol 68:297–305

13.

Dobson CM, Chaban B, Deneer H, Ziola B (2004) Can J Microbiol 50:482–488

14.

Felis GE, Dellaglio F, Mizzi L, Torriani S (2001) Int J Syst Evol Microbiol 51:2113–2117

15.

Vásquey A, Molin G, Petterrsson B, Antonsson M, Ahrné S (2005) Syst Appl Microbiol 25:430–441

16.

Dellaglio F, Felis GE, Torriani S (2002) Int J Syst Evol Microbiol 52:285–287

17.

Hancioglu Ö, Karapinar M (1997) Int J Food Microbiol 35:271–274

18.

Gänzle MG (2005) In: Brandt MJ, Gänzle MG (eds) Mikrobiologie des Sauerteiges. Behr's Verlag, Hamburg, pp 77–107

19.

Hammes WP, Brandt MJ, Francis KL, Rosenheim J, Seitter MFH, Vogelmann SA (2005) Trends Food Sci Technol 16:4–11

20.

Vogel RF, Knorr R, Müller MRA, Steudel U, Gänzle MG, Ehrmann MA (1999) Antonie Van Leeuwenhoek 76:403–411

21.

Ehrmann MA, Vogel RF (2005) Trends Food Sci Technol 16:31–42

22.

Stiles ME, Holzapfel WH (1997) Int J Food Microbiol 36:1–29

23.

Fitzsimons NA, Cogan TM, Condon S, Beresford T (1999) Appl Environ Microbiol 65:3418–3426

24.

Walter J (2005) In: Tannock WG (ed) Probiotics, Prebiotics Caister. Academic Press, Norfolk, UK, pp 51–82

25.

Ouwehand AC, Salminen S, Isolauri E (2002) Antonie Van Leeuwenhoek 82:279–289

26.

Johansson M-L, Molin G, Jeppsson B, Nobaek S, Ahrné S, Bengmark S (1993) Appl Environ Microbiol 59:15–20

27.

Tieking M, Korakli M, Ehrmann MA, Gänzle MG, Vogel RF (2003) Appl Environ Microbiol 69:945–952

28.

Orla-Jensen S (1943) The lactic acid bacteria (1943) Det Kongelige Danske Videnskabernes Selskab Biologiske Skrifter Bind II Nr 3 Kopenhagen

29.

van Hijum SAFT, Kralj S, Ozimek LK, Dijkhuizen L, van Geel-Schutten IGH (2006) Microbiol Mol Biol Rev 70:157–176

30.

Dols M, Simeon MR, Willemot R-M, Vignon MR, Monsan PF (1998) Carbohydr Res 305:549–559

31.

Rodrigues S ,Lona LMF, Franco TT (2005) Bioprocess Biolsyst Eng 28:9–14

32.

Seo E-S, Nam S-H, Kang H-K, Cho J-Y, Lee H-S, Ryu H-W, Kim D (2006) Enzyme Microb Technol e-pub ahead of print

33.

Van Loo J, Cummings J, Delzenne N, Englyst H, Franck A, Hopkins M, Kok N, Macfarlane G, Newton D, Quigley M, Roberfroid M, van Vliet T, van der Heuvel E (2000) Br J Nutr 81:121–132

34.

Böhm G, Jelinek J, Stahl B, van Laere K, Knol J, Fanaro S, Moro G, Vigi V (2004) J Clin Gastroenterol 38(6S):S76–S79

35.

Rycroft CE, Jones MR, Gibson GR, Rastall RA (2001) J Appl Microbiol 91:878–887

36.

Vernazza CL, Gibson GR, Rastall RA (2006) J Appl Microbiol 100:846–853

37.

Kohmoto T, Kukui F, Takaku H, Mitsuoka T (1991) Agric Biol Chem 55:2157–2159
About this article
Cite this article
Dlusskaya, E., Jänsch, A., Schwab, C. et al. Microbial and chemical analysis of a kvass fermentation. Eur Food Res Technol 227, 261–266 (2008). https://doi.org/10.1007/s00217-007-0719-4
Received:

Revised:

Accepted:

Published:

Issue Date:
Keywords
Fermentation

Lactic Acid Bacterium

Maltotriose

Yeast Isolate

Leuconostoc Mesenteroides