Abstract
Differences in the definitions and terms used by consumers to describe their sensory sensations of crispness/crunchiness were studied, highlighting the relevance of using well-defined terms in consumer studies. A questionnaire was presented to consumers from two different Spanish-speaking countries (Spain and Uruguay, n = 200). The answers showed that the terms crispy and crunchy had different meanings or evoked different perceptions depending on the country. The crispy/crunchy food items most frequently mentioned by consumers were dry-crisp, processed products; vegetables or other wet-crisp products were not often mentioned by the consumers interviewed. The main difference between the two countries was that 38% of Spanish consumers did not know the Spanish term for "crunchy" and 17% thought that "crispy" and "crunchy" had the same meaning. The results contribute to a greater knowledge of the terminology used by the consumers to describe oral sensations related to crispness and crunchiness.
Access options
Buy single article
Instant access to the full article PDF.
USD 39.95
Price excludes VAT (USA)
Tax calculation will be finalised during checkout.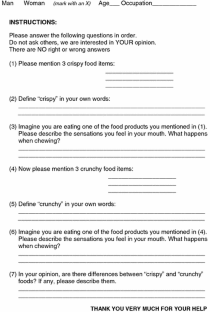 References
Roudaut G, Dacremont C, Vallès Pàmies B, Colas B, Le Meste M (2002) Trends Food Sci Technol 13:217–227

Szczesniak A, Kleyn DH (1963) Food Technol 17(1):74–77

Drake BK (1963) J Food Sci 28:233–241

Vickers Z (1984) J Texture Stud 15:157–163

Szczesniak AS (1988) J Texture Stud 19:51–59

Dacremont C (2003) URL http://www.edition.cens.cnrs.fr/revue/aofood/2003/v/n1/

Luyten H, Plijter JJ, Van Vliet T (2004) J Texture Stud 35:445–492

Szczesniak AS (2002) Food Qual Prefer 13:215–225

Rohm H, Jaros D, Fischer U, Lailach S (1994) Lebensmittel-Wissenschaft und-Technologie 27:406–414

Lawless H (1997) J Texture Stud 28:687–708

Dacremont C (1995) J Texture Stud 26:27–43

Szczesniak A, Kahn E (1971) J Texture Stud 2:280–295

Yoshikawa S, Nishimaru S, Tashiro T, Yoshida M (1970) J Texture Stud 1:437–442

Yoshikawa S, Nishimaru S, Tashiro T, Yoshida M (1970) Texture profiles. J Texture Stud 1:443–451

Yoshikawa S, Nishimaru S, Tashiro T, Yoshida M (1970) J Texture Stud 1:452–463

Szczesniak A, Skinner EZ (1973) J Texture Stud 4:378–384

Zanoni M (1997) J Sens Stud 12:239–253

Rohm H (1990) J Texture Stud 21:363–373

Dijksterhuis G, Luyten H, de Wijk R, Mojet J (2005) Food Qual Prefer (in press). doi:10.1016/jfoodqual.2005.07.012

Drake B (1989) J Texture Stud 20:1–27

Vincent JFV (1998) The quantification of crispness. J Sci Food Agric 78:162–168

Wilkinson C, Dijksterhuis GB, Minekus M (2000) Trends Food Sci Technol 11:442–450

Fillion L, Kilcast D (2002) Food Qual Prefer 13:23–29

Chen J, Karlsson C, Povey MJ (2005) J Texture Stud 36:139–156

Varela P, Chen J, Fiszman S, Povey M (2006) J Chem (in press) doi: 10.1002/cem.1029

Duizer LM, Campanella OH, Barnes GRG (1998) J Texture Stud 29:397–411

Vickers Z (1991) J Food Qual 14:87–96
Acknowledgments
The authors are indebted to the Comisión Interministerial de Ciencia y Tecnología for financial support (Project AGL 2003-09208-C03-02) and to the Ministerio de Educación y Ciencia (Spain) for the grant awarded to author Paula Varela.
About this article
Cite this article
Varela, P., Salvador, A., Gámbaro, A. et al. Texture concepts for consumers: a better understanding of crispy–crunchy sensory perception. Eur Food Res Technol 226, 1081–1090 (2008). https://doi.org/10.1007/s00217-007-0635-7
Received:

Revised:

Accepted:

Published:

Issue Date:

DOI: https://doi.org/10.1007/s00217-007-0635-7
Keywords
Texture

Sensory analysis

Terminology

Crispness

Crunchiness

Consumers