Abstract
The antimicrobial properties of phenolic extracts of Portuguese wild edible mushroom species (Lactarius deliciosus, Sarcodon imbricatus and Tricholoma portentosum) against pathogens were investigated. The minimal inhibitory concentrations (MICs) were evaluated for the entire mushroom, the cap and the stipe, separately; the portion of the mushroom used proved to be influenced in the results obtained, which are directly correlated with the content of total phenols and flavonoids in the extracts. The growth of Gram-positive bacteria (Bacillus cereus, B. subtilis,) was well inhibited by these mushrooms, while Escherichia coli (Gram-negative bacteria) was resistant. The study on the antifungal effect of these mushrooms revealed that Candida albicans and Cryptococcus neoformans were differently inhibited for the mushrooms used.
This is a preview of subscription content,
to check access.
Access this article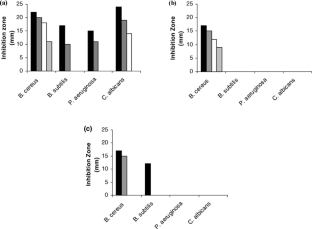 Similar content being viewed by others
References
Sagakami H, Aohi T, Simpson A, Tanuma S (1991) Anticancer Res 11:993–1000

Wasser SP, Weis, AL (1999) Int J Med Mushrooms 1:31–62

Benedict RG, Brady LR (1972) J Pharmacol Sci 61:1820–1822

Kupra J, Anke T, Oberwinkler G, Schramn G, Steglich W (1979) J Antibiotics 32:130–135

Suzuki H, Iiyama K, Yoshida O, Yamazaki S, Yamamoto N, Toda S (1990) Agric Biol Chem 54:479–487

Collins RA, Ng TB (1997) Life Sci 60:383–387

Eo SK, Kim YS, Lee CK, Han SS (1999) J Ethnopharmacol 68:129–136

Brandt CR, Piraino F (2000) Recent Res Dev Antimicrob Agents Chemother 4:11–26

Lovy A, Knowles B, Labbe R, Nolan L (1999) J Herbs Spices Med Plants 6:49–57

Isaka M, Tantichareon M, Kongsaeree P, Thebtaranonth Y (2001) J Org Chem 66:4803–4808

Anke T (1989) Prog Ind Microbiol 27:51–66

Jong SC, Birmingham JM (1993) Adv Appl Microbiol 39:153–184

Morita K, Kobayashi S (1967) Chem Pharmac Bull 15:988–993

Yasumoto K, Iwami K, Mitsuda H (1971) Agric Biol Chem 35:2059–2069

Takazawa H, Tajima F, Miyashita C (1982) Yakugaku Zasshi 102:489–491

Hirasawa M, Shouji N, Neta T, Fukushima K, Takada K (1999) Int J Antimicrob Agents 11:151–157

Turkoglu MA, Duru ME, Mercan N, Kivrak I, Gezer K (2006) Food Chem (in press)

Anke H, Bergendorff O, Sterner O (1989) Food Chem Toxicol 27:393–397

Ferreira ICFR, Baptista P, Vilas-Boas M, Barros L (2006) Food Chem (in press)

Pietta P-G (2000) J Nat Prod 63:1035–1042

Rice-Evans CA, Miller NJ, Paganga G (1997) Trends Plant Sci 2:152–159

Kähkönen MP, Hopia AI, Heikki JV, Rauha J-P, Pihlaja K, Kujala TS (1999) J Agric Food Chem 47:3954–3962

Rauha J-P, Remes S, Heinonen M, Hopia A, Kähkönen M, Kujala T (2000) Int J Food Microbiol 56:3–12

Nychas G-JE, Tassou CC, Skandamis P (2003) Antimicrobials from herbs and spices. In: Roller S (ed) Natural antimicrobials for the minimal processing of foods. Woodhead Publishing, Cambridge, pp 176–200

Vaquero MJR, Alberto MR, Nadra MCM (2005) Food Control (in press)

Marchand A (1971–1986) In: Champignons du Nord et du Midi, Tome 1–9. Soc Mycol Pyrénées Mediterranéenes, Perpignan

Moser M (1983) Keys to Agarics and Boleti (Polyporales, Boletales, Agaricales, Russulales). Roger Phillips, London

Bon M (1988) Guia de campo de los Hongos de Europa. Ediciones Omega, Barcelona

Courtecuisse R, Duhem B (1995) Mushrooms and Toadstools of Britain and Europe. HarperCollins, London

Courtecuisse R (1999) Mushrooms of Britain and Europe. HarperCollins, London

Singleton VL, Rossi JA Jr (1965) Am J Enol Vitic 16:144–158

Jia Z, Tang M, Wu J (1999) Food Chem 64:555–559

Klein BP, Perry AK (1982) J Food Sci 47:941–945

Nagata M, Yamashita I (1992) Nippon Shokuhin Kogyo Gakkaish 39:925–928

Hawkey PM, Lewis DA (1994) Medical bacterology – A practical approach. Oxford University, UK, pp 181–194

Ferreira ICFR, Calhelha RC, Estevinho LM, Queiroz M-JRP (2004) Bioorg Med Chem Lett 14:5831–5833
Acknowledgements
We thank the Foundation for Science and Technology (Portugal) for financial support through CIMO – ESABragança and through project POCI/AGR/56661/2004.
About this article
Cite this article
Barros, L., Calhelha, R., Vaz, J. et al. Antimicrobial activity and bioactive compounds of Portuguese wild edible mushrooms methanolic extracts. Eur Food Res Technol 225, 151–156 (2007). https://doi.org/10.1007/s00217-006-0394-x
Received:

Revised:

Accepted:

Published:

Issue Date:

DOI: https://doi.org/10.1007/s00217-006-0394-x
Keywords