Abstract
Different Spanish cheeses (Cabrales, Idiazábal, Roncal, Manchego, Mahón and a goat's milk cheese), made with diverse technologies and milk from different species, were studied for their angiotensin converting enzyme (ACE)-inhibitory activity. Among the water-soluble extract WSE<1000-Da of the different samples, Cabrales cheese was the most active with an inhibitory activity of 76.1%. On the contrary, Mahón cheese showed the lowest ACE-inhibitory index (56.6%). In order to identify the peptides involved in this activity, the WSE<1000-Da were analyzed by HPLC-MS/MS and off-line MS/MS. A total of 41 major peptides were identified in the different cheeses. Most of them derived from β-and αs1-casein. Several of these peptides were selected on the basis of the presence of proline as the C-terminal amino acid, and they were chemically synthesized. All peptides showed moderate or low ACE-inhibitory activity. Peptide DKIHP [β-CN f(47–51)], a sequence detected in all samples except Mahón cheese, showed the highest inhibitory activity with an IC50 value of 113.1 μM.
Access options
Buy single article
Instant access to the full article PDF.
USD 39.95
Price excludes VAT (USA)
Tax calculation will be finalised during checkout.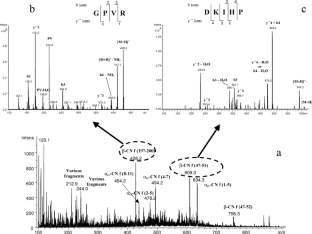 References
Reaux A, Fournie-Zaluski MC, Llorens-Cortes C (2001) Trends Endocrin Metab 12:157–162

Yamamoto N (1997) Biopolymers 43:129–134

Ondetti MA, Rubin B, Cushman DW (1977) Science 196:441–444

Prieto JA, Akesolo U, Jiménez RM, Alonso R (2001) J Chromatogr A 916:279–28

Oshima G, Shimabukuro H, Nagasawa K (1979) Biochim Biophys Acta 566:128–137

Saito Y, Wanezaki K, Kawato A, Imayasu S (1994) Biosci Biotechnol Biochem 10:1767–1771

Yoshii H, Tachi N, Ohba R, Sakamura O, Takeyama H, Itani T (2001) Comp Biochem Physiol C 128:27–33

Curtis JM, Dennis D, Waddell DS, MacGillivray T, Ewart HS (2002) J Agric Food Chem 50:3919–3925

Gómez-Ruiz JA, Ramos M, Recio I (2002) Int Dairy J 12:697–706

Gibbs BF, Zougman A, Masse R, Mulligan C (2004) Food Res Int 37:123–131

Nakamura Y, Yamamoto N, Sakai K, Okubo A, Yamazaki S, Takano T (1995) J Dairy Sci 78:777–783

Nakamura Y, Yamamoto N, Sakai K, Takano T (1995) J Dairy Sci 78:1253–1257

Taborda G, Molina E, Martínez-Castro I, Ramos M, Amigo L (2003) J Agric Food Chem 51:270–276

Smacchi E, Gobbeti M (1998) Enzyme Microb Technol 22:687–694

Saito T, Nakamura T, Kitazawa H, Kawai Y, Itoh T (2000) J Dairy Sci 83:1434–1440

Ryhänen EV, Pihlanto-Leppälä A, Pahkala E (2001) Int Dairy J 11:441–447

Isea G, Villalobos J (1999) Rev Cient-Facult Ciencias Veterin 9:231–234

Meisel H, Goepfert A, Gunther S (1997) Milchwissenschaft 52:307–311

Gómez-Ruiz JA, Ramos M, Recio I (2004) J Chromatogr A 1054:269–277

Nuñez M, Medina M, Gaya P (1989) J Dairy Res 56:303–321

International Dairy Federation (1993) Norma FIL-IDF, N° 20B Brussels (Belgium)

Cushman DW, Cheung HS (1971) Biochem Pharmacol 20:1637–1648

Alison EA (2003) Nat Prod Rep 20:202–215

Tsaprailis G, Nair H, Somogyi Á, Wysocki VH, Zhong W, Futrell JH, Summerfield SG, Gaskell SJ (1999) J Am Chem Soc 121:5142–5154

Tsaprailis G, Somogyi Á, Nikolaev EN, Wysocki VH (2000) Int J Mass Spectrom 195/196:467–479

Breci LA, Tabb DL, Yates III JR, Wysocki VH (2003) Anal Chem 75:1963–1971.

Addeo F, Chianese L, Sacchi R, Spagna Musso S, Ferranti P, Malorni A (1994) J Dairy Res 61:365–374

Meisel H (1998) Int Dairy J 8:363–373

Clare DA, Swaisgood HE (2000) J Dairy Sci 83:1187–1195

Cushman DW, Cheung HS, Sabo EF, Ondetti MA (1977) Biochemistry 16:5484–5491

Rohrbach MS, Williams Jr EB, Rolstad RA (1981) J Biol Chem 256:225–230

Maruyama S, Nakagomi K, Tomizuka N, Suzuki H (1985) Agric Biol Chem 49:1405–1409

Maruyama S, Mitachi H, Awaka J, Kurono M, Tomizuka N, Suzuki H (1987) Agric Biol Chem 51:2257–2561

Yamamoto N, Takano T (1999) Nahrung 43:159–164

Gobbetti M, Ferranti P, Smacchi E, Goffredi F, Addeo F (2000) Appl Environ Microbiol 66:3898–3904

Cheung HS, Wang FL, Ondetti MA, Sabo EF, Cushman DW (1980) J Biol Chem 255:401–407

Gómez-Ruiz JA, Recio I, Belloque J (2004) J Agric Food Chem 52:6315–6319
Acknowledgements
This work has received financial support from project AGL-2004-06903-C02-01. J.A. Gómez-Ruiz was the recipient of a fellowship from the Comunidad Autónoma de Madrid, Spain. G. Taborda expresses his appreciation to Colciencias for a fellowship and to the Universidad de Caldas (Manizales, Colombia).
About this article
Cite this article
Gómez-Ruiz, J.Á., Taborda, G., Amigo, L. et al. Identification of ACE-inhibitory peptides in different Spanish cheeses by tandem mass spectrometry. Eur Food Res Technol 223, 595–601 (2006). https://doi.org/10.1007/s00217-005-0238-0
Received:

Revised:

Accepted:

Published:

Issue Date:

DOI: https://doi.org/10.1007/s00217-005-0238-0
Keywords