Abstract
Madhuca longifolia Syn. M. indica (Sapotaceae) is an important economic tree growing throughout the subtropical region of the Indo-Pak subcontinent. Information regading the exact composition of mahua butter (also known as mowrah butter) from fruit-seeds of buttercup or mahua tree (Madhuca longifolia) is scare. In the present contribution, lipid composition and characteristics of mahua butter from the Indian buttercup tree were determined. A combination of different chromatographic techniques were performed to analyze lipid classes, fatty acids, and fat-soluble bioactives of mahua fat. n-Hexane extract of finely-ground buttercup fruit-seed meal was found to be about 58%. This observation confirmed the fact that the buttercup fruit-seeds is a rich source of fat. The extracted fat was yellow in color and solid at room temperature. The amount of neutral lipids in the crude mahua fat was the highest (ca. 95.4% of total lipids), followed by glycolipids and phospholipids, respectively. Oleic, stearic, palmitic, and linoleic were the major fatty acids in mahua fat and its' lipid classes. The ratio of unsaturates to saturates was higher in the neutral lipid subclasses than in the polar lipid fractions. Mahua butter being characterized by a relatively high amount of phytosterols, wherein the sterol markers were Δ5-avenasterol and β-sitosterol. γ-Tocopherol was the major tocopherol isomer while the rest being β and α isomers. When mahua butter and extra-virgin olive oil were compared upon their radical scavenging activity (RSA) toward the stable 1,1-diphenyl-2-picrylhydrazyl (DPPH) radical, mahua butter exhibited stronger RSA. In consideration of potential utilization, detailed knowledge on the composition of mahua butter is of major importance. The diversity of applications to which mahua butter can be put gives this substance great industrial importance.
Access options
Buy single article
Instant access to the full article PDF.
USD 39.95
Price excludes VAT (USA)
Tax calculation will be finalised during checkout.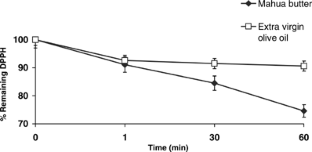 References
Lawson H (1995) Sources of oils and fats. In: Lawson H (ed) Food oils and fats, technology, utilization and nutrition. Chapman & Hall, USA, pp 39–48

www.herbnet.com

Singh A, Singh IS (1991) Food Chem 40:221–228

Parrota JA (2001) Healing plants of peninsular India, CABI publishing, CABI international walling ford Oxon Ox 10 8DE, UK, pp 655–57

Sastri MW (1962) The wealth of india raw material. In: Sastri MW (ed) CSIR New Delhi (India), vol 6, p. 207

YosiokaI I, Inada A, Kitagawa I (1974) Tetrahedron 30:707–714

Yoshikawa K, Tanaka M, Arihara S, Chandra BP, Roy SK, Matsumura E, Katayama S (2000) J Nat Prod 63:1679–1681

Siddiqui SB, Khan S, Karda MN, Aslam H (2004) Helventica Chim Acta 87:1194–1201

Pawar RS, Bhutani KK (2004) J Nat Prod 67:668–671

Ruckmini C (1990) Food Chem Toxicol 28:601–606

Manorama R, Chinnasamy N, Ruckmini C (1993) Food Chem Toxicol 31:367–375

Seetharam YN, Kotresh K, Uplokar SB (2000) Flora of Gulbarga district Gulbarga University, Gulbarga (India), p. 124

Kates M (1972) Techniques for separation of lipid mixtures. In: Kates M (ed) Techniques of lipidology: Isolation, analysis and identification of lipids. North-Holland Publishing Co., Amsterdam (Holland), pp 393–465

Southgate DAT (1976) Selected methods. In: Southgate DAT (ed) Determination of food carbohydrates. Applied Science Publishers, London, UK, pp 108–109

AOCS (1990) In: Fisestone D (ed) Official methods and recommended practices of the American oil chemists society, 4th edn. AOCS Press, Champaign

Arens M, Schulte E, Weber K (1994) Fat Sci Technol 96:67–68

Ramadan MF, Mörsel J-T (2003) J Agric Food Chem 51:969–974

Ramadan MF, Mörsel J-T (2002) Eur Food Res Technol 214:521–527

Ramadan MF, Kroh LW, Mörsel J-T (2003) J Agric Food Chem 51:6961–6969

Lee J-C, Kim H-R, Kim J, Jang Y-S (2002) J Agric Food Chem 50:6490–6496

Bockisch M (1998) Vegetable fats and oils. In: Bockisch M (ed) Fats and oils handbook. AOCS Press, Champaign, 174–344

Sugawara T, Miyazawa T (1999) Lipids 34:1231–1237

Lawson H (1995) Nutritional aspects of oils and fats. In: Lawson H (ed) Food oils and fats, technology, utilization and nutrition. Chapman & Hall, USA, pp 203–280

Kamel BS, Kakuda Y (2000) Fatty acids in fruits and fruit products. In: Chow CK (ed) Fatty acids in foods and their health implications, 2nd edn. Marcel Dekker, NY, USA, pp 239–270

Finley JW, Shahidi F (2001) The chemistry, processing and health benefits of highly unsaturated fatty acids: an overview. In: John WJ, Shahidi F (ed) Omega-3 fatty acids, chemistry, nutrition and health effects. American Chemical Society, Washington, DC, USA, pp 1–13

Riemersma RA (2001) Eur J Lipid Sci Technol 103:372–373

Horstmann P, Montag A (1987) Fat Sci Technol 89:381–388

Grob K, Laufranchi M, Mariani C (1990) J Amer Oil Chem Soc 67:626–634

Homberg E (1991) Fat Sci Technol 93:516–517

Artho G, Grob K, Marianai C (1993) Fat Sci Technol 95:176–180

De-Blas JO, Del-Valle GA (1996) J Am Oil Chem Soc 73:1685–1689

Hirsinger F (1989) New annual oil crops. In: Roebbelen G, Downey RK, Ashri A (eds) Oil crops of the world. McGraw Hill, NY, USA, pp 518–532

Yang B, Karlsson RM, Oksman PH, Kallio HP (2001) J Agric Food Chem 49:5620–5629

Ong ASH, Choo YM, Ooi CK (1995) Development in palm oil. In: Hamilton RJ (ed) Development in oils and fats. Blackie Academic and Professional Chapman & Hall, Glasgow, UK, pp 153–191

Nelson JS (1980) Pathology of vitamin E deficiency. In: Machlin LJ (ed) Vitamin E: A comprehensive treatise. Marcel Dekker, NY, USA, pp 397–428

Sokol RJ (1996) Vitamin E. In: Ziegler EE, Filer LJ (eds) Present knowledge in Nutrition. ILSI Press, Washington DC, USA, pp 130–16

Gey KF, Puska P, Jordan P, Moser UK (1991) AmJ Clin Nutr 53:3245–3265

Rimm EB, Stampfer MJ, Ascherio A, Giovannucci E, Colditz GA, Willett WC (1993) New Engl J Med 328:1450–1456

Kallio H, Yang B, Peippo P, Tahvonen R, Pan R (2002) J Agric Food Chem 50:3004–3009

Kamal-Eldin A, Andersson R (1997) J Am Oil Chem 74:375–380

Kamal-Eldin A, Appelqvist LA (1996) Lipids 31:671–701

Schwarz K, Bertelsen G, Nissen LR, Gardner PT, Heinonen M, Hopia A, Huynh-Ba T, Lambelet P, McPhail D, Skibsted LH, Tijburg L (2000) Eur Food Res Technol 21:319–328

Espin JC, Rivas CS, Wichers HJ (2000) J Agric Food Chem 48:648–656

Tano/Debrah K, Ohta Y (1995) J Am Oil Chem Soc 72:251–256
About this article
Cite this article
Ramadan, M.F., Sharanabasappa, G., Parmjyothi, S. et al. Profile and levels of fatty acids and bioactive constituents in mahua butter from fruit-seeds of buttercup tree [Madhuca longifolia (Koenig)]. Eur Food Res Technol 222, 710–718 (2006). https://doi.org/10.1007/s00217-005-0155-2
Received:

Revised:

Accepted:

Published:

Issue Date:

DOI: https://doi.org/10.1007/s00217-005-0155-2
Keywords