Abstract
Cumin is one of the commonly used spices in food preparations. It is also used in traditional medicine as a stimulant, a carminative and an astringent. In this study, we characterized the antioxidant activity of three commercially available cumin varieties, viz., cumin (Cuminum cyminum), black cumin (Nigella sativa) and bitter cumin (C. nigrum). The antioxidant capacity of cumin varieties was tested on Fe2+ ascorbate induced rat liver microsomal lipid peroxidation, soybean lipoxygenase dependent lipid peroxidation and 1,1-diphenyl-2-picrylhydrazyl (DPPH) radical scavenging methods. The total phenolic content of methanolic extracts of cumin varieties ranged from 4.1 to 53.6 mg g−1 dry weight. Methanolic extracts of all the three varieties of cumin showed higher antioxidant activity compared with that of the aqueous extract. Among the cumin varieties, bitter cumin showed the highest antioxidant activity followed by cumin and black cumin in different antioxidant systems. IC50 values of the methanolic extract of bitter cumin were found to be 0.32, 0.1 and 0.07 mg dry weight of cumin seeds on the lipoxygenase dependent lipid peroxidation system, the DPPH radical scavenging system and the rat liver microsomal lipid peroxidation system, respectively. The data also show that cumin is a potent antioxidant capable of scavenging hydroxy, peroxy and DPPH free radicals and thus inhibits radical-mediated lipid peroxidation. The high antioxidant activity of bitter cumin can be correlated to the high phenolic content among the three cumin varieties. Thus, bitter cumin with a high phenolic content and good antioxidant activity can be supplemented for both nutritional purposes and preservation of foods.
This is a preview of subscription content,
to check access.
Access this article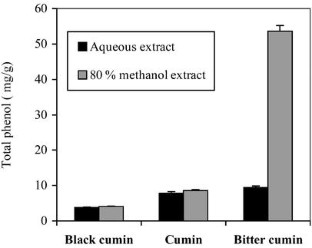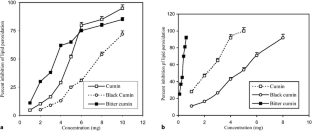 References
Hashim FM, Elkiey MA (1962) J Phar Sci Arab Rep 3:121–133

Norman J (1990) The complete book on spices. Doerling Kindersley, London, 34–38

El-Hamidi A, Ahmed SS (1966) Pharamazie 21:438–439

Ghosheh OA, Houdi AA, Crooks PA (1999) J Phar Biomed Anal 19:757–763

Burits M, Bucar F (2000) Phytother Res 14:323–328

Hanafy MSM, Hatem ME (1991) J Ethanopharma 34:275–278

Morsi NM (2000) Acta Microbiol Polonica 49:63–74

Al-Hader AA, Aqel MB, Hassan ZA (1993) Int J Pharamcogn 31:96–100

Salomi NJ, Nair SC, Jayawardhanan KK, Varghese CD, Panikkar KR (1992) Cancer Lett 63:41–46

El-Mofty MM, Abdel-Galil AM, Shwaireb MH, El-Dakhakhny MM, Rizk AM, Hafny EM (1997) Oncol Rep 4:139–141

Worthen DR, Ghosheh OA, Crooks PA (1998) Anticancer Res 18:1527–1532

Shoieb AM, Elgayyar M, Dudrick PS, Bell JL, Tithof PK (2003) Int J Oncol 22:107–113

El-Tahir KE, Ashour MM, Al-Harbi MM (1993) Gen Pharmacol 24:1123–1131

Zaoui A, Cherrah Y, Lacaille-Dubois MA, Settaf A, Amarouch H, Hassar M (2000) Therapie 55:379–382

Daba MH, Abdel Rahman MS (1998) Toxicol Lett 95:23–29

Nagi MN, Alam K, Badary OA, Al-Shabanah OA, Al-Sawaf HA, Al-Bekairi AM (1999) Biochem Mol Biol Inter 47:153–159

Mansour MA, Ginawi OT, El-Hadiyah T, El-Khatib AS, Al-Shabanah OA, Al-Sawaf HA (2001) Res Commun Mol Pathol Pharmacol 110:239–251

Houghton PJR, Zarka R, de las Heras B, Hoult JR (1995) Planta Medica 61:33–36

Abdel-Fattah AM, Matsumoto K, Watanabe H (2000) Eur J Pharmacol 400:89–97

Keshri G, Singh MM, Lakshmi V, Kamboj VP (1995) Ind J Physiol Pharmacol 39:59–62

Taga MS, Miller EE, Pratt DE (1984) J Am Oil Chem Soc 61:928–993

Shobana S, Naidu KA (2000) Prosta Lueko Essen Fatty Acids 62:107–110

Kamp HH, Wirtz KWZ (1974) Meth Enzymol 32B:1401–146

Miller DM, Aust SD (1989) Arch Biochem Biophys 271:113–119

Lowry OH, Rosebrough NJ, Farr AL, Randall RJ (1951) J Biol Chem 143:265–271

Shimada K, Fujikawa K, Yahara K, Naksmura T (1992) J Agric Food Chem 40:945–948

Reddy A, Lokesh BR (1992) Mol Cell Biochem 111:117–124
Acknowledgements
The authors thank V. Prakash, Director, CFTRI, and S.G. Bhat, Head, Department of Biochemistry and Nutrition, for their encouragement and support. The authors gratefully acknowledge the financial assistance in conducting this work through a project awarded by the Department of Science and Technology, New Delhi. Financial support to N.B.T. from the University Grants Commission, New Delhi, in the form of a Senior Research Fellowship is gratefully acknowledged.
About this article
Cite this article
Thippeswamy, N.B., Naidu, K.A. Antioxidant potency of cumin varieties—cumin, black cumin and bitter cumin—on antioxidant systems. Eur Food Res Technol 220, 472–476 (2005). https://doi.org/10.1007/s00217-004-1087-y
Received:

Revised:

Published:

Issue Date:

DOI: https://doi.org/10.1007/s00217-004-1087-y
Keywords