Abstract
Lutein and zeaxanthin, two xanthophylls supposed to delay formation of age-related macular degeneration (AMD), are found in numerous new dietary supplements appearing on the international market. Usually, the lutein concentration ranges from 0.25 to 20 mg/serving size. The lutein contents of 14 products with lutein highlighted on the label were evaluated. Oily formulations were dissolved, and powdery capsule contents were extracted with solvents before high-performance liquid chromatography (HPLC) analysis (diode-array detector, 450 nm) using a C30 column. If lutein diesters from marigold (Tagetes erecta) were present, the extracts were saponified with methanolic KOH. To unequivocally identify carotenoids, HPLC-(atmospheric pressure chemical ionization)mass spectrometry was applied. In this study only all-trans-lutein was quantified, whereas cis isomers (approximately 1–5 area% of total lutein) were not taken into account. The lutein concentration of half of the products investigated was found to be below the amount stated, varying here from 11 to 93%. With the exception of one product, all dietary supplements contained zeaxanthin in amounts typical for the use of marigold oleoresin (6.0±1.4 area% of all-trans-lutein). The high discrepancy found between the amounts labeled and determined in half of the products may be attributed to degradation reactions or to improper storage conditions.
This is a preview of subscription content, log in to check access.
Access options
Buy single article
Instant access to the full article PDF.
US$ 39.95
Price includes VAT for USA
Subscribe to journal
Immediate online access to all issues from 2019. Subscription will auto renew annually.
US$ 199
This is the net price. Taxes to be calculated in checkout.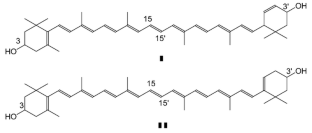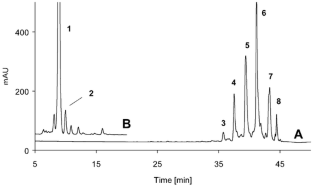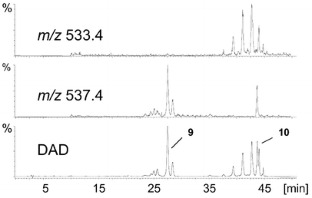 References
1.

Landrum JT, Bone RA (2001) Arch Biochem Biophys 385:28–40

2.

Mares-Perlman JA, Millen AE, Ficek TL, Hankinson SE (2002) J Nutr 132:518S-524S

3.

Beatty S, Boulton M, Henson D, Koh HH, Murray IJ (1999) Br J Ophthalmol 83:867–877

4.

Somerberg O, Keunen JEE, Bird AC, van Kujik FJGM (1998) Br J Ophthalmol 82:907–910

5.

Berendschot TT, Goldbohm RA, Klopping WA, van de Kraats J, van Norel J, van Norren D (2000) Invest Ophthalmol Vis Sci 41:3322–3326

6.

Neher RT (1968) Econ Bot 22:317–324

7.

Hadden WL, Watkins RH, Levy LW, Regalado E, Rivadeneira DM, van Breemen RB, Schwartz SJ (1999) J Agric Food Chem 47:4189–4194

8.

Cisneros M, Benavides J, Brenes CH, Rito-Palomares M (2004) J Chromatogr B 807:105–110

9.

Weller P, Breithaupt DE (2003) J Agric Food Chem 51:7044–7049

10.

Horwitz W (ed) (2000) Official methods of analysis of the Association of Official Analytical Chemists International, 17th edn. Recovery studies. Byrd, Richmond, VA, p 20, item 27

11.

Breithaupt DE (2004) Food Chem 86:449–456

12.

Breithaupt DE, Wirt U, Bamedi A (2002) J Agric Food Chem 50:66–70

13.

Delgado-Vargas F, Parades-López O (1998) J Agric Food Chem 45:1097–1102

14.

Khachik F, Steck A, Pfander H (1999) J Agric Food Chem 47:455–461

15.

Gaziano JM, Johnson EJ, Russel RM, Manson JE, Stampfer MJ, Ridker PM, Frei B, Hennekens CH, Krinsky NI (1995) Am J Clin Nutr 61:1248–1252
Acknowledgements
We thank M. Najduszynska and Z. Dogan for their preliminary experiments and R. Aman (Institute of Food Technology, University of Hohenheim) for valuable help with enzymatic hydrolysis of gelatine capsules.
About this article
Cite this article
Breithaupt, D.E., Schlatterer, J. Lutein and zeaxanthin in new dietary supplements—analysis and quantification. Eur Food Res Technol 220, 648–652 (2005). https://doi.org/10.1007/s00217-004-1075-2
Received:

Revised:

Published:

Issue Date:
Keywords
Lutein

Marigold

Tagetes erecta

Dietary supplement

High-performance liquid chromatography