Abstract
Skin secretion represents the only means of defense for the majority of frog species. That phenomenon is based on the fact that the main components of the secretion are peptides demonstrating greatly varying types of bioactivity. They fulfill regulatory functions, fight microorganisms and may be even helpful against predators. These peptides are considered to be rather promising pharmaceuticals of future generation as according to the present knowledge microorganisms are unlikely to develop resistance to them. Mass spectrometry sequencing of these peptides is the most efficient first step of their study providing reliably their primary structures, i.e., amino acids sequence and S-S bond motif. Besides discovering new bioactive peptides, mass spectrometry appears to be an efficient tool of taxonomy studies, allowing for distinguishing not only between closely related species, but also between populations of the same species. Application of several tandem mass spectrometry tools (CID, HCD, ETD, EThcD) available with Orbitrap mass analyzer allowed us to obtain full sequence of about 60 peptides in the secretion of Slovenian population of brown ranid frog Rana temporaria. The problem of sequence inside C-terminal cycle formed by two Cys and differentiation of isomeric Leu and Ile residues was done in top-down mode without any derivatization steps. Besides general biomarkers of Rana temporaria species, Central Slovenian population of Rana temporaria demonstrates six novel temporins and one brevinin 1, which may be treated as biomarkers of that population.
Access options
Buy single article
Instant access to the full article PDF.
USD 39.95
Price includes VAT (USA)
Tax calculation will be finalised during checkout.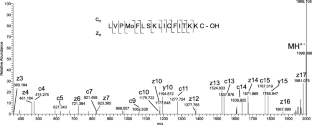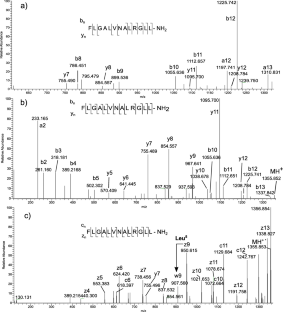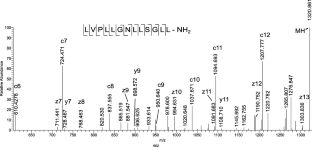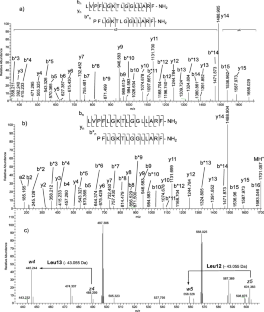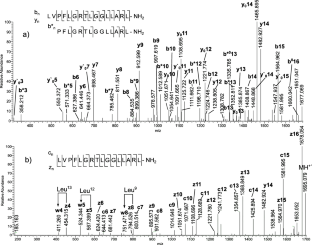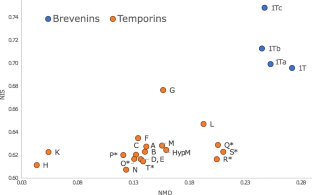 Acknowledgements
The authors would like to acknowledge the Core Facility Center "Arktika" of Northern (Arctic) Federal University for providing instrumentation required for the experiments.
Funding
This research was supported by the Russian Science Foundation grant (no. 21-73-20105).
Ethics declarations
Ethics approval
All of the experiments with amphibians were carried out according to the rules published in Appendix A of the European Convention for the Protection of Vertebrate Animals Used for Experimental and Other Scientific Purposes (ETS No. 123), accepted in Strasbourg, 15 June 2006, and according to the Russian law GOST33219–2014, developed on the basis of the convention mentioned above by the Euro-Asian Council for Standardization, Metrology and Certification (EASC).
Conflict of interest
The authors declare no competing interests.
Additional information
Publisher's note
Springer Nature remains neutral with regard to jurisdictional claims in published maps and institutional affiliations.
About this article
Cite this article
Samgina, T.Y., Vasileva, I.D., Kovalev, S.V. et al. Differentiation of Central Slovenian and Moscow populations of Rana temporaria frogs using peptide biomarkers of temporins family. Anal Bioanal Chem 413, 5333–5347 (2021). https://doi.org/10.1007/s00216-021-03506-1
Received:

Revised:

Accepted:

Published:

Issue Date:
Keywords
Biomarkers

Temporins

Skin peptidome

Natural peptides' sequencing

Rana temporaria populations

Taxonomy

Orbitrap

Tandem mass spectrometry