Abstract
The 5α-reductase converts testosterone to dihydrotestosterone (DHT), and excess DHT could cause androgen-related diseases such as androgenetic alopecia and benign prostatic hyperplasia (BPH). To discover new 5α-reductase inhibitors, effective drug screening method with high throughput is thus essential. In this study, fully automated chip-based nanoelectrospray ionization-mass spectrometry (nano-ESI-MS) was innovatively utilized as a screening tool for 5α-reductase inhibitory assay in direct infusion mode, which simplified sample pretreatment and greatly improved experimental efficiency. The preliminary data indicated that curcumin, a natural anti-inflammatory compound, exhibited notably 5α-reductase inhibition activity. Moreover, the obtained results of the chip-based nano-ESI-MS were well consistent with those of HPLC-MS, which suggested that the chip-based nano-ESI-MS could be treated as a rapid and high-throughput drugs screening strategy in pharmaceutical development.

Access options
Buy single article
Instant access to the full article PDF.
USD 39.95
Price excludes VAT (USA)
Tax calculation will be finalised during checkout.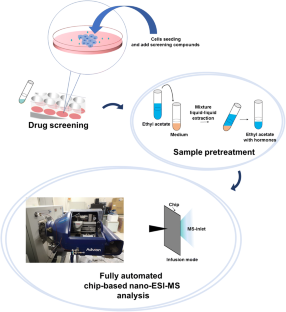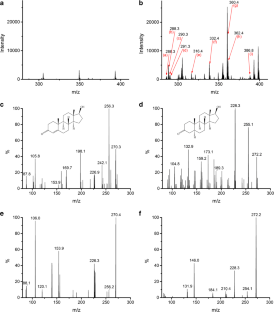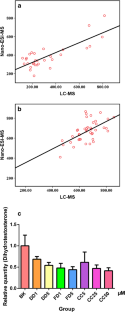 References
Izumi K, Li L, Chang C. Androgen receptor and immune inflammation in benign prostatic hyperplasia and prostate cancer. Clin Investig (Lond). 2014;4(10):935–50. https://doi.org/10.4155/cli.14.77.

Neimark AI, Davydov AV, Aliev RT. The effects of combination therapy with 5-reductase inhibitor and -blocker on the prognosis of BPH. Urologiia. 2018;2:62–6.

Aggarwal S, Thareja S, Verma A, Bhardwaj TR, Kumar M. An overview on 5alpha-reductase inhibitors. Steroids. 2010;75(2):109–53. https://doi.org/10.1016/j.steroids.2009.10.005.

Gravas S, Oelke M. Current status of 5alpha-reductase inhibitors in the management of lower urinary tract symptoms and BPH. World J Urol. 2010;28(1):9–15. https://doi.org/10.1007/s00345-009-0493-y.

Das K, Lorena PD, Ng LK, Lim D, Shen L, Siow WY, et al. Differential expression of steroid 5alpha-reductase isozymes and association with disease severity and angiogenic genes predict their biological role in prostate cancer. Endocr Relat Cancer. 2010;17(3):757–70. https://doi.org/10.1677/ERC-10-0022.

Zhu Y, Sun G. 5α-Reductase Isozymes in the prostate. J Med Sci. 2005;25(1):1–12.

Wang X, Liao J, Yin D, Zhan F, Dai S, Xie G, et al. Establishment of a novel model for studying the effects of extracts of Chinese herb medicine on human type II 5a-reductase in vitro. Yakugaku Zasshi. 2010;130(9):1207–14. https://doi.org/10.1248/yakushi.130.1207.

Alisky JM, Tang Y, Habermehl KG, Iczkowski KA. Dutasteride prevents the growth response to testosterone in benign and androgen-sensitive malignant prostate cells. Int J Clin Exp Med. 2010;3(3):245–7. https://doi.org/10.1007/978-1-4419-5635-4_11.

Buncharoen W, Saenphet K, Saenphet S, Thitaram C. Uvaria rufa Blume attenuates benign prostatic hyperplasia via inhibiting 5alpha-reductase and enhancing antioxidant status. J Ethnopharmacol. 2016;194:483–94. https://doi.org/10.1016/j.jep.2016.10.036.

Chakraborty SK, Basu NK, Jana S, Basu M, Raychoudhuri A, Owens IS. Protein kinase Calpha and Src kinase support human prostate-distributed dihydrotestosterone-metabolizing UDP-glucuronosyltransferase 2B15 activity. J Biol Chem. 2012;287(29):24387–96. https://doi.org/10.1074/jbc.M111.335067.

Schmidt LJ, Tindall DJ. Steroid 5 alpha-reductase inhibitors targeting BPH and prostate cancer. J Steroid Biochem Mol Biol. 2011;125(1–2):32–8. https://doi.org/10.1016/j.jsbmb.2010.09.003.

Baston E, Salem OI, Hartmann RW. 6-Substituted 3,4-dihydro-naphthalene-2-carboxylic acids: synthesis and structure-activity studies in a novel class of human 5alpha reductase inhibitors. J Enzyme Inhib Med Chem. 2002;17(5):303–20. https://doi.org/10.1080/1475636021000059092.

Austin DC, Strand DW, Love HL, Franco OE, Grabowska MM, Miller NL, et al. NF-kappaB and androgen receptor variant 7 induce expression of SRD5A isoforms and confer 5ARI resistance. Prostate. 2016;76(11):1004–18. https://doi.org/10.1002/pros.23195.

Kaplan SA, McVary KT. Male lower urinary tract symptoms and benign prostatic hyperplasia. 2014;7. https://doi.org/10.1002/9781118437889.ch2.

Wei S, Cheng F, Yu W. The clinical application of combination suprapubic prostatectomy with transurethral resection of the prostate (TURP) in patients with large volume benign prostatic hyperplasia (BPH). Urologia. 2019:1–5. https://doi.org/10.1177/0391560319834492.

Gandhi J, Weissbart SJ, Smith NL, Kaplan SA, Dagur G, Zumbo A, et al. The impact and management of sexual dysfunction secondary to pharmacological therapy of benign prostatic hyperplasia. Transl Androl Urol. 2017;6(2):295–304. https://doi.org/10.21037/tau.2017.03.57.

Liu FC, Hua KC, Lin JR, Pang ST, Yu HP. Prostate resected weight and postoperative prostate cancer incidence after transurethral resection of the prostate: a population-based study. Medicine (Baltimore). 2019;98(3):e13897. https://doi.org/10.1097/MD.0000000000013897.

Roder MA, Iversen P. Prostate cancer surgery. Ugeskr Laeger. 2018;180(46).

McDonald ML, Howard LE, Aronson WJ, Terris MK, Cooperberg MR, Amling CL, et al. First postoperative PSA is associated with outcomes in patients with node positive prostate cancer: results from the SEARCH database. Urol Oncol. 2018;36(5):239 e217–25. https://doi.org/10.1016/j.urolonc.2018.01.005.

Leyh-Bannurah SR, Dell'Oglio P, Zaffuto E, Briganti A, Schiffmann J, Pompe RS, et al. Assessment of oncological outcomes after radical prostatectomy according to preoperative and postoperative cancer of the prostate risk assessment scores: results from a large, two-center experience. Eur Urol Focus. 2017;5(4):568–76. https://doi.org/10.1016/j.euf.2017.10.015.

Bauman TM, Sehgal PD, Johnson KA, Pier T, Bruskewitz RC, Ricke WA, et al. Finasteride treatment alters tissue specific androgen receptor expression in prostate tissues. Prostate. 2014;74(9):923–32. https://doi.org/10.1002/pros.22810.

Aggarwal S, Mahapatra MK, Kumar R, Bhardwaj TR, Hartmann RW, Haupenthal J, et al. Synthesis and biological evaluation of 3-tetrazolo steroidal analogs: novel class of 5alpha-reductase inhibitors. Bioorg Med Chem. 2016;24(4):779–88. https://doi.org/10.1016/j.bmc.2015.12.048.

Chul-Ho Cho J-SB, Kim Y-U. 5a-Reductase inhibitory components as antiandrogens from herbal medicine. J Acupunct Meridian Stud. 2010;3(2):116–8. https://doi.org/10.1016/s2005-2901(10)60021-0.

Basileo G, Casati M, Pianezzola E, Strolin Benedetti M. Determination of turosteride, a new inhibitor of 5 alpha-reductase, in human plasma by high-performance liquid chromatography with ultraviolet detection. J Chromatogr B. 1997;688(1):117. https://doi.org/10.1016/S0378-4347(97)88063-2.

Yan DM. A model to screen 5α-reductase inhibitors in vitro by RP-HPLC. J Pharm Anal. 2008;28(4):1046–9.

Penning TM, Lee SH, Jin Y, Gutierrez A, Blair IA. Liquid chromatography–mass spectrometry (LC–MS) of steroid hormone metabolites and its applications. J Steroid Biochem Mol Biol. 2010;121(3–5):546–55. https://doi.org/10.1016/j.jsbmb.2010.01.005.

Wilton JH, Titus MA, Efstathiou E, Fetterly GJ, Mohler JLJP. Androgenic biomarker profiling in human matrices and cell culture samples using high through put, electrospray tandem mass spectrometry. Prostate. 2014;74(7):722–31. https://doi.org/10.1002/pros.22792.

Ganzera M, Sturm S. Recent advances on HPLC/MS in medicinal plant analysis-an update covering 2011-2016. J Pharm Biomed Anal. 2018;147:211–33. https://doi.org/10.1016/j.jpba.2017.07.038.

Souza Dibai WL, de Alkimin Filho JF, da Silva Oliveira FA, Sampaio de Assis DC, Camargos Lara LJ, de Figueiredo TC, et al. HPLC-MS/MS method validation for the detection of carbadox and olaquindox in poultry and swine feedingstuffs. Talanta. 2015;144:740–4. https://doi.org/10.1016/j.talanta.2015.07.029.

Ye X, Tao LJ, Needham LL, Calafat AM. Automated on-line column-switching HPLC-MS/MS method for measuring environmental phenols and parabens in serum. Talanta. 2008;76(4):865–71. https://doi.org/10.1016/j.talanta.2008.04.034.

Kanemitsu Y, Asaji K, Matsumoto Y, Tsukamoto H, Saigusa D, Mukawa C, et al. Simultaneous quantitative analysis of uremic toxins by LC-MS/MS with a reversed-phase/cation-exchange/anion-exchange tri-modal mixed-mode column. J Chromatogr B Anal Technol Biomed Life Sci. 2017;1068-1069:1–8. https://doi.org/10.1016/j.jchromb.2017.10.009.

Dodder NG, Peck AM, Kucklick JR, Sander LC. Analysis of hexabromocyclododecane diastereomers and enantiomers by liquid chromatography/tandem mass spectrometry: chromatographic selectivity and ionization matrix effects. J Chromatogr A. 2006;1135(1):36–42. https://doi.org/10.1016/j.chroma.2006.09.024.

Klepacki J, Davari B, Boulet M, Lizarraga R, Christians U. A high-throughput HPLC-MS/MS assay for the detection, quantification and simultaneous structural confirmation of 136 drugs and metabolites in human urine. Ther Drug Monit. 2017;39(5):565–74. https://doi.org/10.1097/FTD.0000000000000429.

Ashley J, Wu K, Hansen MF, Schmidt MS, Boisen A, Sun Y. Quantitative detection of trace level cloxacillin in food samples using magnetic molecularly imprinted polymer extraction and surface-enhanced Raman spectroscopy nanopillars. Anal Chem. 2017;89(21):11484–90. https://doi.org/10.1021/acs.analchem.7b02725.

Srivilai J, Rabgay K, Khorana N, Waranuch N, Nuengchamnong N, Ingkaninan K. A new label-free screen for steroid 5alpha-reductase inhibitors using LC-MS. Steroids. 2016;116:67–75. https://doi.org/10.1016/j.steroids.2016.10.007.

Balimane PV, Pace E, Chong S, Zhu M, Jemal M, Pelt CK. A novel high-throughput automated chip-based nanoelectrospray tandem mass spectrometric method for PAMPA sample analysis. J Pharm Biomed Anal. 2005;39(1–2):8–16. https://doi.org/10.1016/j.jpba.2005.03.043.

Zamfir A, Vakhrushev S, Sterling A, Niebel HJ, Allen M, Peter-Katalinic J. Fully automated chip-based mass spectrometry for complex carbohydrate system analysis. Anal Chem. 2004;76(7):2046–54. https://doi.org/10.1021/ac035320q.

Bovet C, Ruff M, Wortmann A, Eiler S, Granger F, Gerrits B, et al. Identification of endocrine-disrupting compounds using nanoelectrospray ionization mass spectrometry. Chimia. 2008;62(5):329–34. https://doi.org/10.2533/chimia.2008.329.

Flangea C, Mosoarca C, Cozma C, Galusca M, Przybylski M, Zamfir ADJE. Testing the feasibility of fully automated chip-based nanoelectrospray ionization mass spectrometry as a novel tool for rapid diagnosis of Fabry disease. Electrophoresis. 2013;34(11):1572–80. https://doi.org/10.1002/elps.201200665.

Zhang S, Van Pelt CK, Henion JD. Automated chip-based nanoelectrospray-mass spectrometry for rapid identification of proteins separated by two-dimensional gel electrophoresis. Electrophoresis. 2003;24(21):3620–32. https://doi.org/10.1002/elps.200305585.

Stadlmair LF, Letzel T, Grassmann J. Monitoring enzymatic degradation of emerging contaminants using a chip-based robotic nano-ESI-MS tool. Anal Bioanal Chem. 2018;410(1):27–32. https://doi.org/10.1007/s00216-017-0729-4.

Flangea C, Schiopu C, Capitan F, Mosoarca C, Manea M, Sisu E, et al. Fully automated chip-based nanoelectrospray combined with electron transfer dissociation for high throughput top-down proteomics. Cent Eur J Chem. 2013;11(1):25–34. https://doi.org/10.2478/s11532-012-0130-2.

Schultz GA, Corso TN, Prosser SJ, Zhang S. A fully integrated monolithic microchip electrospray device for mass spectrometry. Anal Chem. 2000;72(17):4058–63. https://doi.org/10.1021/ac000325y.

Russell DW, Wilson JD. Steroid 5 alpha-reductase: two genes/two enzymes. Annu Rev Biochem. 1994;63:25–61. https://doi.org/10.1146/annurev.bi.63.070194.000325.

Wiranpat Karnsomwan PN, Rungrotmongkol T, Wanchai De-Eknamkul A, Chamni S. Synthesis, biological evaluation and molecular docking of avicequinone C analogues as potential steroid 5α-reductase inhibitors. Chem Pharm Bull. 2017;65:253–60. https://doi.org/10.1248/cpb.c16-00727.

Amanda C, Swart LS, Storbeck K-H, Bloem LM, du Toit T, Quanson JL, et al. 11β-Hydroxyandrostenedione, the product of androstenedione metabolism in the adrenal, is metabolized in LNCaP cells by 5α-reductase yielding 11β-hydroxy-5α-androstanedione. J Steroid Biochem. 2013;138:132–42. https://doi.org/10.1016/j.jsbmb.2013.04.010.

Choi MH, Yoo YS, Chung BC. Measurement of testosterone and pregnenolone in nails using gas chromatography-mass spectrometry. J Chromatogr B Biomed Sci Appl. 2001;754(2):495–501. https://doi.org/10.1016/s0378-4347(01)00038-x.

Shackleton CH, Chuang H, Kim J, de la Torre X, Segura J. Electrospray mass spectrometry of testosterone esters: potential for use in doping control. Steroids. 1997;62(7):523–9. https://doi.org/10.1016/s0039-128x(97)00004-4.

Lazier CB, Thomas LN, Douglas RC, Vessey JP, Rittmaster RS. Dutasteride, the dual 5alpha-reductase inhibitor, inhibits androgen action and promotes cell death in the LNCaP prostate cancer cell line. Prostate. 2004;58(2):130–44. https://doi.org/10.1002/pros.10340.

Kocurek KI, May RC, Cooper HJ. Application of high-field asymmetric waveform ion mobility separation to LESA mass spectrometry of bacteria. Anal Chem. 2019;91(7):4755–61. https://doi.org/10.1021/acs.analchem.9b00307.
Acknowledgments
The authors would like to thank ASPEC Technologies Limited (Beijing, China) and Mr. Xiaokun Duan for their kind support of TriVersa NanoMate ion source.
Funding
The work was financially supported by the Natural Science Foundation of China (Nos. 81530096, 81573581), the Shanghai Sailing Program (No. 19YF1448800), and the China Postdoctoral Science Foundation Funded Project (No. 2019 M661597).
Ethics declarations
Conflict of interest
The authors declare that they have no conflict of interest.
Additional information
Publisher's note
Springer Nature remains neutral with regard to jurisdictional claims in published maps and institutional affiliations.
Electronic supplementary material
About this article
Cite this article
Zheng, R., Li, L., Deng, X. et al. Fully automated chip-based nanoelectrospray ionization-mass spectrometry as an effective tool for rapid and high-throughput screening of 5α-reductase inhibitors. Anal Bioanal Chem 412, 1685–1692 (2020). https://doi.org/10.1007/s00216-020-02408-y
Received:

Revised:

Accepted:

Published:

Issue Date:

DOI: https://doi.org/10.1007/s00216-020-02408-y
Keywords
5α-Reductase inhibitor

Benign prostatic hyperplasia

Nanoelectrospray ionization

Mass spectrometry

Steroid hormones

Dihydrotestosterone