A tyrosinase-induced fluorescence immunoassay for detection of tau protein using dopamine-functionalized CuInS2/ZnS quantum dots
Abstract
Rapid, highly sensitive detection of tau protein and other neurodegenerative biomarkers remains a significant hurdle for diagnostic tests for Alzheimer's disease. In this work, we developed a novel tyrosinase (TYR)-induced tau aptamer–tau–tau antibody (anti-tau) sandwich fluorescence immunoassay to detect tau protein that used dopamine (DA)-functionalized CuInS2/ZnS quantum dots as the fluorophore. CuInS2/ZnS core/shell quantum dots with high luminescence, low toxicity, and excellent biocompatibility were successfully fabricated and decorated with DA through amide conjugation. Meanwhile, TYR was conjugated with anti-tau by a click reaction. When DA-functionalized CuInS2/ZnS quantum dots were added to the sandwich system, TYR catalyzed the transformation of DA to dopamine quinone, which acted as an effective electron acceptor and triggered fluorescence quenching. The fluorescence intensity of the immunoassay based on DA-functionalized CuInS2/ZnS quantum dots shows good performance in terms of linearity with the logarithm of tau protein concentration, with a linear concentration range from 10 pM to 200 nM. This work is the first to use a TYR-induced fluorescence immunoassay for the rapid detection of tau protein, paving a new way for the detection of disease biomarkers.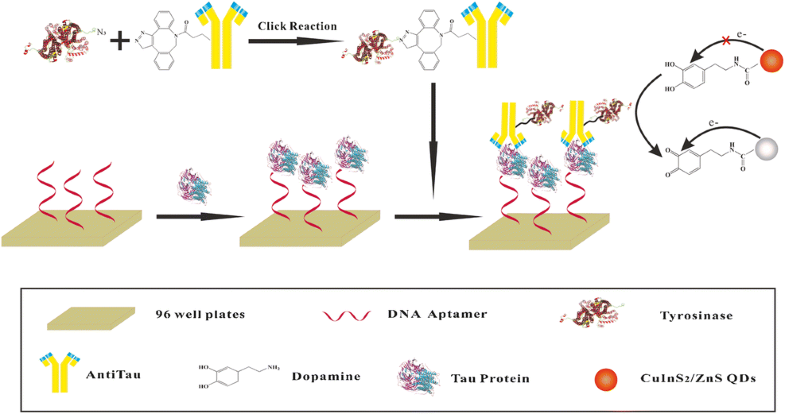 Keywords
CuInS2/ZnS quantum dots 
Tau protein 
Redox-mediated fluorescence immunoassay 
Dopamine 
Tyrosinase 
Notes
Acknowledgements
The authors gratefully acknowledge financial support from the National Natural Science Foundation of China (51602053 and 21874019), the Fujian Natural Science Foundation (2019J01300 and 2017J01822), the Program for New Century Excellent Talents in Fujian Province University (2018B031), the Joint Funds for the Innovation of Science and Technology of Fujian Province (2017Y9122),and the Natural Science Foundation for Distinguished Young Scholars of Fujian Province (2017J07001).
Compliance with ethical standards
The study was approved by the Ethics Committee of Fujian Medical University. The human fluid samples used in this study do not have any identifying information about the participants, who provided written informed consent.
Conflict of interest
The authors declare that they have no competing interests.
Copyright information
© Springer-Verlag GmbH Germany, part of Springer Nature 2019