Ultrahigh-throughput absolute quantitative analysis of linezolid in human plasma by direct analysis in real time mass spectrometry without chromatographic separation and its application to a pharmacokinetic study
Abstract
Therapeutic drug monitoring (TDM) is necessary in the clinical management of linezolid to improve its efficacy and reduce the risk of time- and dose-dependent toxicity. A novel and ultrahigh-throughput analytical method for the determination of linezolid in human plasma was developed based on direct analysis in real-time tandem mass spectrometry (DART-MS/MS) without chromatographic separation. After solid-phase extraction with Waters Oasis HLB, the linezolid and internal standard linezolid-d3 were detected by positive ion electrospray ionization followed by multiple reaction monitoring (MRM) of the transition at m/z 338.1 → 296.2 and 341.2 → 297.3, respectively. The use of DART-MS obviates the need for chromatographic separation and allowed determination of linezolid in a total run time of only 24 s per sample. The method was linear in the concentration range 0.20–25 μg mL−1 with intraday and interday precision <14.5% and accuracy ranging from −3.85% to 12.7%. The method was successfully applied to a pharmacokinetic study of linezolid in healthy male volunteers after oral administration of a 600 mg tablet. DART-MS/MS provides a rapid and sensitive method for the determination of linezolid that does not require chromatographic separation. It is eminently suitable to meet the high-throughput challenge of clinical TDM.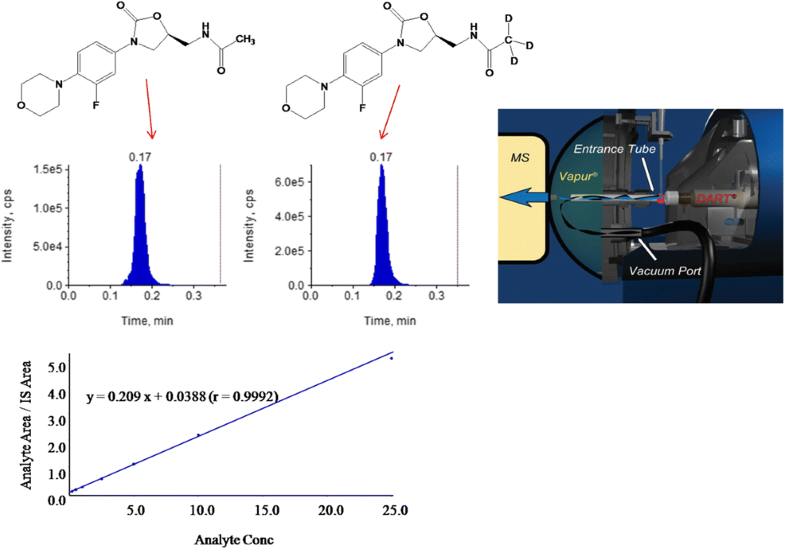 Keywords
LC-MS/MS 
DART 
Linezolid 
High throughput 
Pharmacokinetics 
Notes
Funding information
This research was supported by the National Natural Science Foundation of China (Grant Nos. 81603182, 81430087, 81673396, 81872831, 81473142, 81773692), Science and Technology Development Plan Project of Jilin Province (20190103082JH), the Science and Technology Major Specialized Projects for "significant new drugs creation" of the 12th 5-year plan (2012ZX09303-015, 2014ZX09303303), and the National Key Technology R&D Program of the Ministry of Science and Technology (2012BAI30B00), CERS-1-70 (CERS-China Equipment and Education Resources System).
Compliance with ethical standards
The clinical protocol was approved by the Ethics Committee of the First Hospital of Jilin University, China.
Conflict of interest
The authors declare they have no conflict of interest.
Copyright information
© Springer-Verlag GmbH Germany, part of Springer Nature 2019