Size-dependent sub-proteome analysis of urinary exosomes
Part of the following topical collections:
Abstract
Exosomes are cell-derived functional microparticles which exist in most body fluids. They carry abundant signaling molecules to transfer information between cells and microenvironment. Research on exosomes' heterogeneity and constitute variations has been a heated topic in recent years. In this work, size-dependent sub-proteome analysis of urinary exosomes was investigated by size exclusion chromatography (SEC) firstly. The particle size of urinary exosomes is distributed in four main ranges naturally. We found out that these fractions contained sub-proteomes with great difference in constitution. In each fraction, 206, 134, 157, and 276 unique proteins were identified by LC-MS/MS. Differential expression of exosomal markers such as TSG101, CD9, CD63, and caveolin-1 was observed in these fractions by western blots. Biological function annotation indicated that the proteins identified in each fraction were involved in different molecular and cellular processes. It is proven that SEC can serve as an efficient analytical tool for exosomes isolation and fractionation. This work provides a new strategy to classify exosomes into sub-populations for comprehensive study of heterogeneous functionalities.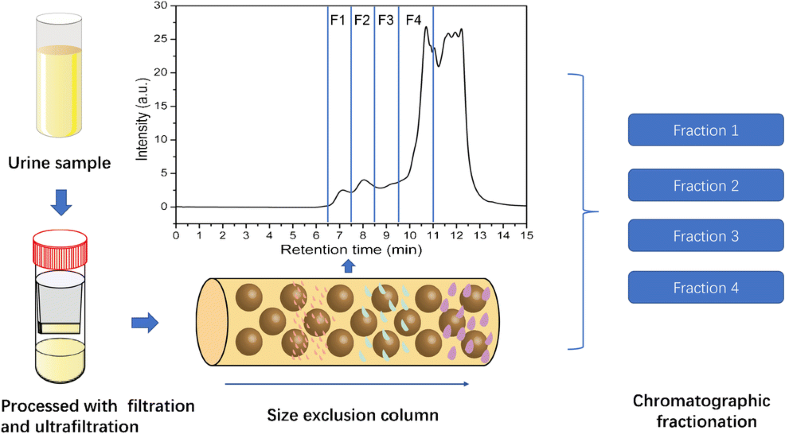 Keywords
Urinary exosomes 
Size exclusion chromatography 
Proteomics 
Biological function 
Notes
Funding information
This work was supported by the National Key Research and Development Program of China (Projects: 2017YFA0505003), the National Natural Science Foundation of China (Project: 21775027), and China State Key Research Grant, Project: 2016YFA0501402 2016YFA0501401.
Compliance with ethical standards
Conflict of interest
The authors declare that they have no conflict of interest.
Ethical approval
The research was approved by the Ethics Committees of Institutes of Biomedical Sciences in Fudan University and the Second Affiliated Hospital of Dalian Medical University. Written informed consents were obtained from participants who provided the urine samples.
Copyright information
© Springer-Verlag GmbH Germany, part of Springer Nature 2019