Abstract
Rheumatoid arthritis (RA) is an autoimmune disease in which certain immune cells are dysfunctional and attack their own healthy tissues. There has been great difficulty in finding an accurate and efficient method for the diagnosis of early-stage RA. The present shortage of diagnostic methods leads to the rough treatments of the patients in the late stages, such as joint removing. Nowadays, there is an increasing focus on glyco-biomarkers discovery for malicious disease via MS-based strategy. In this study, we present an integrated proteomics and glycoproteomics approach to uncover the pathological changes of some RA-related glyco-biomarkers and glyco-checkpoints involved in the RA onset. Among 39 distinctly expressive N-glycoproteins, 27 N-glycoproteins were discovered with over twofold expression significances. On the other hand, 13 proteins have been distinguished with significant differences in 53 distinctly expressed proteins identified in this study. Such an integrated approach will provide a comprehensive strategy for new potential glyco-biomarkers and checkpoints discovery in rheumatoid arthritis.
This is a preview of subscription content, log in to check access.
Access options
Buy single article
Instant access to the full article PDF.
US$ 39.95
Price includes VAT for USA
Subscribe to journal
Immediate online access to all issues from 2019. Subscription will auto renew annually.
US$ 157
This is the net price. Taxes to be calculated in checkout.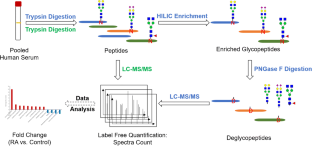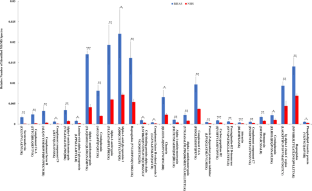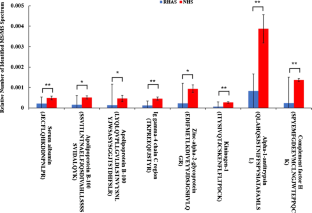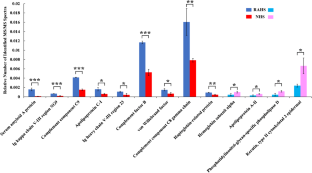 References
1.

Scott DL, Wolfe F, Huizinga WJH. Rheumatoid arthritis. Lancet. 2010;376:1094–108.

2.

Klareskog L, Padyukov L, Lorentzen J, Alfredsson L. Mechanisms of disease: genetic susceptibility and environmental triggers in the development of rheumatoid arthritis. Nat Clin Pract Rheumatol. 2006;2(8):425–33.

3.

Lindstrom TM, Robinson WH. Biomarkers for rheumatoid arthritis: making it personal. Scand J Clin Lab Investig Suppl. 2010;242:79–84.

4.

Snir O, Widhe M, von Spee C, Lindberg J, Padyukov L, Lundberg K, et al. Multiple antibody reactivities to citrullinated antigens in sera from patients with rheumatoid arthritis: association with HLA-DRB1 alleles. Ann Rheum Dis. 2009;68(5):736–43.

5.

Burska A, Boissinot M, Ponchel F. Cytokines as biomarkers in rheumatoid arthritis. Mediat Inflamm. 2014;2014:545493.

6.

Chard MD, Calvin J, Price CP, Cawston TE, Hazleman BL. Serum alpha 1 antichymotrypsin concentration as a marker of disease activity in rheumatoid arthritis. Ann Rheum Dis. 1988;47(8):665–71.

7.

Ha YJ, Kang EJ, Lee SW, Lee SK, Park YB, Song JS, et al. Usefulness of serum leucine-rich alpha-2 glycoprotein as a disease activity biomarker in patients with rheumatoid arthritis. J Korean Med Sci. 2014;29(9):1199–204.

8.

Zhao J, Simeone DM, Heidt D, Anderson MA, Lubman DM. Comparative serum glycoproteomics using lectin selected sialic acid glycoproteins with mass spectrometric analysis: application to pancreatic cancer serum. J Proteome Res. 2006;5(7):1792–802.

9.

Varki ACR, Esko J, Freeze H, Hart G, Marth J. Essentials of glycobiology. New York: Cold spring harbor laboratory press; 1999.

10.

Stevens J, Spang A. N-glycosylation is required for secretion and mitosis in C. elegans. PLoS One. 2013;8(5):e63687.

11.

Hart GW, Copeland RJ. Glycomics hits the big time. Cell. 2010;143(5):672–6.

12.

Huang Y, Wu H, Xue R, Liu T, Dong L, Yao J, et al. Identification of N-glycosylation in hepatocellular carcinoma patients' serum with a comparative proteomic approach. PLoS One. 2013;8(10):e77161.

13.

Saldova R, Royle L, Radcliffe CM, Abd Hamid UM, Evans R, Arnold JN, et al. Ovarian cancer is associated with changes in glycosylation in both acute-phase proteins and IgG. Glycobiology. 2007;17(12):1344–56.

14.

Vasseur JA, Goetz JA, Alley WR Jr, Novotny MV. Smoking and lung cancer-induced changes in N-glycosylation of blood serum proteins. Glycobiology. 2012;22(12):1684–708.

15.

Yoon SJ, Park SY, Pang PC, Gallagher J, Gottesman JE, Dell A, et al. N-glycosylation status of beta-haptoglobin in sera of patients with prostate cancer vs. benign prostate diseases. Int J Oncol. 2010;36(1):193–203.

16.

Dennis JW, Granovsky M, Warren CE. Protein glycosylation in development and disease. BioEssays. 1999;21(5):412–21.

17.

Lowe JB. Glycan-dependent leukocyte adhesion and recruitment in inflammation. Curr Opin Cell Biol. 2003;15(5):531–8.

18.

Mechref Y, Hu Y, Garcia A, Hussein A. Identifying cancer biomarkers by mass spectrometry-based glycomics. Electrophoresis. 2012;33(12):1755–67.

19.

Kirwan A, Utratna M, O'Dwyer ME, Joshi L, Kilcoyne M. Glycosylation-based serum biomarkers for cancer diagnostics and prognostics. Biomed Res Int. 2015;2015:490531.

20.

Yang L, Zou QH, Zhang Y, Shi Y, Hu CR, Hui CX, et al. Proteomic analysis of plasma from rheumatoid arthritis patients with mild cognitive impairment. Clin Rheumatol. 2018;37(7):1773–82.

21.

Reiding KR, Vreeker G, Bondt A, Bladergroen MR, Hazes JM, van der Burgt YE, et al. Serum protein N-glycosylation changes with rheumatoid arthritis disease activity during and after pregnancy. Front Med (Lausanne). 2017;4:241.

22.

Marth JD, Grewal PK. Mammalian glycosylation in immunity. Nat Rev Immunol. 2008;8(11):874–87.

23.

Wisniewski JR, Zougman A, Mann M. Combination of FASP and StageTip-based fractionation allows in-depth analysis of the hippocampal membrane proteome. J Proteome Res. 2009;8(12):5674–8.

24.

Ma C, Zhao X, Han H, Tong W, Zhang Q, Qin P, et al. N-linked glycoproteome profiling of human serum using tandem enrichment and multiple fraction concatenation. Electrophoresis. 2013;34(16):2440–50.

25.

Wang LH, Li DQ, Fu Y, Wang HP, Zhang JF, Yuan ZF, et al. pFind 2.0: a software package for peptide and protein identification via tandem mass spectrometry. Rapid Commun Mass Spectrom. 2007;21(18):2985–91.

26.

Malovannaya A, Lanz RB, Jung SY, Bulynko Y, Le NT, Chan DW, et al. Analysis of the human endogenous coregulator complexome. Cell. 2011;145(5):787–99.

27.

Zhang Z, Bast RC Jr, Yu Y, Li J, Sokoll LJ, Rai AJ, et al. Three biomarkers identified from serum proteomic analysis for the detection of early stage ovarian cancer. Cancer Res. 2004;64:5882–90.

28.

Kim EY, Lee MY, Kim SH, Ha K, Kim KP, Ahn YM. Diagnosis of major depressive disorder by combining multimodal information from heart rate dynamics and serum proteomics using machine-learning algorithm. Prog Neuro-Psychopharmacol Biol Psychiatry. 2017;76:65–71.

29.

Shiromizu T, Kume H, Ishida M, Adachi J, Kano M, Matsubara H, et al. Quantitation of putative colorectal cancer biomarker candidates in serum extracellular vesicles by targeted proteomics. Sci Rep. 2017;7(1):12782.

30.

Barker PE, Wagner PD, Stein SE, Bunk DM, Srivastava S, Omenn GS. Standards for plasma and serum proteomics in early cancer detection: a needs assessment report from the national institute of standards and technology--National Cancer Institute standards, methods, assays, reagents and technologies workshop, August 18-19, 2005. Clin Chem. 2006;52(9):1669–74.

31.

Crowgey EL, Wyffels JT, Osborn PM, Wood TT, Edsberg LE. A systems biology approach for studying heterotopic ossification: proteomic analysis of clinical serum and tissue samples. Genomics Proteomics Bioinformatics. 2018;16(3):212–20.

32.

Bunkenborg J, Pilch BJ, Podtelejnikov AV, Wisniewski JR. Screening for N-glycosylated proteins by liquid chromatography mass spectrometry. Proteomics. 2004;4(2):454–65.

33.

Kolarich D, Weber A, Turecek PL, Schwarz HP, Altmann F. Comprehensive glyco-proteomic analysis of human alpha1-antitrypsin and its charge isoforms. Proteomics. 2006;6(11):3369–80.

34.

Liang Y, Ma T, Thakur A, Yu H, Gao L, Shi P, et al. Differentially expressed glycosylated patterns of alpha-1-antitrypsin as serum biomarkers for the diagnosis of lung cancer. Glycobiology. 2015;25(3):331–40.

35.

Topic A, Ljujic M, Radojkovic D. Alpha-1-antitrypsin in pathogenesis of hepatocellular carcinoma. Hepat Mon. 2012;12(10 HCC):e7042.

36.

Chrostek L, Cylwik B, Gindzienska-Sieskiewicz E, Gruszewska E, Szmitkowski M, Sierakowski S. Sialic acid level reflects the disturbances of glycosylation and acute-phase reaction in rheumatic diseases. Rheumatol Int. 2014;34(3):393–9.

37.

McCarthy C, Saldova R, Wormald MR, Rudd PM, McElvaney NG, Reeves EP. The role and importance of glycosylation of acute phase proteins with focus on alpha-1 antitrypsin in acute and chronic inflammatory conditions. J Proteome Res. 2014;13(7):3131–43.

38.

Sarrats A, Saldova R, Pla E, Fort E, Harvey DJ, Struwe WB, et al. Glycosylation of liver acute-phase proteins in pancreatic cancer and chronic pancreatitis. Proteomics Clin Appl. 2010;4(4):432–48.

39.

Zhao J, Fan YX, Yang Y, Liu DL, Wu K, Wen FB, et al. Identification of potential plasma biomarkers for esophageal squamous cell carcinoma by a proteomic method. Int J Clin Exp Pathol. 2015;8(2):1535–44.

40.

Chen R, Jiang X, Sun D, Han G, Wang F, Ye M, et al. Glycoproteomics analysis of human liver tissue by combination of multiple enzyme digestion and hydrazide chemistry. J Proteome Res. 2009;8(2):651–61.

41.

Liu T, Qian WJ, Gritsenko MA, Camp DG, Monroe ME, Moore RJ, et al. Human plasma N-glycoproteome analysis by immunoaffinity subtraction, hydrazide chemistry, and mass spectrometry. J Proteome Res. 2005;4(6):2070–80.

42.

Janeway CA Jr, Travers P, Walport M, Shlomchik MJ. The complement system and innate immunity. Immunobiology: the immune system in health and disease. 5th ed. New York: Garland Science; 2001.

43.

Wouters D, Voskuyl AE, Molenaar ET, Dijkmans BA, Hack CE. Evaluation of classical complement pathway activation in rheumatoid arthritis: measurement of C1q-C4 complexes as novel activation products. Arthritis Rheum. 2006;54(4):1143–50.

44.

Ritchie GE, Moffatt BE, Sim RB, Morgan BP, Dwek RA, Rudd PM. Glycosylation and the complement system. Chem Rev. 2002;102(2):305-20-19.

45.

Ji H, Ohmura K, Mahmood U, Lee DM, Hofhuis FM, Boackle SA, et al. Arthritis critically dependent on innate immune system players. Immunity. 2002;16(2):157–68.

46.

Ballanti E, Perricone C, di Muzio G, Kroegler B, Chimenti MS, Graceffa D, et al. Role of the complement system in rheumatoid arthritis and psoriatic arthritis: relationship with anti-TNF inhibitors. Autoimmun Rev. 2011;10(10):617–23.

47.

de Córdoba SR, Esparza-Gordillo J, de Jorge EG, Lopez-Trascasa M, Sánchez-Corral P. The human complement factor H: functional roles, genetic variations and disease associations. Mol Immunol. 2004;41(4):355–67.

48.

Stanley KK, Kocher HP, Luzio JP, Jackson P, Tschopp J. The sequence and topology of human complement component C9. EMBO J. 1985;4(2):375–82.
Acknowledgments
We sincerely thank Georgia Research Alliance (GRA) and Georgia State University for purchasing the analytical instrument used in this research.
Ethics declarations
The study was approved by the Ethics Committee of Peking University People's Hospital (Approval No. 2015 PHB 219-01). All participants of this study provided informed consent for participation in this study.
Conflict of interest
The authors declare that they have no conflicts of interest.
Additional information
Publisher's note
Springer Nature remains neutral with regard to jurisdictional claims in published maps and institutional affiliations.
Electronic supplementary material
About this article
Cite this article
Li, X., Ding, L., Li, X. et al. An integrated proteomic and glycoproteomic study for differences on glycosylation occupancy in rheumatoid arthritis. Anal Bioanal Chem 411, 1331–1338 (2019). https://doi.org/10.1007/s00216-018-1543-3
Received:

Revised:

Accepted:

Published:

Issue Date:
Keywords
Biomarker

Label-free quantification

Mass spectrometry

Rheumatoid arthritis