A novel magnetic fluorescent biosensor based on graphene quantum dots for rapid, efficient, and sensitive separation and detection of circulating tumor cells
Abstract
We describe a "turn-on" magnetic fluorescent biosensor based on graphene quantum dots (GQDs), Fe3O4, and molybdenum disulfide (MoS2) nanosheets. It is used for rapid, efficient, and sensitive separation and detection of circulating tumor cells (CTCs). A facile approach (electrochemical synthesis method) for the preparation of photoluminescent GQDs functionalized with an aptamer [epithelial cell adhesion molecule (EpCAM) receptors] and a magnetic agent for one-step bioimaging and enrichment of CTCs is described. MoS2 nanosheets, as a fluorescence quencher, and the aforementioned aptamer@Fe3O4@GQD complex were assembled to construct "turn-on" biosensing magnetic fluorescent nanocomposites (MFNs). This system exhibits low cytotoxicity and an average capture efficiency of 90%, which is higher than that of other magnetic nanoparticles on account of the one-step CTC separation method. In addition, the MFNs could quickly identify and label CTCs within 15 min, surpassing other one-step and two-step marker detection methods. Furthermore, because of the presence of aptamers, the MFNs have specific capability to capture CTCs (both low- and high-EpCAM-expressing cells). In addition, high-sensitivity detection of up to ten tumor cells in whole blood was achieved. Therefore, the MFNs have great potential to be used as universal biosensing nanocomposites for fluorescence-guided tumor cell enrichment and bioimaging.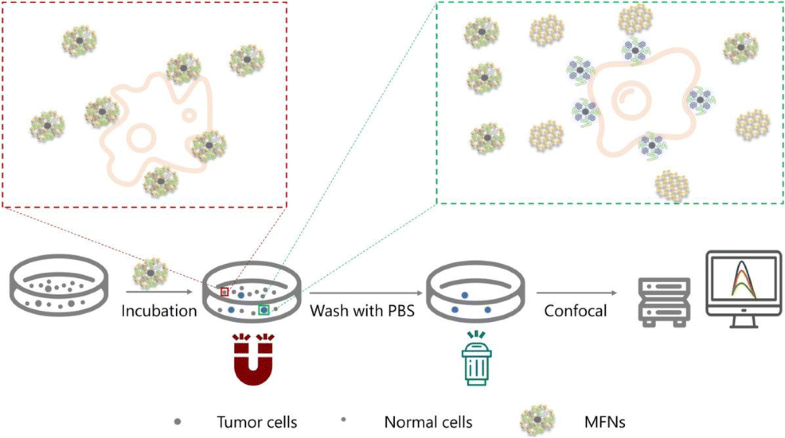 Keywords
Graphene quantum dots 
Aptamer 
Circulating tumor cells 
Magnetic fluorescence biosensor 
Magnetic separation 
Notes
Acknowledgements
This work was supported by the National Research Program of China (201513006, 31371768, 2016YFD0401204), the Postgraduate Research & Practice Innovation Program of Jiangsu Province (KYCX17_1413), the Collaborative Innovation Center for Food Safety and Quality Control, the Priority Academic Development Program of Jiangsu Higher Education Institutions, and the Agricultural science and technology innovation projects of Shanxi province, China (2015NY002).
Compliance with ethical standards
This study was approved by the Institute of Jiangnan University Medical Ethics Committee, and the investigation was performed according to the ethical guidelines in document no. JNUMEC-201801008, October 2018.
Informed consent
Informed consent was obtained from all individual participants included in the study. All blood samples were obtained from healthy volunteers.
Conflict of interest
The authors declare that they have no competing interests.
Copyright information
© Springer-Verlag GmbH Germany, part of Springer Nature 2019