Nanowell-mediated multidimensional separations combining nanoLC with SLIM IM-MS for rapid, high-peak-capacity proteomic analyses
Part of the following topical collections:
Abstract
Mass spectrometry (MS)–based analysis of complex biological samples is essential for biomedical research and clinical diagnostics. The separation prior to MS plays a key role in the overall analysis, with separations having larger peak capacities often leading to more identified species and improved confidence in those identifications. High-resolution ion mobility (IM) separations enabled by Structures for Lossless Ion Manipulation (SLIM) can provide extremely rapid, high-resolution separations and are well suited as a second dimension of separation following nanoscale liquid chromatography (nanoLC). However, existing sample handling approaches for offline coupling of separation modes require microliter-fraction volumes and are thus not well suited for analysis of trace biological samples. We have developed a novel nanowell-mediated fractionation system that enables nanoLC-separated samples to be efficiently preconcentrated and directly infused at nanoelectrospray flow rates for downstream analysis. When coupled with SLIM IM-MS, the platform enables rapid and high-peak-capacity multidimensional separations of small biological samples. In this study, peptides eluting from a 100 nL/min nanoLC separation were fractionated into ~ 60 nanowells on a microfluidic glass chip using an in-house–developed robotic system. The dried samples on the chip were individually reconstituted and ionized by nanoelectrospray for SLIM IM-MS analysis. Using model peptides for characterization of the nanowell platform, we found that at least 80% of the peptide components of the fractionated samples were recovered from the nanowells, providing up to ~tenfold preconcentration for SLIM IM-MS analysis. The combined LC-SLIM IM separation peak capacities exceeded 3600 with a measurement throughput that is similar to current one-dimensional (1D) LC-MS proteomic analyses.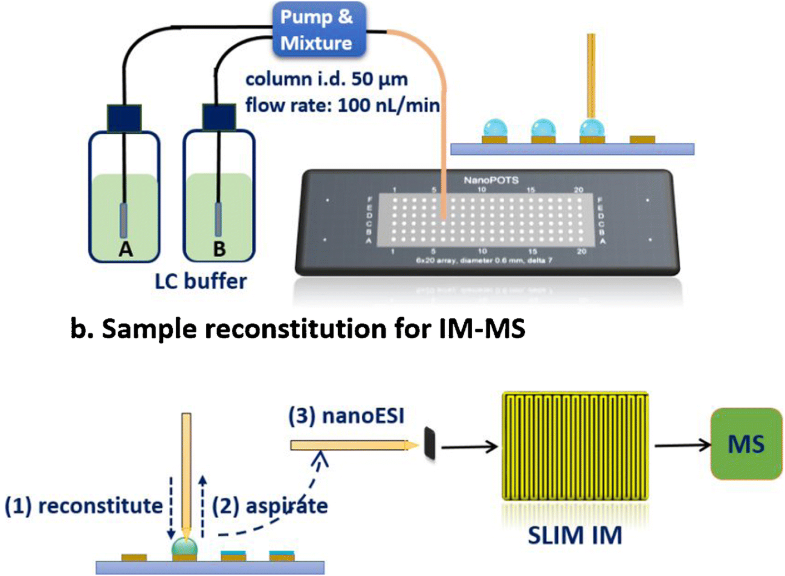 Keywords
Ion mobility 
nanoPOTS 
Mass spectrometry 
Nanoelectrospray 
Notes
Acknowledgements
This research was performed using EMSL, a national scientific user facility sponsored by the Department of Energy's Office of Biological and Environmental Research and located at PNNL.
Funding information
This work was supported by the NIH grants R21 EB020976 (to R.T.K.) and R33 CA225248 (to R.T.K.) and P41 GM103493 (to R.D.S.).
Compliance with ethical standards
Conflict of interest
The authors declare that they have no conflict of interest.
Copyright information
© Springer-Verlag GmbH Germany, part of Springer Nature 2018