MicroRNA sensors based on gold nanoparticles
Part of the following topical collections:
Abstract
MicroRNAs (miRNAs) are small regulatory RNAs, the dysregulation of which has been associated with the progression of several human diseases, including cancer. Interestingly, these molecules can be used as biomarkers for early disease diagnosis and can be found in a variety of body fluids and tissue samples. However, their specific properties and very low concentrations make their detection rather challenging. In this regard, current detection methods are complex, cost-ineffective, and of limited application in point-of-care settings or resource-limited facilities. Recently, nanotechnology-based approaches have emerged as promising alternatives to conventional miRNA detection methods and paved the way for research towards sensitive, fast, and low-cost detection systems. In particular, due to their exceptional properties, the use of gold nanoparticles (AuNPs) has significantly improved the performance of miRNA biosensors. This review discusses the application of AuNPs in different miRNA sensor modalities, commenting on recently reported examples. A practical overview of each modality is provided, highlighting their future use in clinical diagnosis.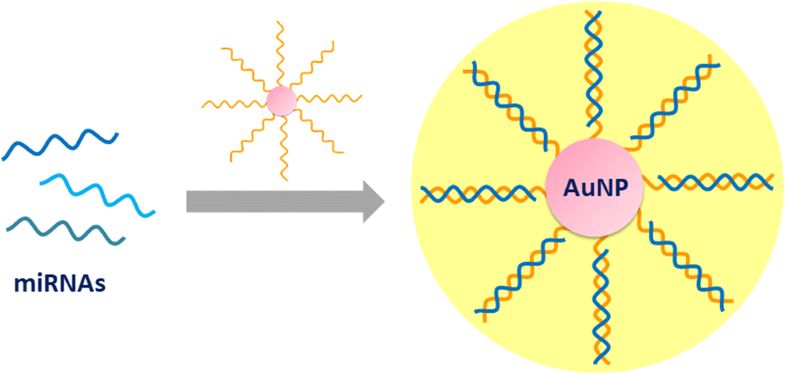 Keywords
Disease diagnosis 
Nanotechnology-based sensors 
miRNA detection 
Gold nanoparticles 
Oligonucleotide probes 
Point-of-care 
Notes
Acknowledgments
IMDEA Nanociencia acknowledges support from the "Severo Ochoa" Programme for Centres of Excellence in R&D (MINECO, Grant SEV-2016-0686). Catarina Coutinho acknowledges the Erasmus+ Mobility Program for financial support (2017-1-PT01-KA103-035245).
Funding information
This work was partially supported by the Spanish Ministry of Economy and Competitiveness (SAF2017-87305-R, PCIN-2016-167), Comunidad de Madrid (IND2017/IND-7809; S2017/BMD-3867), co-financed by European Structural and Investment Fund, Asociación Española Contra el Cáncer, and IMDEA Nanociencia.
Compliance with ethical standards
Conflict of interest
The authors declare that they have no conflicts of interest.
Copyright information
© Springer-Verlag GmbH Germany, part of Springer Nature 2018