An optimized band-target entropy minimization for mass spectral reconstruction of severely co-eluting and trace-level components
Abstract
Gas chromatography-mass spectrometry (GC-MS) is a versatile analytical method but its data is usually complicated by the presence of severely co-eluting and trace-level components. In this work, we introduce an optimized band-target entropy minimization approach for the analysis of complex mass spectral data. This new approach enables an automated mass spectral analysis which does not require any user-dependent inputs. Moreover, the approach provides improved sensitivity and accuracy for mass spectral reconstruction of severely co-eluting and trace-level components. The accuracy of our approach is compared to the automatic mass spectral deconvolution and identification system (AMDIS) with two controlled mixtures and a sample of Eucalyptus essential oil. Our approach was able to putatively identify 130 compounds in Eucalyptus essential oil, which was 46% in excess of that identified by AMDIS. This new approach is expected to benefit GC-MS analysis of complex mixtures such as biological samples and essential oils, in which the data are often complicated by co-eluting and trace-level components.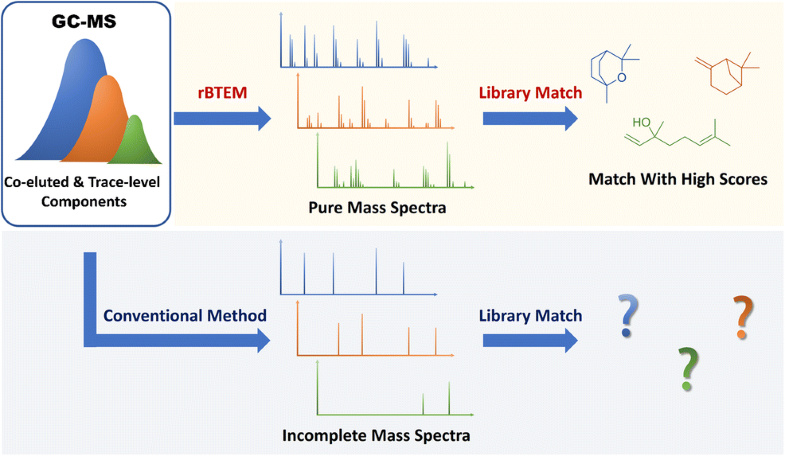 Keywords
Gas chromatography 
Mass spectrometry 
Entropy minimization 
Spectral deconvolution 
Notes
Acknowledgments
We would like to thank Dr. Ni Wangdong for providing valuable insights on how to draft the manuscript.
Compliance with ethical standards
Conflict of interest
The authors declare that they do not have a conflict of interest.
Copyright information
© Springer-Verlag GmbH Germany, part of Springer Nature 2018