Flow field-flow fractionation and multi-angle light scattering as a powerful tool for the characterization and stability evaluation of drug-loaded metal–organic framework nanoparticles
Abstract
Asymmetric flow field-flow fractionation (AF4) coupled with UV-Vis spectroscopy, multi-angle light scattering (MALS) and refractive index (RI) detection has been applied for the characterization of MIL-100(Fe) nanoMOFs (metal–organic frameworks) loaded with nucleoside reverse transcriptase inhibitor (NRTI) drugs for the first time. Empty nanoMOFs and nanoMOFs loaded with azidothymidine derivatives with three different degrees of phosphorylation were examined: azidothymidine (AZT, native drug), azidothymidine monophosphate (AZT-MP), and azidothymidine triphosphate (AZT-TP). The particle size distribution and the stability of the nanoparticles when interacting with drugs have been determined in a time frame of 24 h. Main achievements include detection of aggregate formation in an early stage and monitoring nanoMOF morphological changes as indicators of their interaction with guest molecules. AF4-MALS proved to be a useful methodology to analyze nanoparticles engineered for drug delivery applications and gave fundamental data on their size distribution and stability.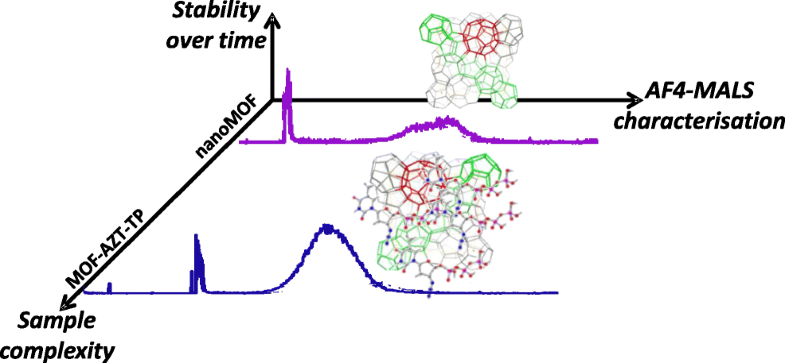 Keywords
Flow field-flow fractionation 
Multi-angle light scattering 
Metal–organic frameworks 
Azidothymidine 
NRTI 
Metal–organic framework nanoparticles characterization 
Notes
Compliance with ethical standards
Conflict of interest
Andrea Zattoni, Barbara Roda, and Pierluigi Reschiglian are associates of the academic spinoff company byFlow Srl (Bologna, Italy). The company mission includes know-how transfer, development, and application of novel technologies and methodologies for the analysis and characterization of samples of nanobiotechnological interest. Valentina Marassi, Francesco Borghi, Resmi Anand, Valentina Agostoni, Ruxandra Gref, and Sandra Monti declare no conflicts of interest.
Copyright information
© Springer-Verlag GmbH Germany, part of Springer Nature 2018