Mass spectrometry-based proteomics for system-level characterization of biological responses to engineered nanomaterials
Part of the following topical collections:
Abstract
The widespread use of engineered nanomaterials or nanotechnology makes the characterization of biological responses to nanomaterials an important area of research. The application of omics approaches, such as mass spectrometry-based proteomics, has revealed new insights into the cellular responses of exposure to nanomaterials, including how nanomaterials interact and alter cellular pathways. In addition, exposure to engineered nanomaterials often leads to the generation of reactive oxygen species and cellular oxidative stress, which implicates a redox-dependent regulation of cellular responses under such conditions. In this review, we discuss quantitative proteomics-based approaches, with an emphasis on redox proteomics, as a tool for system-level characterization of the biological responses induced by engineered nanomaterials.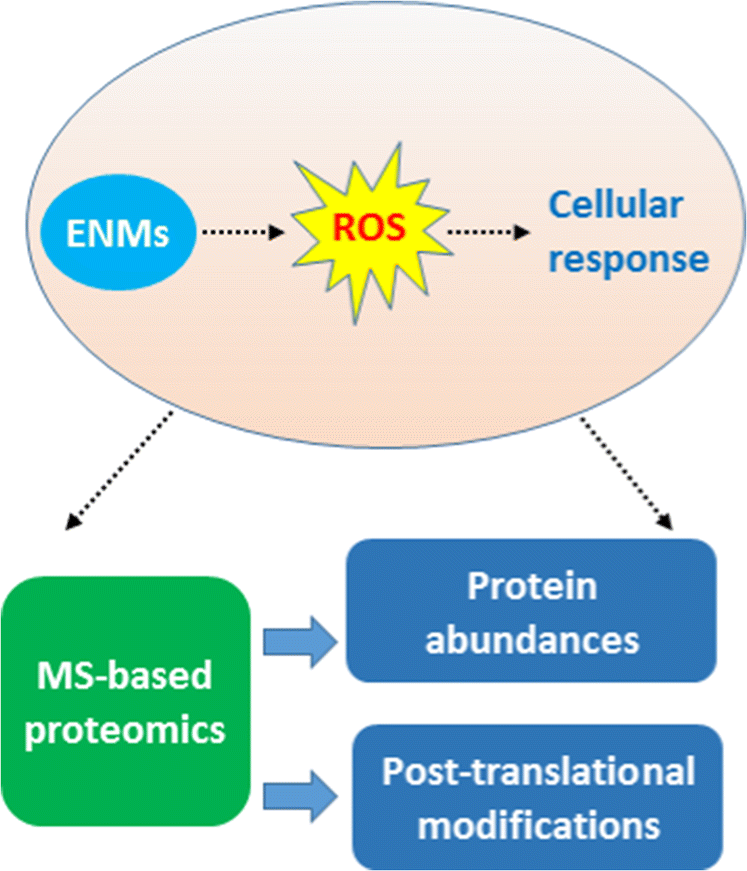 Keywords
Engineered nanomaterials 
Proteomics 
Post-translational modifications 
Redox proteomics 
Thiol 
Oxidative stress 
Notes
Funding information
Portions of the work were supported by the National Institutes of Health Grants U01ES027292, a member of the Nanotechnology Health Implications Research (NHIR) consortium, and P41GM103493. The experimental work described herein was performed in the Environmental Molecular Sciences Laboratory, Pacific Northwest National Laboratory, a national scientific user facility sponsored by the Department of Energy under Contract DE-AC05-76RL0 1830.
Compliance with ethical standards
Conflict of interest
The authors declare that they have no conflict of interest.
Copyright information
© This is a U.S. Government work and not under copyright protection in the US; foreign copyright protection may apply 2018