Characterization of the aroma profile of novel Brazilian wines by solid-phase microextraction using polymeric ionic liquid sorbent coatings
Part of the following topical collections:
Abstract
In this study, a series of polymeric ionic liquid (PIL) sorbent coatings is evaluated for the extraction of polar volatile organic compounds (VOCs) from Brazilian wines using headspace solid-phase microextraction (HS-SPME), including samples from 'Isabella' and 'BRS Magna' cultivars—the latter was recently introduced by the Brazilian Agricultural Research Corporation – National Grape & Wine Research Center. The structurally tuned SPME coatings were compared to the commercial SPME phases, namely poly(acrylate) (PA) and divinylbenzene/carboxen/poly(dimethylsiloxane) (DVB/CAR/PDMS). The separation, detection and identification of the aroma profiles were obtained using comprehensive two-dimensional gas chromatography mass spectrometry (GC×GC-MS). The best performing PIL-based SPME fiber, namely 1-hexadecyl-3-vinylimidazolium bis[(trifluoromethyl)sulfonyl]imide with 1,12-di(3-vinylimidazolium)dodecane dibis[(trifluoromethyl)sulfonyl]imide incorporated cross-linker supported on an elastic nitinol wire, exhibited superior performance to DVB/CAR/PDMS regarding the average number of extracted peaks and extracted more polar analytes providing additional insight into the aroma profile of 'BRS Magna' wines. Four batches of wine were evaluated, namely 'Isabella' and 'BRS Magna' vintages 2015 and 2016, using highly selective PIL-based SPME coatings and enabled the detection of 350+ peaks. Furthermore, this is the first report evaluating the aroma of 'BRS Magna' wines. A hybrid approach that combined pixel-based Fisher ratio and peak table-based data comparison was used for data handling. This proof-of-concept experiment provided reliable and statistically valid distinction of wines that may guide regulation agencies to create high sample throughput protocols to screen wines exported by Brazilian vintners.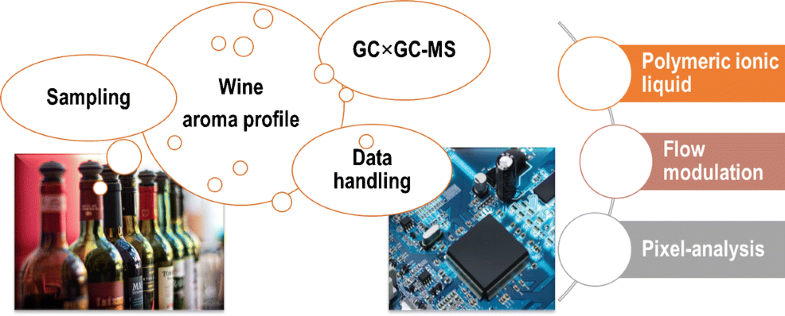 Keywords
Biomarkers 
Flavor and aroma 
Food chemistry 
Foodomics 
Sensomics 
Notes
Acknowledgments
We are indebted to Danilo Pierone and Alexandre Bogdanovic (Nova Analítica Imp. Exp.) for establishing our laboratory (L. Hantao) by generously providing Thermo Scientific instruments. Camila Frias and Sabrina Homma are thanked for assisting in the initial SPME method development. The National Council for Scientific and Technological Development (CNPq 400182/2016-5), São Paulo Research Foundation (FAPESP 2015/05059-9), and Unicamp (FAEPEX 519.292) are acknowledged for funding our research. J. Crucello and V. Ferreira thank the Coordination for the Improvement of Higher Education Personnel (CAPES) and CNPq for research fellowships. J. Anderson acknowledges funding from the Chemical Measurement and Imaging Program of the National Science Foundation (CHE-1709372).
Compliance with ethical standards
Conflict of interest
The authors declare that they have no conflicts of interest.
Copyright information
© Springer-Verlag GmbH Germany, part of Springer Nature 2018