Modification of polydopamine-coated Fe3O4 nanoparticles with multi-walled carbon nanotubes for magnetic-μ-dispersive solid-phase extraction of antiepileptic drugs in biological matrices
Abstract
In this study, multi-walled carbon nanotubes were coated on the surface of magnetic nanoparticles modified by polydopamine. The synthesized composite was characterized and applied to magnetic-μ-dispersive solid-phase extraction of oxcarbazepine (OXC), phenytoin (PHT), and carbamazepine (CBZ) from human plasma, urine, and cerebrospinal fluid samples prior to analysis by a high-performance liquid chromatography-photodiode array detector. The extraction parameters were investigated and the optimum condition was obtained when the variables were set to the following: sorbent type, Fe3O4@polyDA–MWCNTs (length < 2 μm); sample pH, 6; amount of sorbent, 15 mg; sorption time, 1.5 min at room temperature; type and volume of the eluent, 2.5 mL methanol; and salt content, none added. Under the optimized conditions, the calibration curves are linear in the concentration range 2–2000 ng/mL, the limits of detection are in the range 0.4–3.1 ng/mL, and the relative standard deviations and relative recoveries of plasma (spiked at 200 ng/mL) and CSF (spiked at 50 ng/mL) are in the ranges 1.4–8.2% and 92.8–96.5%, respectively. The applicability of the method was successfully confirmed by extraction and determination of OXC, PHT, and CBZ in biological matrices.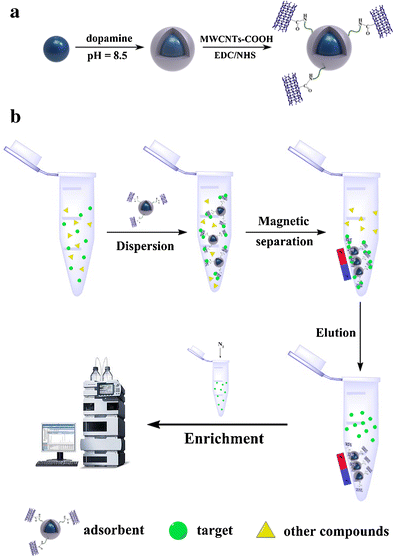 Keywords
Antiepileptic drugs 
Polydopamine 
Magnetic multi-walled carbon nanotube 
Biological matrices 
Notes
Funding information
This study was financially supported by the National Natural Science Foundation of China (grant no. 21675008) and the Beijing Natural Science Foundation (grant no. 2132048).
Compliance with ethical standards
This is not a clinical study on humans with an ethics committee. Voluntary donors donate biological samples to the Peking Union Medical College Hospital and the samples were transferred to our laboratory. The Peking Union Medical College Hospital ensures donor-product-laboratory traceability and donor consent.
Conflict of interest
The authors declare that they have no competing interests.
Copyright information
© Springer-Verlag GmbH Germany, part of Springer Nature 2018