Ion concentration in micro and nanoscale electrospray emitters
Abstract
Solution-phase ion transport during electrospray has been characterized for nanopipettes, or glass capillaries pulled to nanoscale tip dimensions, and micron-sized electrospray ionization emitters. Direct visualization of charged fluorophores during the electrospray process is used to evaluate impacts of emitter size, ionic strength, analyte size, and pressure-driven flow on heterogeneous ion transport during electrospray. Mass spectrometric measurements of positively- and negatively-charged proteins were taken for micron-sized and nanopipette emitters under low ionic strength conditions to further illustrate a discrepancy in solution-driven transport of charged analytes. A fundamental understanding of analyte electromigration during electrospray, which is not always considered, is expected to provide control over selective analyte depletion and enrichment, and can be harnessed for sample cleanup.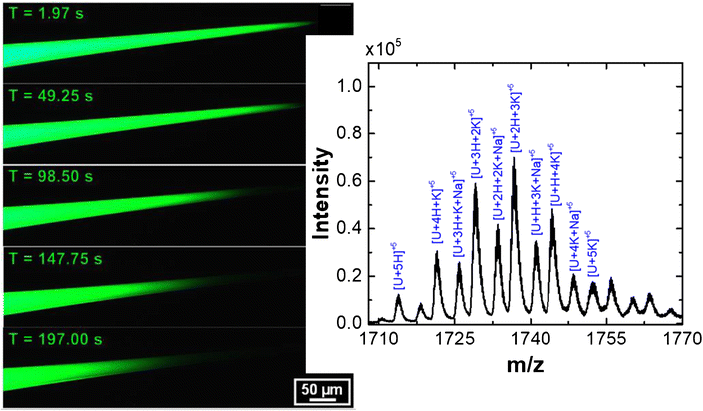 Keywords
Microfluidics / Microfabrication 
Nanoparticles / Nanotechnology 
Electroanalytical methods 
Notes
Acknowledgements
The authors thank Prof. Gary Hieftje for valuable discussions related to this work. The Indiana University Nanoscale Characterization is acknowledged for use of the scanning electron microscope. Electronic Instrument Services and Mechanical Instrument Services at Indiana University are acknowledged for assistance with instrumental setup. E.M.Y. thanks the Bill Carroll Family fellowship for financial support. Additional financial support was provided by Indiana University.
Compliance with ethical standards
This study required no human or animal samples and research conducted complied with ethical standards set forward by Indiana University.
Conflict of interest
The authors declare that they have no competing interests.
Copyright information
© Springer-Verlag GmbH Germany, part of Springer Nature 2018