Simple and inexpensive micromachined aluminum microfluidic devices for acoustic focusing of particles and cells
Abstract
We introduce a new method to construct microfluidic devices especially useful for bulk acoustic wave (BAW)-based manipulation of cells and microparticles. To obtain efficient acoustic focusing, BAW devices require materials that have high acoustic impedance mismatch relative to the medium in which the cells/microparticles are suspended and materials with a high-quality factor. To date, silicon and glass have been the materials of choice for BAW-based acoustofluidic channel fabrication. Silicon- and glass-based fabrication is typically performed in clean room facilities, generates hazardous waste, and can take several hours to complete the microfabrication. To address some of the drawbacks in fabricating conventional BAW devices, we explored a new approach by micromachining microfluidic channels in aluminum substrates. Additionally, we demonstrate plasma bonding of poly(dimethylsiloxane) (PDMS) onto micromachined aluminum substrates. Our goal was to achieve an approach that is both low cost and effective in BAW applications. To this end, we micromachined aluminum 6061 plates and enclosed the systems with a thin PDMS cover layer. These aluminum/PDMS hybrid microfluidic devices use inexpensive materials and are simply constructed outside a clean room environment. Moreover, these devices demonstrate effectiveness in BAW applications as demonstrated by efficient acoustic focusing of polystyrene microspheres, bovine red blood cells, and Jurkat cells and the generation of multiple focused streams in flow-through systems.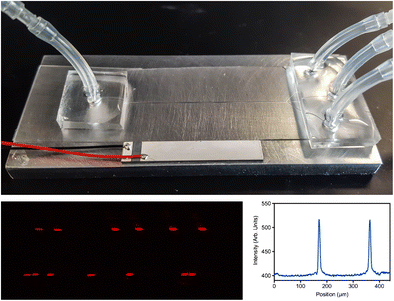 Keywords
Micromachining 
Microfluidics 
Acoustic focusing 
Poly(dimethylsiloxane) 
Aluminum 
Notes
Acknowledgements
MEP acknowledges funding for an Institutional Development Award from the National Institute of General Medical Sciences of the National Institutes of Health (NIH) under grant number P20GM103451, and SWG acknowledges funding from NIH (R21GM107805) and the National Science Foundation (1130140). SWG and MJC acknowledge funding from NIH (R44GM117649). The authors thank Snezna Rogelj and Danielle Turner in the Department of Biology at New Mexico Institute of Mining and Technology for providing Jurkat cell samples. The authors also thank Esequiel Lopez of Sandia Electro-Optics Corporation for his work and assistance with the machining of the devices and Paul Fuierer and Robert Calvo in the Materials Engineering Department at New Mexico Institute of Mining and Technology for their help with profilometer measurements. This work was performed, in part, at the Center for Integrated Nanotechnologies, an Office of Science User Facility operated for the US Department of Energy Office of Science by Los Alamos National Laboratory (contract DE-AC52-06NA25396) and Sandia National Laboratories (contract DE-NA-0003525). The authors thank Douglas V. Pete at the Center for Integrated Nanotechnologies, Albuquerque, for assistance in obtaining scanning electron microscopy images.
Compliance with ethical standards
Conflict of interest
GPG, TB, AW, and MEP declare that they have no competing interests. SWG and MJC declare a commercial interest in this technology as it is relevant to their commercial company, Eta Diagnostics, which is commercializing parallel acoustic flow cytometers.
Copyright information
© Springer-Verlag GmbH Germany, part of Springer Nature 2018