Naked eye detection of infertility based on sperm protamine-induced aggregation of heparin gold nanoparticles
Abstract
The development of an easy to use, one-pot, environmentally friendly, non-invasive and label-free colorimetric probe for the determination of semen protamines, the biochemical marker of male fertility, using heparin gold nanoparticles (HAuNPs) is presented. The affinity of HAuNPs for protamines was due to the electrostatic interactions between polycationic protamine and polyanionic heparin. The binding of HAuNPs to protamine was characterized by variation in the plasmon absorption spectra followed by a visibly observable colour change of the solution from red to blue. We observed a red shift in the plasmon peak and the method exhibited linearity in the range of 10–70 ng/mL with a detection limit of 5 ng/mL, which is much lower than that reported for colorimetric sensors of protamine. The colour change and the variation in the absorbance of HAuNPs were highly specific for protamines in the presence of different interfering compounds and the method was successfully applied for determining protamine in real samples of semen and serum. Rather than a quantitative estimation, it seems that the method provides a quick screening between a large array of positive and negative samples and, moreover, it maintains the privacy of the user. The method appears to be simple and would be very useful in third-world countries where high-tech diagnostic aids are inaccessible to the majority of the population.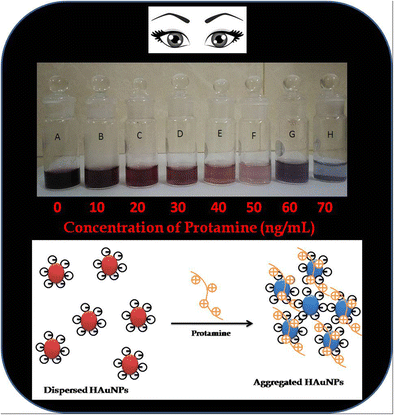 Keywords
Heparin 
Gold nanoparticles 
Protamines 
Infertility 
Surface plasmon absorption 
Semen 
Notes
Acknowledgements
We are grateful to Dr. K. Retheesh (Department of Chemistry, Govt. College for Women) and Dr. K.T.V. Vijayan (Department of Industrial Microbiology, Govt. College for Women) for their help in obtaining TEM and blood samples.
Funding information
The authors thank the Kerala State Council for Science Technology and Environment for the "Back-to-Lab" Post Doctoral Fellowship (14-40/BLP/WSD/KSCSTE/2016-17).
Compliance with ethical standards
Conflict of interest
The authors declare that there is no conflict of interest.
Research involving human participants and/or animals
The research is conducted as per the ethical guidelines of Govt. Women's College. This study was approved by the ethical committee of Govt. Women's College. Prior consent of all individuals was obtained for studies involving human participants.
Copyright information
© Springer-Verlag GmbH Germany, part of Springer Nature 2018