Probing the application range and selectivity of a differential mobility spectrometry–mass spectrometry platform for metabolomics
Abstract
Metabolomics applications of differential mobility spectrometry (DMS)–mass spectrometry (MS) have largely concentrated on targeted assays and the removal of isobaric or chemical interferences from the signals of a small number of analytes. In the work reported here, we systematically investigated the application range of a DMS-MS method for metabolomics using more than 800 authentic metabolite standards as the test set. The coverage achieved with the DMS-MS platform was comparable to that achieved with chromatographic methods. High orthogonality was observed between hydrophilic interaction liquid chromatography and the 2-propanol-mediated DMS separation, and previously observed similarities were confirmed for the DMS platform and reversed-phase liquid chromatography. We describe the chemical selectivity observed for selected subsets of the metabolite test set, such as lipids, amino acids, nucleotides, and organic acids. Furthermore, we rationalize the behavior and separation of isomeric aromatic acids, bile acids, and other metabolites.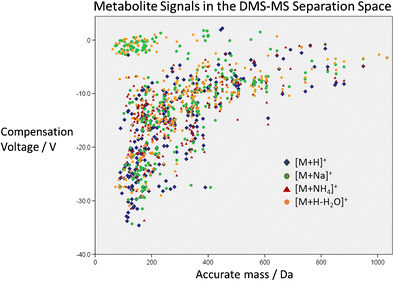 Keywords
Differential mobility spectrometry 
Mass spectrometry 
Metabolomics 
Lipidomics 
Selectivity 
Notes
Acknowledgements
This work was supported in part by the Postdoctoral Translational Scholar Program of the Michigan Institute for Clinical and Health Research (UL1TR000433 to SW) and National Institutes of Health grants K08DK106523 (to FA) and P30DK089503, DK082841, P30DK081943, U2C ES026553, and DK097153 (to SP).
Compliance with ethical standards
This work used only commercially available chemicals and did not involve samples or procedures requiring approval by an institutional review board or informed consent.
Conflict of interest
The authors declare that they have no financial and no nonfinancial conflicts of interest.
Copyright information
© Springer-Verlag GmbH Germany, part of Springer Nature 2018