Development of a sensitive and quantitative capillary LC-UV method to study the uptake of pharmaceuticals in zebrafish brain
Abstract
The present study explores the potential of 10-day-old zebrafish (Danio rerio) as a predictive blood-brain-barrier model using a set of 7 pharmaceutical agents. For this purpose, zebrafish were incubated with each of these 7 drugs separately via the route of immersion and the concentration reaching the brain was determined by applying a brain extraction procedure allowing isolation of the intact brain from the head of the zebrafish larvae. Sample analysis was performed utilizing capillary ultra-high performance liquid chromatography (cap-UHPLC) on a Pepmap RSLC C18 capillary column (150 mm × 300 μm, dp = 2 μm) coupled to a variable wavelength UV detector. Gradient separation was performed in 28 min at a flow rate of 5 μL/min and the optimal injection volume was determined to be 1 μL. The brain extraction procedure was established for the zebrafish strain TG898 exhibiting red fluorescence of the brain, allowing control of the integrity of the extracted parts. Quantitative experiments carried out on pooled samples of six zebrafish (n = 6) demonstrated the selective semipermeable nature of the blood-brain barrier after incubating the zebrafish at the maximum tolerated concentration for the investigated pharmaceuticals. The obtained brain-to-trunk ratios ranged between 0.3 for the most excluded compound and 1.2 for the pharmaceutical agent being most accumulated in the brain of the fish.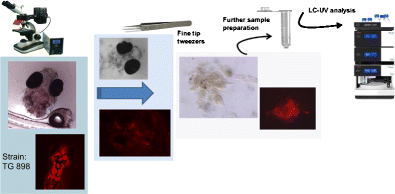 Keywords
Zebrafish 
Blood-brain barrier 
Capillary UHPLC 
Method development 
Sample preparation 
Notes
Acknowledgements
ARIADME, a European FP7 ITN Community's Seventh Framework Program under Grant Agreement No. 607517, is acknowledged for the financial support.
Compliance with ethical standards
All animal experiments were approved by the Animal Ethical Committee of the University of Leuven (approval no. P007/2016) and conducted in accordance with the Belgian and European laws, guidelines, and policies for animal experimentation, housing, and care (Belgian Royal Decree of 29 May 2013 and European Directive 2010/63/EU on the protection of animals used for scientific purposes of 20 October 2010).
Conflict of interest
The authors declare that they have no conflict of interest.
Copyright information
© Springer-Verlag GmbH Germany, part of Springer Nature 2018