MCEE: a data preprocessing approach for metabolic confounding effect elimination
Abstract
It is well recognized that physiological and environmental factors such as race, age, gender, and diurnal cycles often have a definite influence on metabolic results that statistically manifests as confounding variables. Currently, removal or controlling of confounding effects relies heavily on experimental design. There are no available data processing techniques focusing on the compensation of their effects. We therefore proposed a new method, Metabolic confounding effect elimination (MCEE), to remove the influence of specified confounding factors and make the data more accurate. The method consists of three steps: metabolites grouping, confounder-related metabolites selection, and metabolites modification. Its effectiveness and advantages were evaluated comprehensively by several simulated models and real datasets, and were compared with two typical methods, the principal component analysis (PCA)- and the direct orthogonal signal correction (DOSC)-based methods. MCEE is simple, effective, and safe, and is independent of sample number, association degree, and missing value. Hence, it may serve as a good complement to existing metabolomics data preprocessing methods and aid in better understanding the metabolic and biological status of interest.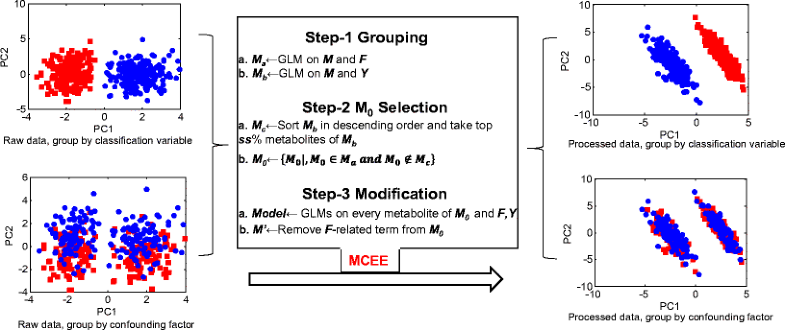 Keywords
Metabolomics 
Confounding factor 
Generalized linear model 
Principal component analysis 
Direct orthogonal signal correction 
Notes
Acknowledgments
This work was supported by the National Natural Science Foundation of China (31501079, 31500954 and 81772530), the National Key R&D Program of China (2017YFC0906800), and the Seventh Framework Programme of the European Union (294923). The authors thank the support of Biobank of Shanghai 6th People's Hospital.
Compliance with ethical standards
The protocol of HCC was approved by the Zhongshan Hospital Institutional Review Board and written consents were signed by all participants before the study. The protocol of arthritis was approved by the Review Board in Institute of Basic Research in Clinical Medicine, China Academy of Chinese Medical Sciences, and all participants gave informed consent before they were involved in the study.
Conflict of Interest
The authors declare that they have no competing interests.
Copyright information
© Springer-Verlag GmbH Germany, part of Springer Nature 2018