Advances in the analysis of biological samples using ionic liquids
Part of the following topical collections:
Abstract
Ionic liquids are a class of solvents and materials that hold great promise in bioanalytical chemistry. Task-specific ionic liquids have recently been designed for the selective extraction, separation, and detection of proteins, peptides, nucleic acids, and other physiologically relevant analytes from complex biological samples. To facilitate rapid bioanalysis, ionic liquids have been integrated in miniaturized and automated procedures. Bioanalytical separations have also benefited from the modification of nonspecific magnetic materials with ionic liquids or the implementation of ionic liquids with inherent magnetic properties. Furthermore, the direct detection of the extracted molecules in the analytical instrument has been demonstrated with structurally tuned ionic liquids and magnetic ionic liquids, providing a significant advantage in the analysis of low-abundance analytes. This article gives an overview of these advances that involve the application of ionic liquids and derivatives in bioanalysis.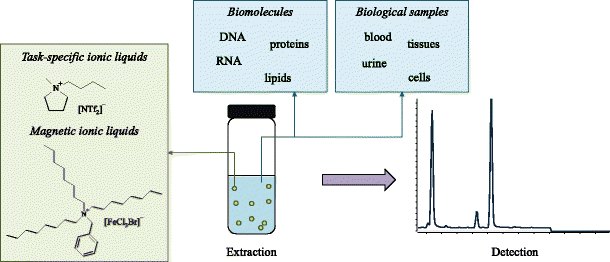 Keywords
Task-specific ionic liquid 
Magnetic ionic liquid 
Bioanalysis 
Automation 
Miniaturization 
Magnetic separation 
Notes
Acknowledgements
JLA acknowledges funding from the Chemical Measurement and Imaging Program at the National Science Foundation (grant no. CHE-1709372).
Compliance with ethical standards
Conflict of interest
The authors declare that they have no competing interests.
Copyright information
© Springer-Verlag GmbH Germany, part of Springer Nature 2018